*Emergency Power: Quick and Cheap*
By: TooshieGalore
25 April 2015
Let's assume that you don't have solar panels or even a generator, but you do have an automobile sitting in a garage. You're in luck. You can have emergency power, now, putting your automobile's battery to use. For the average three or four day power outage, this quick and inexpensive set-up will get you by:
Attach a battery clip adapter s to your car's battery and plug an inverter into that
Next attach an extension cord to the inverter and run it into the house
Plug your AC device into the extension cord.
Your car's battery is a power source. You can access that power thru the cigarette lighter (12v adapter) or by making a connection directly onto the battery. I recommend the latter.
Some people promote using the car's cigarette lighter (12v adapter). I have several problems with that. (1) Most car 12v adapters have a 150-watt limitation. So, any inverter that you plug into this adapter will only process 150-watts regardless of the size of your inverter. 150-watts is not a lot and will limit your options, greatly. (2) If you have an older car, they normally require the key to be ON, which is risky if the car should accidentally be knocked into gear and it will draw a lot more power.
I suggest using a battery clip with a 12v adapter on the end. Just open your hood, clamp the alligator clips to your battery posts (red to red, black to black) and plug the inverter into the 12v adapter on the end.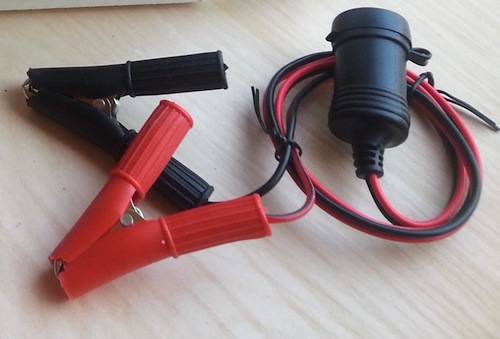 Photo: Battery clip adaper with 12v adapter
Inverters come in all sizes, but for most of your needs in this system, an 800-watt inverter will give you a lot of options. My 800-watt inverter was about $75 but it displays the voltage in, out and watts being used. I like being able to monitor my battery so as not to run it down.
I also have a second, smaller inverter. I paid $20-something for it. With two USB ports, it's perfect for small electronics. One of the ports is 2 amps (for iPads and smart phones) and the other is 1 amp. If you can only afford to have one inverter, start with one like this.
You can pick up battery clips and inverters at any truck-stop along the Interstate, most large auto-supply stores or via Amazon. The next time you're on a road trip, stop at a truck-stop – you'll be amazed at all the many 12v gadgets that are available.
Use a heavy-duty, shop extension cord and not those small ones used to extend your table lamp. I use one with a multiple-outlet power strip with fuse, built in.
Monitor Your Automobile
Be aware. If your inverter doesn't have a display built in, you should have a way to monitor your power use. The Kill-A-Watt is such a devise, allowing you to know how much power an appliance is using. Don't run your car's battery down.
Be smart. You will have to start the car from time to time to recharge the battery. Don't idle the car in an enclosed garage, back the car out to ensure ventilation. Carbon monoxide is deadly.
Be safe. You might need to add fuel to the car. Personally, I'm not confident in holding a 5-gallon can full of gas while controlling the funnel to get fuel in the car without making a mess. It's just too heavy and cumbersome for me. I found a fuel line with a primer bulb. It's the kind used with an outboard motor on a boat. Now I can sit the 5-gallon can on the garage floor, put one end of the fuel line in the 5-gallon can and the other end in the car's tank; pump the primer bulb a few times to start a siphon and watch the fuel flow. To stop the siphon, I just pinch the line, remove it from the car, and allow any excess gas to drain back into the 5-gallon can.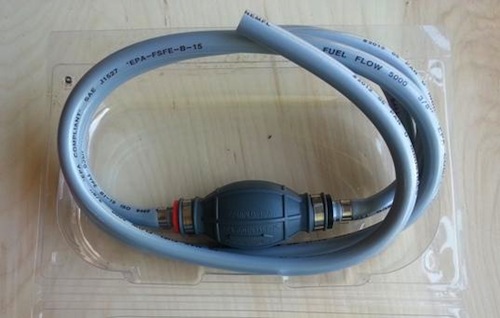 Photo: Fuel line with bulb primer.
Having light:
I use 2-watt LED bulbs to conserve power. 2-watts is not strong enough to read a book but it's enough to illuminate a room. I think it's about 100 lumens. I install the bulb into a shop light with reflector. The reflector makes it seem brighter.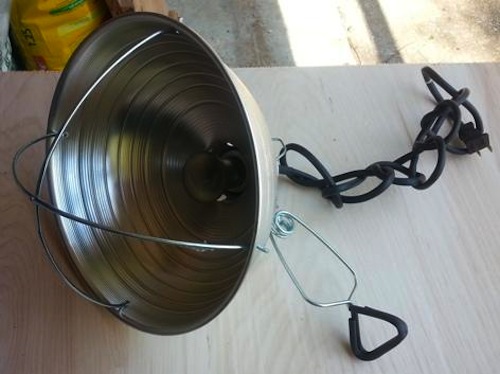 Photo: Shop light with reflector makes 2W bulb seem brighter.
Of course, you can also run a battery charger for your rechargeable batteries and use a flashlight for light. I use a headlamp so that my hands are free for re-fueling the car.
I keep all of these items in a box, in the garage, near the front of the car, that way everything is together. If the power suddenly goes out, I'm not tripping thru the house looking for pieces and parts.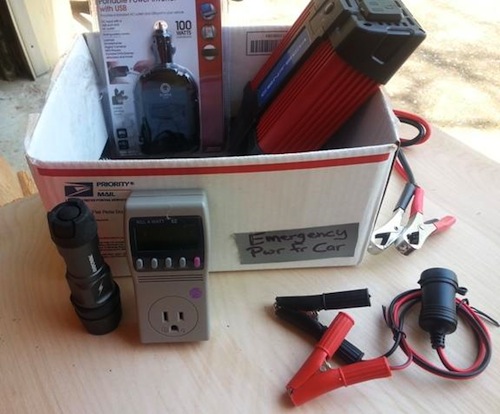 Keeping cool:
With a larger inverter, you can power a countertop, portable icemaker. Making ice is an efficient way to keep food cool, plus you have the luxury of cold drinks, air conditioning (with an evaporative cooler) and ice for injuries. My unit is designed for tailgating and BBQs. It makes one pound of ice in an hour. It has a spike of 750 watts for 2 seconds when it ejects the ice; otherwise, it's very efficient in sipping power.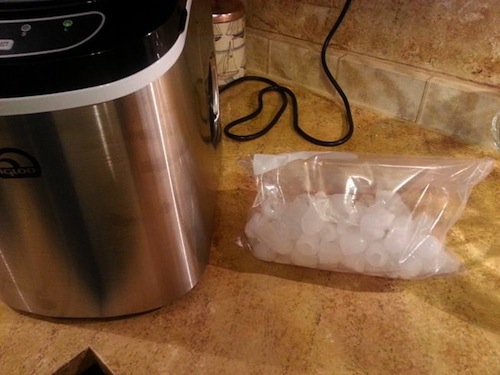 Photo: This is what 1 lb of ice looks like.
I don't have a chest freezer so I move frig/freezer contents into a Xtreme 5-Day Marine ice chest. This baby is well insulated. Ice really does last for five days. The Xtremes come in different sizes but each is tall enough for a 2-liter bottle to stand upright. I also use it for boating, camping and tailgating.
I DIYed my evaporative cooler from a 5-gallon bucket and a 12v fan after watching several YouTubes. Search YouTube for a "swamp cooler" to learn how you can stay cool this summer.
Another must-have for me is a bread machine. It's a real luxury item during an emergency, plus it's filling, comfort food and makes the house smell good. I can run my bread machine from my car battery/inverter. Bread rises in about 3 hours and bakes in about 45 minutes.
Last winter when we lost power I used my car battery to run several 2-watt light bulbs, an electric hot plate for dinner, a coffee pot; to charge my iPad, phone and to keep my flashlights up. It was just enough to get us by for a short spell. We weren't too uncomfortable or inconvenienced.
So, for less than $75 (a battery clip, a small inverter, a Kill-A-Watt and a low watt LED bulb) you can have an emergency-power source – right now. Then, make an emergency-power plan, adding other, useful 12v or low-watt appliances as money allows. This is not a long-term power solution, but it will help you to endure 95% of the emergency-power needs you're likely to have.
I prefer to buy local when possible. Most of this stuff is available at big box stores or auto supply stores. I give Amazon links only so you can see photos, plan your budget and read user comments.
800 Watt Inverter with display: http://www.amazon.com/gp/product/B001DZLLZY/ref=as_li_ss_il?ie=UTF8&tag=knowledgepubc-20&linkCode=as2&camp=1789&creative=390957&creativeASIN=B001DZLLZY
150 Watt Inverter with 2 USB plugs: http://www.amazon.com/gp/product/B003SGJIRO/ref=as_li_ss_il?ie=UTF8&tag=knowledgepubc-20&linkCode=as2&camp=1789&creative=390957&creativeASIN=B003SGJIRO
Battery clips with cigarette lighter adapter: http://www.amazon.com/gp/product/B00065L2D8/ref=as_li_ss_il?ie=UTF8&tag=knowledgepubc-20&linkCode=as2&camp=1789&creative=390957&creativeASIN=B00065L2D8
Extension cord with power strip: http://www.amazon.com/Fellowes-6-Outlet-15-Foot-Power-99026/dp/B00006HQR8/ref=sr_1_1?s=electronics&ie=UTF8&qid=1429724707&sr=1-1&keywords=6+outlet+20+foot+power+strip
Kill-A-Watt: http://www.amazon.com/P3-P4400-Electricity-Usage-Monitor/dp/B00009MDBU/ref=sr_1_1?ie=UTF8&qid=1429721094&sr=8-1&keywords=Kill+a+watt
Fuel Line with Primer Bulb: http://www.amazon.com/Marine-Universal-Fuel-Assembly-Outboard/dp/B00DRHK66G/ref=sr_1_cc_2?s=aps&ie=UTF8&qid=1429722403&sr=1-2-catcorr&keywords=fuel+bulb+line
2-watt light bulbs: http://www.amazon.com/gp/product/B004NYAPYA/ref=as_li_ss_il?ie=UTF8&tag=knowledgepubc-20&linkCode=as2&camp=1789&creative=390957&creativeASIN=B004NYAPYA
Work clip light with reflector: http://www.amazon.com/Woods-0162-2-Gauge-Reflector-150-Watt/dp/B001KDVY42/ref=sr_1_2?ie=UTF8&qid=1429672498&sr=8-2&keywords=worklight+with+reflector
Portable, counter icemaker: http://www.amazon.com/NewAir-AI-100S-28-Pound-Portable-Silver/dp/B000N6302Q/ref=sr_1_1?s=appliances&ie=UTF8&qid=1429672587&sr=1-1&keywords=28+pound+portable+ice+maker
Xtreme Ice Chest: http://www.amazon.com/Coleman-Quart-Xtreme%C2%AE-Marine-Cooler/dp/B00DP67PZY/ref=sr_1_3?ie=UTF8&qid=1429720078&sr=8-3&keywords=xtreme+ice+chest
Bread Machine: http://www.amazon.com/dp/B00R3D2Y2O?psc=1
TooshieGalore
---
This Article Was Proudly Formatted For The AlphaRubicon Website By: Vikis



www.alpharubicon.com
All materials at this site not otherwise credited are Copyright &copy 1996 - 2015 Trip Williams. All rights reserved. May be reproduced for personal use only. Use of any material contained herein is subject to stated terms or written permission.