*A Battery/Charger Installation*


By: smokeyjoe & myrtlemaye
(with extensive formatting and technical assistance from Blackbear74)
25 June 2005

We live in a single wide mobile home. Although we have out-buildings, we wanted our system in or around our "home" where we would have our safe room. There was no room actually in the house. The options were under the house on a concrete slab with limited vertical clearance or under a covered porch with a little more clearance. The problem we faced was easy access to the batteries, charger and cable for maintenance. Smokeyjoe located some conveyor track sections in R.H. BROWN CO. and ordered (3) 5 foot sections. He cut them to the depth of the porch and modified the connector hooks to allow one portable section to be attached to the stationary units. The batteries and the charger were placed on pieces of ½" inch plywood. By attaching the portable section of the conveyor track to the permanent section, it is easy to roll the batteries and the charger out from under the porch. He designed the cable location to allow this movement.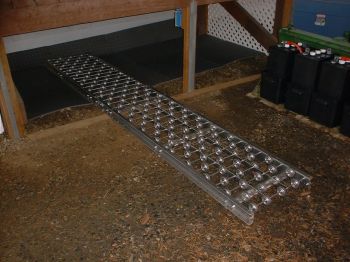 The conveyor track layout for moving batteries in and out
from under the porch area.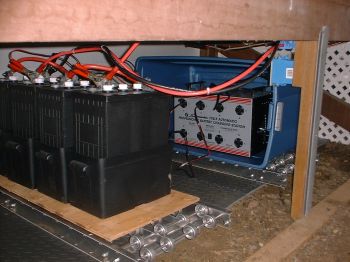 The design and layout of the battery system under the porch,
hooked up and operational.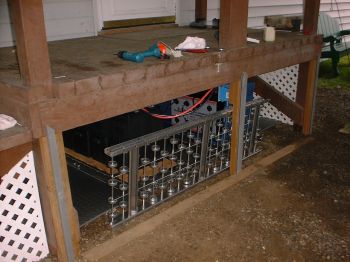 Storage of additional track for sliding battery pack or charger
pack out in the open for maintenance. Eventually there will be
2 more set ups for a total of 8 UL16 batteries.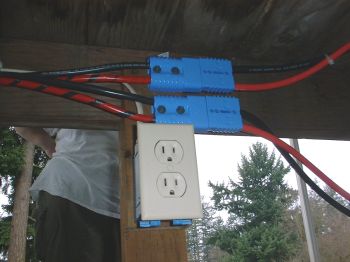 The outlet box is to supply power for the charger. The blue objects are
heavy duty quick release connectors obtained from GRAINGER.
Be sure to watch polarity in your wiring sequence!
(Otherwise it may light up your life!)

Conveyor track sections in R.H. BROWN CO.:
http://www.rhbrownonline.com/Merchant2/merchant.mv?Screen=CTGY&Category_Code=20.10.10.0&Store_Code=BUYCON
The batteries are a deep cycle "WORKAHOLIC" UL16 6v:
http://www.ibsa.com/www_2001/content/products/product_6volt.asp
The charger is a SCHUMACHER 8 port charger/maintainer:
http://www.batterychargers.com/details.cfm?prodid=CS%2D810%2DA&catid=4
Additional battery connection supplies were obtained through WURTH USA. (Solder slugs are the best connectors I have found so far.)
http://www.wurthusa.com/project/en/leftnavi/catalog/product.php?path=03.0230.jpg
Battery cable quick connectors were found at GRAINGER.
http://www.grainger.com/Grainger/searchresults.jsp?xi=xi

smokeyjoe & myrtlemaye

---




www.alpharubicon.com
All materials at this site not otherwise credited are Copyright © 1996 - 2005 Trip Williams. All rights reserved. May be reproduced for personal use only. Use of any material contained herein is subject to stated terms or written permission.