*Human-Powered Generator*


By: Protectmyfamafter911
17 October 2003

If the power grid ever goes down for a week or two because of an ice storm, I will have no problem using stored fuel to run my 10,000 watt Honda generator for heating and cooling, refrigeration, general household needs and entertainment. (My Honda runs on gasoline and propane - the latter thanks to a conversion kit I purchased from U.S. Carburetion. http://www.propane-generators.com/

If, however, the grid goes down for an indefinite period after some major disruptive event (terrorism, SARS epidemic, etc.) then my priorities will change. I will conserve the propane for cooking food and heating water. I will save the gasoline for transportation. To power small electrical devices (anything with a rechargeable battery; a few lamps with those ultra-low wattage Energy Star bulbs; the laptop where I store much of my survival manuals and critical data as Word or PDF files) or recharge a car battery, I have decided to use a human-powered generator.

Part of my reasoning is cost (less than $1,000), portability and concealability (ruling out solar panels and windmills), and the availability of at least two able-bodied adults in my household who will get plenty of calories from canned goods and can always use the exercise.

For my generator I chose the Windstream Power Systems HPG MkIII and Portable Power Pack. http://www.windstreampower.com/humanpower/hpg.html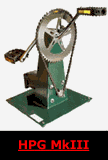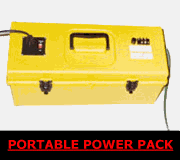 $850, plus $25 for a pair of hand cranks. Or $899 for a system that substitutes for the HPG MkIII a rack/generator to which you mount a bicycle, plus the Power Pack.
The generators can put out continuous power up to around 125 watts using leg power. The Power Pack includes a storage battery, a 200 watt inverter, and a standard 120 volt outlet. I find that it takes between three and four hours of leg cranking to charge up the Power Pack. I'd rate the physical effort required as moderate.
Windstream, which is located in Burlington, VT, also offers wind-powered turbines, water turbines and solar panel systems.
The bottom line for me is: Even after my gasoline and propane ran out and I was forced to use wood for fuel, as long as our household had food and water and a few healthy adults we'd also have some electricity.
Protectmyfamafter911
---
www.alpharubicon.com
All materials at this site not otherwise credited are Copyright © 1996 - 2003 Trip Williams. All rights reserved. May be reproduced for personal use only. Use of any material contained herein is subject to stated terms or written permission.