*My FNV On The Coleman LED Quad Lantern*
By: Sapereaude
24 May 2011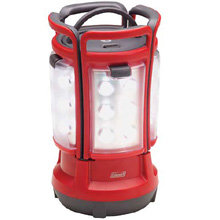 The Coleman Quad LED Lantern is everything it is cracked up to be and more.
I purchased one of these units a couple of years ago with the thought that, in a grid down scenario, I could use one of these units to:
Light up my main living area.
Allow family members to take one of the panels to the smaller rooms of the house and provide enough light to do minor tasks with.
Being the good Rubie and believing that one is none, and two is one, I bought a second unit last year, and a third unit this year. I have three family members in my household. So, one for each, figuring that we could use one unit for the main family area, split one for use in the kitchen and the bathroom, and have the third as a backup. We could also take the individual panels off and cruise around with them.
Coleman describes this unit as follows:
"LED lighting technology takes a quantum leap with the Coleman® Quad Lantern. With up to four lights in one, the Quad Lantern sets the standard in reliability and multi-function capability. Whether you need emergency lighting during a power outage or whether you need a reliable outdoor LED lantern for your next camping trip or outdoor adventure, the Quad Lantern does it all and more. The Quad Lantern is much more than an LED lantern--it is a complete LED lighting system."
Coleman goes on to claim the following:
190 lumens
Approximate run time is 75 hours
Battery lantern features four detachable panels
Each panel has 6 LEDs
Each panel has its own on/off switch
Each section recharges off of the base
Four lights in one
Light range is 26 feet
Operates on eight D cell batteries, not included
Remove a single section and light your way back to tent or around campsite
Turn on all four panels at once with master switch on top
Limited five year warranty
LED: (24) 5 mm white LED
Product Weight with Power Source: 98.4 oz
Dimensions: 11.7"H X 6.5"W
Made in China
I decided to take two of the units and beat them to death, testing out every claim that Coleman made, ready to jump on the chance to prove Coleman wrong... Especially since the unit is made in China... so I set up one unit to test longevity of continuous run on 8 new Duracell "D" batteries, without removing the panels.
Shocker 1: With 8 new batteries... The first unit ran for 4 days (96 hours) without an appreciable loss of light. It continued to run over 7 days on about 50% light output and, at the time of the writing of this article, has run 9 straight days at an estimated 25% of light output. Just this morning I changed out a GFI plug in my bathroom utilizing the lantern, complete with all four panels, at about 25% light output.
Shocker 2: During that time span, I removed two of the panels at a time to test their usefulness. I found that the 2.5 hour claim is valid for about the first 4 days. From 5 days to 9 days, they each last just over an hour with sufficient light for personal grooming, picking out clothes in the closet, and even cooking dinner on a grill. By day 9 each panel was down to about one half an hour of run time... But still sufficient for light duty tasks like garbage collection and removal, dish washing, and even watering your sprouts...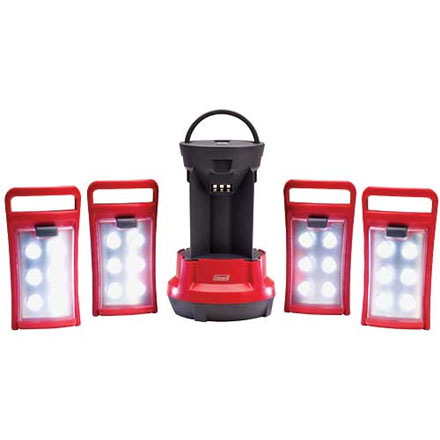 Quick note: Each individual panel is powered by three rechargeable (and replaceable) NIMH AAA batteries and has it's own off/on switch. I took the NIMH battery cover off, and noted that there are three individual AAA 600mAh 1.2V batteries in the compartment. My future plan is to replace those three with Duracell AAA 900mAh 1.2V batteries and see if this has an impact on individual panel charging and discharge times while separated from the unit. I also want to see if this has an impact on the straight run time of the lantern turned on and charging the larger mAh AAA's at the same time.
There are three potential down sides to this unit that I could see...
When loaded with 8 "D" cell batteries, the unit is heavy, and thus inconvenient to carry in a backpack... Of course, one could always assign the toting of the individual panels, the batteries and the base unit, to different members of your family, or team... solving that issue rather quickly.
The inability to turn off individual panels while they are attached to the base. In other words run two panels at a time to save the "D" cell battery life. However, that down side can be remedied by simply removing two of the panels and stowing them while leaving two in the base. Simple problem, simple solution...
The inability to recharge the base unit batteries either with available 120VAC or 12VDC, solar or wind generated power source... That just means you'll have to have plenty of access to "D" cell alkalines.
On the last point, I'm not sure if you could use rechargeable "D"'s in the base unit, but I am sure that you would drastically reduce run time having a rechargeable "D" recharging 12 rechargeable AAA's (3 per panel).
Overall, I'd give this unit a look see to determine if LED lighting is right for you to replace or use as a primary source of light, as opposed to liquid fueled lanterns.
Sapereaude
---
www.alpharubicon.com
All materials at this site not otherwise credited are Copyright © 1996 - 2011 Trip Williams. All rights reserved. May be reproduced for personal use only. Use of any material contained herein is subject to stated terms or written permission.