*Micro Apartment Solar Power Set up*
By: Thoth8 and Sekhmet
29 September 2010
First, let me state a few facts:
This is not a high power solar kit. Our goal was a light or two and power for emergency radios.
This is only a 45-watt set up for starters.
Its a lot cheaper to reduce power consumption than to create it.
The first thing we did was to swap out our old light bulbs to compact fluorescent light bulbs (CFL) throughout our whole apartment. So look around for ways to drop your usage.
The next thing we did was to pick up the Harbor Freight 45-watt solar panel kit. It came boxed and really well packed.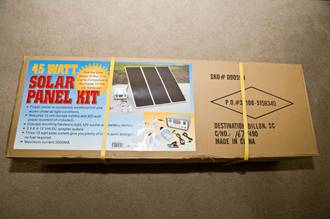 The box contained three 15-watt panels and a little charge controller. I donít think you need a charge controller with 45 watts, but I like the power jacks and set plug voltages already set up. It has a USB cigarette lighter as well as 2, 6, 9 and 10-volt power jacks.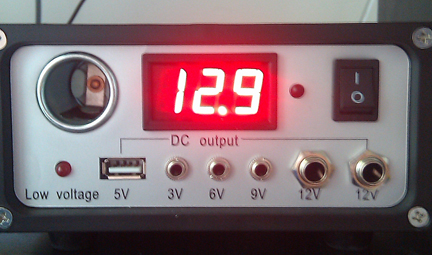 Before doing anything else, we went to Radio Shack and picked up some fat diodes for the panels (6A, 50V Rectifier Diodes (4-Pack) Model: 276-1661 | Catalog #: 276-1661 $2.49). I did not want to burn up any panels at night, with the batteries trying to charge them. I did not bother putting Rain-X on my panels because they would be placed inside the apartment windows.
We mounted the panels in the windows and held them in place with expanding curtain rods.(28" to 48" Double Curtain Rod Drapery Hardware Set that was about $3 per window.) I thought about making a mount to angle the panels but I wanted a bit of stealth. When the blinds are down you cannot see the panels from inside the apartment, and from the outside they look like this: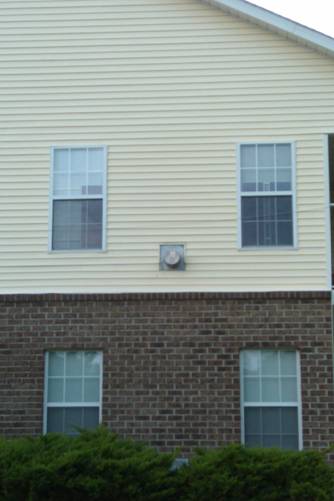 I thought about putting up black poster board behind them to make it look dark like a sun screen or a shade. So when the blinds are open it all looks like a black window.
At the present time, my battery bank consists of two "Group 27" Deep Cycle Marine batteries from WalMart. At the Positive lead I have a Battery disconnect and a 200amp fuse. (Iím going to replace this with a fuse box and DC circuit breaker when I get my new battery and the new battery box built. Thatís the next part of this project). The white stuff at the bottom of the tote is Baking Soda. The plastic container is from Lowes. It is all stored outside. If I need to hook up the big inverter before I am done with this project, I will hook it up out here, right at the batteries outside the apartment. Iím not ready for that kind of amperage draw from inside the apartment yet. The main cables are cut from a set of jumper cables I got at WalMart and its about a 4-foot run from the batteries outside to the inside busbar.
For the base of the project, I am using a rolling black TV stand from WalMart. It was only $19 and works really well for my micro solar set up. Here is what it looks like already set up.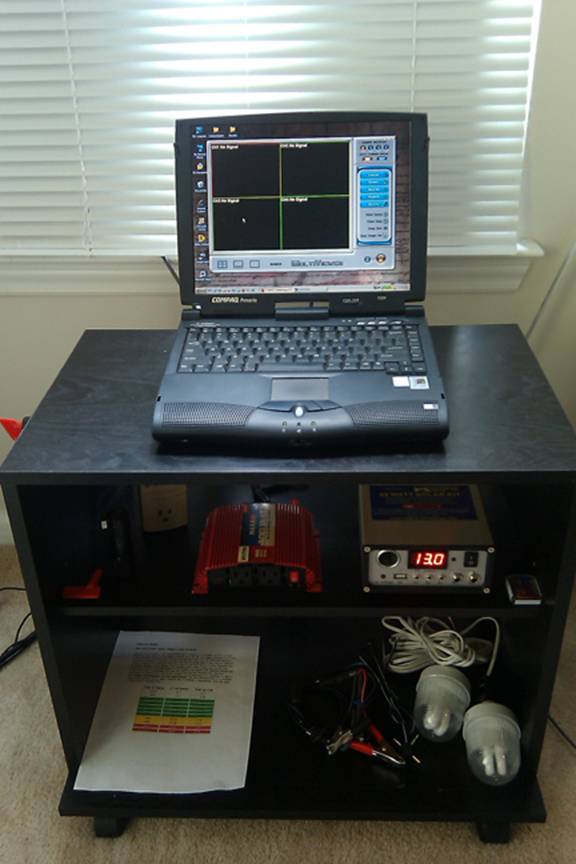 For this photo, I took down my cameras (Opspec), Right now the laptop is plugged into the wall and running my Security cams. Did I mention that it also has a USB TV tuner? The Inverter will run it without any problem. It runs between 20-30 watts or so (according to my Kill-A-Watt meter). But I want to hardwire the small inverter into the busbars. For busbars I used some circuit breaker box grounding busbars. Mind you, Iím running very low amperage. I have copper busbars on the way and I will remount them when they arrive.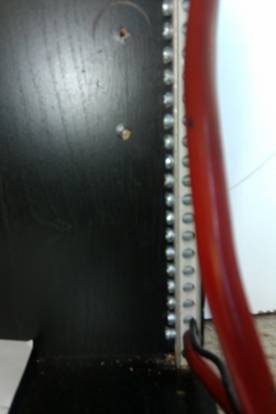 Side view with the second battery disconnected (This is the one I use when working on the system) just before the busbars: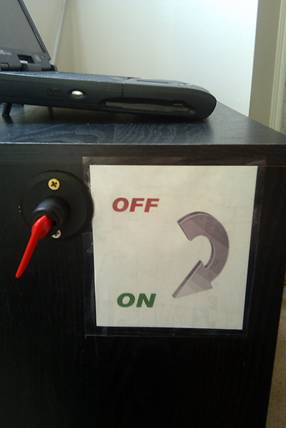 The end result is I can run my ham radio, laptop, Short wave radio, Radio Scanner on solar panels alone. But to transmit I need the batteries engaged and the laptop will start to eat into by battery bankís surplus of watts.
Thoth8
---
www.alpharubicon.com
All materials at this site not otherwise credited are Copyright © 1996 - 2010 Trip Williams. All rights reserved. May be reproduced for personal use only. Use of any material contained herein is subject to stated terms or written permission.