*Portable Power*


By: Forester
08 September 2005

I asked Mrs. Forester what would you miss if the power went out. Why a light to read my book buy. So in comes the Portable Power Pack. We have used it for starting the car, air up a tire and the lamp tested with a fluorescent lamp. With the fluorescent light it will give about 10 hours of use. Small TV 2.5 hours, and a big one for us is the fireplace fan it will run for 8 hours. To recharge use the AC charger plugged into the wall, or you can recharge from your vehicle as you drive.

Powerpack 300 provides maximum 300 watts of silent household (AC) and DC power anytime, anywhere. Itís a convenient source of power for year-round use and itís ideal for weather emergencies, power outages and car breakdowns. The Powerpack integrates a power source for small AC and DC appliances, an emergency light, and a vehicle battery booster. The 300 Plus model also includes a 17 BAR (250 PSI) air compressor.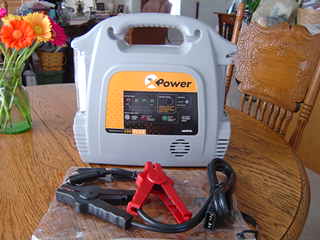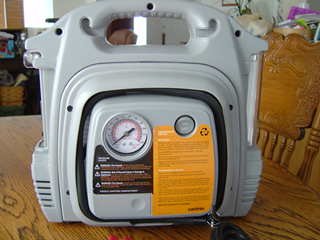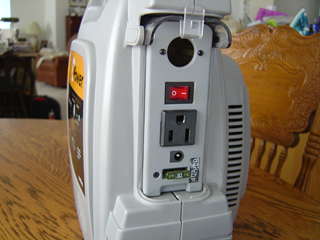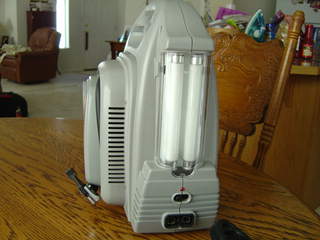 Powerpack 300

230-volt AC and 12-volt DC outlets to power most small household appliances
Built-in 300 watt inverter with sealed, non-spillable 20 amp-hour AGM battery
17 BAR (250 PSI) air compressor to inflate vehicle tires and small sports equipment (300 Plus model only)
Smart circuitry protects against reverse polarity jumpstart connections
Built-in fluorescent lights provide illumination in emergency situations
AC and DC charger cables allow recharging from home or in vehicle
Battery level meter to easily monitor the status of the Powerpack battery
AC charger offers battery overcharge protection
Audible alarm signals when the unit begins to overheat, and in times of under voltage conditions
Electrical current overload and overheating protection ensure a longer Powerpack life
Accessories

Jumper Cables - use the Powerpack to jump start vehicles
AC Charger - recharge the Powerpack from a standard wall outlet
DC Charging Cable - use the Powerpack to power DC-compatible appliances or to recharge the Powerpack from a car, truck, SUV or RV
Nozzle Adapters pump air easily into vehicle tires or small inflatable sports equipment (300 Plus model only)
Accessory bag - helps keep accessories together

Applications



For emergency situations:
Inflate vehicle tires (300 Plus model only)
Jump-start vehicles
Power emergency lights, TVs, and radios
For outdoor use:
Pump air into small inflatable sports equipment (300 Plus model only)
Power camcorders, video games, stereos, 13" TV/VCR, TV/DVD combos, computers, laptops, clock radios, and small power tools
Forester
---
www.alpharubicon.com
All materials at this site not otherwise credited are Copyright © 1996 - 2005 Trip Williams. All rights reserved. May be reproduced for personal use only. Use of any material contained herein is subject to stated terms or written permission.