*Connecting To A Propane Tank*
By Jaden
15 January 2004
If you've never connected an attachment to a propane tank, this article is 4 U.
I have a Mr. Heater for backup and run it with 20lb propane tanks.
For this article I'll use the Mr. Heater.
1st and foremost NO SMOKING!
You only need one tool to make the attachment. An ordinary adjustable wrench works fine.
Make sure that the attachment has an O-ring and that it is in good condition. The O-ring is what creates a seal between the accessory and tank's valve. Without it (or if it's cracked) gas will leak from the connection…NOT GOOD!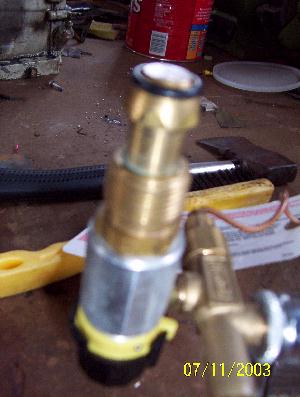 Make sure that there is no dirt in the tank's threads
Make sure the inside of the hole is clean

Attaching to the tank-
Fit the accessory in to the tank's opening

Now slide the threaded collar to the tank and turn it to the LEFT. Propane threads are LEFT HANDED! Righty tighty lefty loosen…doesn't apply. It's Lefty tighty righty loosen.
Hand tightening
Once it's hand tight, use the wrench and tighten it until it's snug. No need to over tighten.
Remember to turn LEFT!
Make sure the attachment is turned off
Turn the tank's valve on and listen to ensure that no propane is leaking from the connection. I also smell underneath it. Propane is heavier than air so it sinks.
Using the heater or accessory and doing it safely is up to you.

Disconnecting the attachment- should only be done outside.
Turn off the valve on the propane tank.
If possible turn the accessory on to bleed out any gas that might still be in the line. On my Mr. Heater I just turn it on to HI and then push the start button until it bleeds dry.
Then use the wrench and turn the collar to the RIGHT to remove.

Wham bam…you've got it.

Notes:

If you can't bleed the gas out of the line!!

Wear gloves before disconnecting from the tank. The trapped gas WILL escape. It WILL be cold and if it touches your skin it WILL give you very SERIOUS freezer burn.

I don't mean the cheap cloth cloves. The gas will go right through them. Use welding gloves or some sort of leather gloves.

Remember…..

NO smoking when working around propane!!
Jaden
---
www.alpharubicon.com
All materials at this site not otherwise credited are Copyright (c) 1996-2004 Trip Williams. All rights reserved. May be reproduced for personal use only. Use of any material contained herein is subject to stated terms or written permission.