*Remote Spotlight for Security*
By: TexasOK
22 November 2016
There are many brands of remote control spotlights on the current market. The one I am using for this article was made by GOLIGHT.
This kit included the remote control searchlight, a 18' wiring harness with switch panel to control the spotlight and a radio frequency remote that has an operation range of approxmately 400'. The spotlight is listed as a 400,000 candle power unit 65watt and 5.5amp 12 volt power draw. 370 degree rotation and 135 degree tilt. The unit is made for land/sea operations and is uv ray and saltwater resistant. I have 2 of these units and they have been in operation for 6 years at the time of this article. The only time the unit was not operational when needed was during a freezing rain buildup that kept the unit from rotating.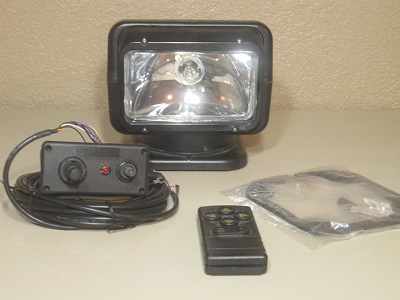 This unit is being used in a dark corner of my property to light up what ever is setting the perimeter alarms off at night. It works to your advantage to remain unseen and control the spotlight from a distance with the handheld remote rather than exposing yourself by sweeping a handheld flashlight while checking on the alarm. Any hostile gunfire will be directed towards the remote spotlight. Even if the intruder lays down, the psychological factor of a sweeping spotlight is very effective.
For my installation, I set part of a used wood telephone post in the ground leaving about 10' above the ground level. I Mounted the spotlight to the top and ran the power cable down the pole.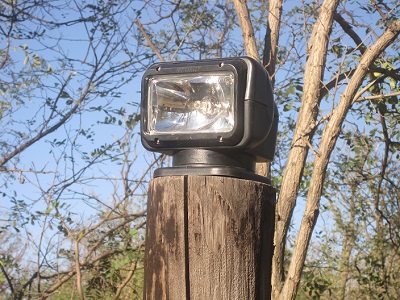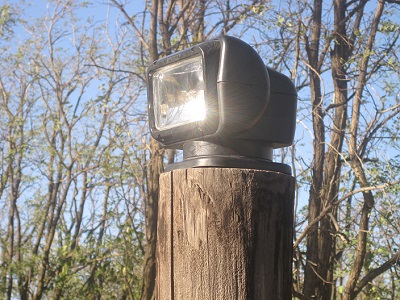 Added a battery box, deep cycle battery and a small 12 volt solar panel to just maintain the deep cycle battery.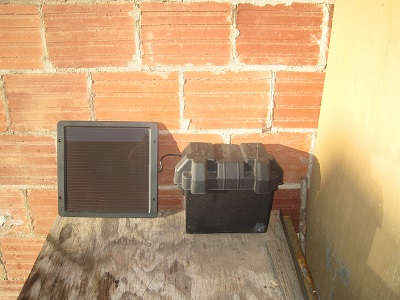 The remote panel control can be extended with outdoor rated cat 5 cable if you prefer a hardwired control in your house next to a security monitor.
Just one of the ways I check on things that go bump in the night.
TexasOK
---
This Article Was Proudly Formatted For The AlphaRubicon Website By: Vikis



www.alpharubicon.com
All materials at this site not otherwise credited are Copyright &copy 1996 - 2016 Trip Williams. All rights reserved. May be reproduced for personal use only. Use of any material contained herein is subject to stated terms or written permission.