*How to Make Your Own Skin Decontaminating Kit *


Part 1
By: gvi
12 October 2007

If you were in the Army or Marines around 1990 or before, you will remember the M258 Decon kits. The kits consisted of a little plastic box in the back of your M17 mask bag, containing three two-envelope decon sets; Envelope Number 1 had the decontaminant wipe, the other held an antidote because the contents of Envelope Number 1 were so harmful.

If you're still in the Army or Marines, you hung onto the plastic box to keep your batteries, candy or cigarettes dry because you threw away the obsolete, caustic envelopes. We now use something called the Decontaminating Kit, Skin, M291: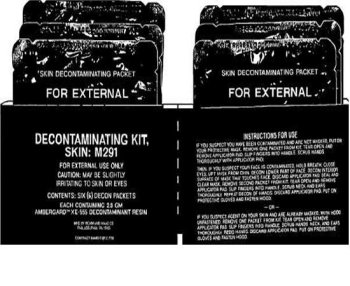 The M291 kit has the advantage over the old kit in that the one you use "for real" is safe for use in training. The old kits were too poisonous to use in training, so fake ones in impregnated with isopropyl alcohol were issued in blue envelopes instead. The training ones were good enough to get tear gas residue off your skin but that's about all and they didn't even do that very well.
If you ever see the old blue envelopes being sold as "decon kits," do not buy them. The envelopes only contain rubbing alcohol and are about as much use as a football bat. The "real" ones are in an olive drab envelope and, being poisonous—though presumably not as poisonous as the chemical agent you're removing—shouldn't be used anyway. There is a safer alternative.
The new kit is a paper wallet containing six envelopes. In each envelope is a spongy pad impregnated with what the wallet claims is "2.8gm AMBERGARD™ XE-555 DECONTAMINANT RESIN."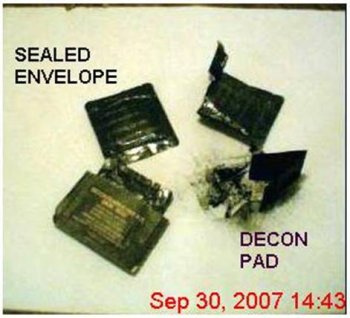 This sounds like cool, experimental, space-age stuff, but really isn't.
Okay, gvi, so what is it?
...Part 2; Continued in the Rubicon's Restricted NBC area.
gvi
---
www.alpharubicon.com
All materials at this site not otherwise credited are Copyright © 1996 - 2007 Trip Williams. All rights reserved. May be reproduced for personal use only. Use of any material contained herein is subject to stated terms or written permission.