*A HazMat Prep Reminder*


Be prepared and aware at all times
By: TennFSAR
10 February 2010

Hazardous Material spills and accidents happen more frequently that you might think. The amount of HazMat being transported on our highways and railroads is staggering. As a Firefighter, get daily updates of spills across the US. The latest....

February 5, Associated Press – (Texas) Truck's acid cargo spills, closing Dallas freeway. Barrels of acid spilled inside an 18-wheeler on a Dallas freeway that is among the state's busiest, creating a traffic nightmare just ahead of the afternoon rush hour Friday. The spill of liquid hydrofluoric acid around 3 p.m. prompted the Texas Department of Transportation to close the interstate. The accident occurred on Interstate 635 westbound at the Montford Road exit, near the Dallas North Tollway. A TexDOT spokeswoman said the freeway would remain closed in both directions between Texas 289 and the tollway while a hazardous-materials team cleaned up the scene. No injuries were reported, and no reason has been determined for the spill.

Hydrofluoric acid is a very dangerous and toxic chemical.

From the Emergency Response Guidebook 2008 (ERG2008)……
HEALTH
TOXIC; inhalation, ingestion or contact (skin, eyes) with vapors, dusts or substance may cause severe injury, burns or death.
Reaction with water or moist air will release toxic, corrosive or flammable gases.
Reaction with water may generate much heat that will increase the concentration of fumes in the air.
Fire will produce irritating, corrosive and/or toxic gases.
Runoff from fire control or dilution water may be corrosive and/or toxic and cause pollution.
FIRE OR EXPLOSION
Non-combustible, substance itself does not burn but may decompose upon heating to produce corrosive and/or toxic fumes.
Vapors may accumulate in confined areas (basement, tanks, hopper/tank cars etc.).
Substance will react with water (some violently), releasing corrosive and/or toxic gases and runoff.
Contact with metals may evolve flammable hydrogen gas.
Containers may explode when heated or if contaminated with water.
If it had been raining heavily or the truck had caught fire, this could have been a REALLY bad event. Below is a picture I took last year of a rail car I saw on the track in the southern part of my county.
If I remember correctly…....this had hydrogen cyanide in it…....one of the most deadly chemicals transported!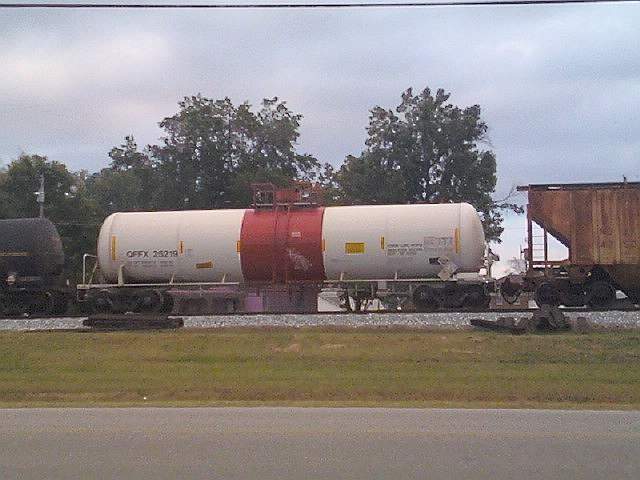 The springs on the car were fully depressed…….meaning a full tank. It was parked here for 3 days and I sweated bullets till it moved on.
Review you NBC preps and make sure you keep a set in your vehicle at all times. Keep an ERGO book in your vehicle AND a set of good binoculars. Identification can be made by the placard, of course, but also by tank shape, configuration, and coloration, as in the case of the rail car above….red and white "candy stripe"……indicating a cyanide chemical.
If you come upon an accident like the one in Texas above......stay WAY back, use the binoculars and the ERGO book, and find out what it is and what steps to take. Even better advice…...LEAVE the area IMMEDIATELY if you see ANY kind of plume from a tank car/trailer accident...... and go UPWIND and UPHILL around the event!
Here is a link to buy the ERG2008 book.......could be the best $8.00 you'll ever spend on a prep item.
http://bookstore.gpo.gov/actions/GetPublication.do?stocknumber=050-000-00593-3
This link is for a .pdf version of the Emergency Response Guidebook 2008 (ERG2008), the latest version
http://www.tc.gc.ca/eng/canutec/guide-ergo-guidepdf-436.htm
TenSFAR
---
www.alpharubicon.com
All materials at this site not otherwise credited are Copyright © 1996 - 2010 Trip Williams. All rights reserved. May be reproduced for personal use only. Use of any material contained herein is subject to stated terms or written permission.