*Chevrolet Avalanche BOV*


By: Uplandhillfarm
16 July 2005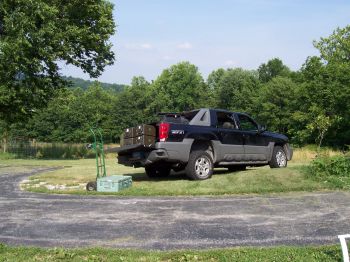 Ever consider the avalanche as a BOV? With just a few modifications, it can serve this purpose.
It can seat 5 or 6 people, tow 7,000 pounds and has an enclosed "trunk" that is 4í x 5í-6" and over 2í tall. With the bed cover removed, itís a short bed pickup. It has ample storage space behind and under the rear seats. With the back seats folded down itís a full sized covered pickup bed that can seat three. Iíve used it many times to discreetly haul needed materials to the farm. An additional 300 pounds of materials can be stored on the roof and truck bed cover if needed.
On each side of the cargo bed are top access lockable storage areas that you can use to store maintenance items, straps or other items so they donít roll around the back of the truck. It even has a drain and can serve as a cooler to store ice and drink cans so you donít have to haul a cooler.
We use it as our tow vehicle for our pop up trailer (BOT) and even when loaded down it drives very well. The 5.3 L V8 is strong and reliable. Iíve had no mechanical problems, and at 40,000 plus miles have only changed filters and fluids. The engine compartment is very large and I have no problem with access to components, belts, hoses and filters. Field repairs and maintenance should not be very difficult. The fuel tank holds 31 gallons of gas and it gets 13 in the city and 18 on the highway.
In just a few minutes you adapt it to your needs and serve as a work truck, trash hauler, family transportation or BOV in a crisis. Itís great for errands and the 4 wheel drive system works on wet or snowy roads. Iíve had no problems with it in off road activities. The front and rear plastic covered bumpers are the only weakness. In serious off road work, I can see these being damaged. Iím currently seeking aftermarket bumpers to eliminate this problem and serve as a 2 inch receiver type winch mount to use on the front or rear of the truck.
Iím looking to upgrade the shocks and battery on the truck when the bumpers and winch are installed. The battery will be replaced with a marine deep cycle unit. The starter and alternator will be replaced before the truck reaches 60,000 miles.
The Avalanche is an excellent choice for a BOV with just a few modifications. It will not draw attention to its intended purpose and it has ample storage space to discreetly transport essential materials.
Uplandhillfarm
---
www.alpharubicon.com
All materials at this site not otherwise credited are Copyright © 1996 - 2005 Trip Williams. All rights reserved. May be reproduced for personal use only. Use of any material contained herein is subject to stated terms or written permission.