*Haystack's BOV Buildup - Part 01*


Introduction
By: Haystack
28 June 2012


This is going to be the first in a series of articles of my current BOV. These articles show the buildup of my BOV. All opinions on this are mine. I know that everyone's situation is different. Everyone's area of operation is different. Everyone's priorities are different.

I have always had a 4 wheel drive vehicle (4x4). My dad taught me to always have one in the family. I believe that a 4 wheel drive truck is the best platform for a BOV.

Since 2000, I have had 3 new 4x4 diesel trucks. They were powerful, reliable, and expensive. I found that I would put off-road tires on them and a receiver on front for a winch and that was it. I could not afford to build them up how I thought a true BOV needed to be. I sold them, then bought used trucks. I wanted a non-electronic motor so it would be EMP proof. I have read the EMP Commission Report, but I would rather be safe than sorry. (If an EMP happens and all the more modern vehicles still run, I still like my current choice of BOV.) So I bought gas motors with the plan of converting them to the old point-type ignitions. Then I read about the alternative fuels that diesel engines could run on: Veggie oil, motor oil, transmission fluid, etc. The alternative fuel possibilities made me want a diesel again. Then I learned about the Cummins 12 valve diesel. It is a mechanical motor. I was on the search for one.




My requirements were:
1994-1998 Dodge Diesel Cummins 12 valve diesel

4 wheel drive

Extended cab (Has to have room for wife, daughter, and dogs)

Manual transmission (In my opinion, they are more reliable than automatics)

Air conditioning (Has to be comfortable for family)

I did not care about color, or other comfort options.
I found one about 7 hours away in May of 2009. It was exactly what I was looking for...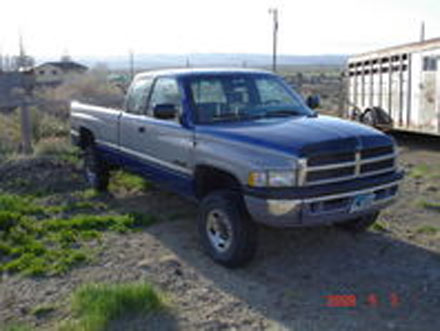 A 1996 Dodge 2500 4x4, 5 speed manual, extended cab truck...
It had 247,000 miles and was a farm truck. It was all stock. I bought it from the original owner. It was nothing fancy, but it was exactly what I was looking for. Since it was used, I paid cash. That left the ability to modify it as money permits.
What I want to do with it:
Off-road tires

Winch

Work lights

Camper shell to keep equipment out of weather

Communications gear (Ham and CB)

Locking differentials

Extra fuel capacity for extended range

Spare parts
Let the buildup begin...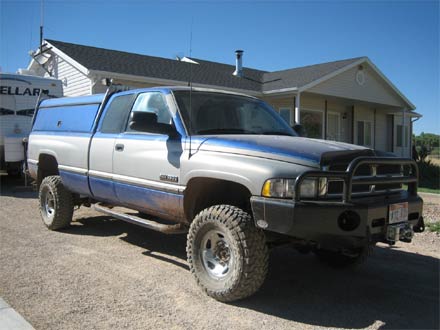 This is the current state of the BOV...
It still has a ways to go, but it is getting there.
Haystack
---
www.alpharubicon.com
All materials at this site not otherwise credited are Copyright © 1996 - 2012 Trip Williams. All rights reserved. May be reproduced for personal use only. Use of any material contained herein is subject to stated terms or written permission.