*Considerations When Selecting Your Bug Out Vehicle*
By: Josephus
29 November 2016
Purpose:
To guide and assist in the selection of your next Bug Out Vehicle (BOV). Specifically consider your fuel.
Requirements:
Funds to purchase the vehicle, and a desire to become proficient in how to utilize it's capabilities.
For Your Consideration:
Real world scenario; not some theoretical campfire chatter. No EMPs. No zombies. No war on US soil.
On October 6th, 2016, Hurricane Matthew made landfall on the east coast of Florida as a Category 4 Hurricane.
Of the 20 million Florida residents, this storm affected approximately 5 million people, of which 1.5 million were forced to evacuate from the east coast. From Fort Lauderdale north all the way to Jacksonville and into the Carolinas, massive evacuations were mandatory for coastal communities. With all the hotels in Orlando, you would think we (Orlando) could hold them. Even Disney shut down.
I was planning on getting married on October 8th on the beach, fortunately we had selected Siesta Key on the Gulf Coast. However, with family spread all over the state, and several family members scheduled to fly into town for the week. These folks were the first to have their flights cancelled. By Tuesday the storm had passed Haiti and Cuba and I knew I was going to be driving from Orlando 465 miles to Pensacola (normally 6.5 hours one way) to pick up bridesmaid #2 and back... yup.
Right back into a Cat 4 hurricane.
9pm Tuesday October 4th:
I had fueled up all of our cars and topped off the generator and jerry cans. Wednesday all gas east of I-4 was gone. Even the old dead Wrangler got it's tank topped off because it could hold fuel to be siphoned later. Fortunately Florida has price gauging laws, and the prices only spiked up a little.
The point I am trying to make is that all gas stations ran out of gas for hundreds of miles 2 days before the storm arrived. Wednesday night the gas shortages were the talk of the news stations, and as I went to sleep I had only this question in my mind:
Do I take the brand new reliable Toyota Corolla that gets 40+mpg and can do 80-90mph all day with it's 10.5 gallon gas tank?
or
Do I take the old rickety 2005 Jeep Liberty 4x4 CRD that gets 30-37mpg at 65-75mph with its 18 gallon fuel tank?
I selected the bone stock Liberty because with 4wd I knew I would be ok if the puddles got a little deeper, and more importantly I could keep it tracking straight if I started hydroplaning. I also knew that if I could keep it under 70mph it will get well over 500+ miles per tank.
What I suspected was that although every gas pump for 100 miles was bagged, and shut down... I know the interstate Truck Stops have huge fuel tanks in the ground for all of the truckers. Many of which had stopped coming south into the state. I figured those were my best bet.
Thursday October 6th:
7am: Taking back roads westbound to FL Turnpike in Ocala - I would stop every hour or so to check and see if I could find a gas station open. There were several vehicles stalled out on the side of the road. Parking lots at the gas station full of empty cars that had nearly run out of gas, and lots of restaurants with big family haulers and people outside waiting to get in. I wish I had a dollar for each camouflaged pickup & chromed-out hummer with a Zombie-Hunting Permit parked at the Waffle House next to the gas station. Not going anywhere.
It wasn't until I got to Gainesville that gas pumps were open, with very long lines. After I got a bite to eat, I hopped back on the highway and didn't bother topping off until I was past Tallahassee. Westbound was thick as expected and reports on the radio indicated South Carolina had enacted Contraflow (shutting down eastbound lanes, to allow all traffic to move westbound only). With St. Augustine and Jacksonville now enabling their evacuations too, there was talk of I-10 Contraflow out of Jacksonville.
After 2pm I picked up my copilot, we fueled-up in Pensacola, and hit the road eastbound to Orlando. We stopped at the truck stop near Tallahassee and there were long lines up front at the gas pumps, chaos.
So I pulled around the back to the big rig pumps, walked inside and asked:
"Hey is there any difference in the diesel fuel sold out back to the big rigs?"
"The diesel fuel is the same" the young lady replied "But the nozzle is bigger. "
Indeed she was right. Nearly twice as big, it was not fitting into my filler valve, and clicked-off frequently. But do you know what? It worked, very slowly, but it worked.
After I topped off knowing I could make it all the way home now, easily. I pulled around the front and drove calmly past angry folks yelling and throwing birds at each other for cutting in front at the pumps. Tempers flaring and not a cop in sight. At some point after 4pm we caught wind that some idiots on Orlando social media had posted comments to the affect:
"Going shopping at the white neighborhoods... "
"Anybody need big screens and iPads... "
"Who wants to come looting with us?"
Shortly thereafter Orlando Sheriffs dept. enacted a mandatory curfew:
"Orlando PD: ...anyone found on the streets after 10pm Will Be Arrested".
Oh great, so now we have hurry-up and get back before 10pm... and hear comes the rain. Light at first.
Once we got past Tallahassee going eastbound the only vehicles on the road going our direction were:
Bucket Trucks by the thousands (no kidding over a thousand)
National Guard trucks by the dozens. Troop carriers, and water treatment trailers.
We made good time all the way back to Gainesville, at which point I-75 SB was shut down. I don't know if it was Contraflow, I doubt it on I-75 north of Tampa. Didn't stick around to find out. So we got off and navigated back roads as the rain and now wind too started picking up.
My little town of Apopka is just barely over the line into Orange County by about 5 miles, so I didn't expect much Police enforcement of the curfew. However about 20 miles out old Matthew decided to introduce me to the concept of "Feeder Bands".
Now I've driven through blizzards. I've driven through sandstorms. I've even driven to, parked, and slept through an F1 tornado. Thunderstorms and Tropical storms with visibility down to <35 feet.
Being some of the highest points in the state, I didn't expect much if any flooding, but the roads were ponding-over.
Wind blowing debris beside us, as fast as we were driving forward.
Power lines swaying, transformers blowing, traffic lights going out, and knowing out there are downed wires, branches... time to slow it down a bit. It was getting intense.
So we crept home in 3rd gear, 4WD high at 30-40mph. Selecting roads we knew have few-to-no powerlines overhead. The few vehicles on the road were police, and they weren't about to pull anybody over and get out of their cruisers.
And wouldn't ya know it just as we pull up to the last stop sign - the rain eased-up and the wind slowed down.
We were 100 miles from the eye of the storm, and the weather said our max wind was 70 mph here in Apopka.
I kissed everybody good night and went to sleep well knowing we were in "Good Shape" as I prayed for all the others.
The Point:
Don't get me wrong, I love a good American gas V8 as much as the next red-blooded-American-male. When a big evacuation happens, gasoline disappears quickly in the US. It is times like that, you may wish you had secondary fuel tanks, or a fuel that is in less demand.
And if at all possible, find a reliable BOV that gets exceptionally good mileage, has 4 wheel drive, and is low profile (think greyman).
But I bought this little jeep for $5000. Sank another $3500 into repairs and it is comfy. Bone stock and gets over 500 miles to a tank.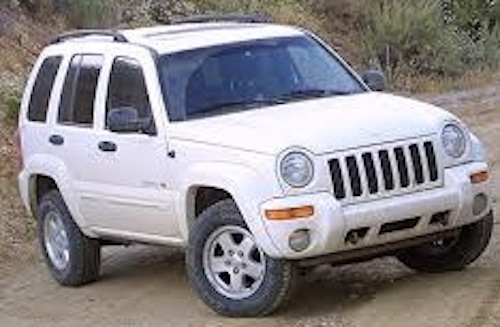 Or for $20,000 and another $10,000 to modify it you could go with: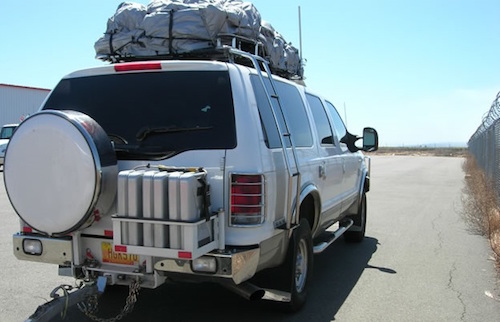 Which one would you go after if you were looking to acquire some stuff you never paid for? A couple of take-aways:
I will be purchasing a big-rig to small nozzle adapter for the fuel valve.
Diesel engines also can run on Biodiesel or even vegetable oil, when filtered.
And some better All-Terrain tires too, maybe a lift... wait I already have one of those jeeps too...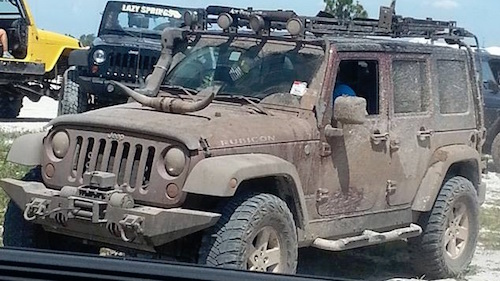 And Rubi stayed parked at home because highly modified $50,000 vehicles are unreliable and get horrible mileage (...stinging...).
Josephus
---
This Article Was Proudly Formatted For The AlphaRubicon Website By: wmerrin



www.alpharubicon.com
All materials at this site not otherwise credited are Copyright &copy 1996 - 2016 Trip Williams. All rights reserved. May be reproduced for personal use only. Use of any material contained herein is subject to stated terms or written permission.