*BOV Tips*
By: gm3
Getting by as best you can prepare for...
"If you bring it you won't need it, if you don't, you will", my dear ol' Pappy used to say....My main "Hard-core BOV" is a 1989 Jeep YJ. It's a strong vehicle, realiable and has less than 60,000 well maintained miles on the odometer. By "well maintaned" I mean 2,000 to 2,500 miles between oil changes, 10,000 miles for transfer case and differentual fluid changes, 30,000 miles for all hoses and belts and complete brake fluid replacement and bleeding. When I change hoses and belts I keep the old ones for spares, same with spark-plugs and light bulbs, yes I do change headlights before they blow, I can't have a failure if tshtf and I'm moving fast in harsh conditions....Maintanance will go a long way.....If you are unfamiluar with your vehicle you can ask someone with basic motor skills to show you how tho mantain your vehicle or purchase one of the many basic books dealing with auto/truck mantanance, a good motor manual such as Chiltons will go a long way in teaching you mantanance. I have always worked on my own cars and trucks, when you are under your vehicle changing oil it gives you an opportunity to really look at the underside of you BOV, I find about half of the problem areas when I'm down there....It pays to listen to your vehicle while it is running, I've heard an old time mechanic say that after working on a vehicle he will let it run for an hour to give the motor time to warm up to operating tempature, if you've got a motor/coolant problem, you will probably find it...
What to carry on board all the time...you can go lightwieght or again, you can go hard core. I carry lots of spares and equipment with me. .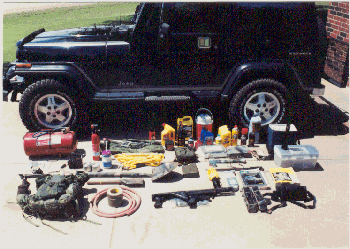 Looks like alot and it is.....The Jeep series "J" models are a stout 4WD fully dedicated to rough terrain but it offers very little in comfort and cargo space.....All this fits inside with Wife and our two young boys. Some of the epuipment tools are, left to right, 125 psi air tank, 12v compressor, fire extiguiser, BOB, AR7, HD tape, bulk heater hose, small shovel, larger shovel, 4 10' tow straps, come-along (6,000 lbs rating), extra straw water filter, emergency safe carry fuel reserve, 1 gallon anti-freeze, one gallon water, 3 quarts of ATF (for Transfer case), 4 quarts of oil, tub of bearing grease, 1/2 gallon GI canteen, 1 quart GI canteen, 1 12v trouble light with 12' cord (plugs into cig lighter), fold-up 870 Remington with 2 shot extension tube, 1 Glock M22, 1 space blanket, 1 well outfitted first-aid kit (Smaller kit in BOB), fix a flat, Carb Cleaner, Vehicle survival kit (tea, power bars, candles, coffee, Girl-Scout oven, metal cup and jerky), HD paper towels, Tool box (this is a whole 'nother article, but each of our vechiles have tool kits unique to them, some items are: bailin' wire, flat-fixing kit, jb weld, hose clamps, rubber hammer, gasket sealer, rubber material, full set of new wheel bearings, radiator repair kit and sockets, wrenches and some home-made tools), Mag light, Chiltons motor manual, two hand held 40 channel CB radios (Mobile unit in Jeep), can of slick 50 spray and whatever I can cram in my pockets. Not shown is a HD farm jack, I was doing some fence repair and failed to include it in this photo.....As you can see your imagination is the only limit on BOV gear. Good luck and tread lightly.
gm3
---
All materials at this site not otherwise credited are Copyright © 1996 - 2001 Trip Williams. All rights reserved. May be reproduced for personal use only. Use of any material contained herein is subject to stated terms or written permission.