*Building a Bug-Out Jeep Trailer: Part 1 - Planning*


By: Azgard
13 October 2007 This series of articles will describe my quest to build an off-road trailer to tow behind my Jeep Wrangler. Part 1 will outline the overall project; state its goals and parts selection, and present "THE PLAN" (Apologies, but the other parts of this article will probably be kept in the restricted Rubicon area).

First off, here are some of the goals I wanted my trailer to fulfill; hopefully most of them will be met before we're finished.

· Same track width as the Jeep

· Same tire and wheel size for maximum flexibility

· Small and maneuverable

· Extremely durable

· Relatively inexpensive

During my research for this project I encountered several commercial options, however, they were all deemed too expensive. Although some of them are pretty impressive, I just wasn't willing to shell out $10,000+ for something that I "knew" I could build.

Here are just a few of the trailers I used for "inspiration".

http://www.off-roadinternational.com/trailers.html

http://www.safaritrailers.com/

Now that I had an idea of what I wanted to build, I further refined by requirements for key components.

Axle, wheel, and suspension requirements:

· 60 inches to match the jeep's axle

· 5 x 4.5 bolt pattern, with 5 inches of backspacing to match the jeep (standard for a Jeep Wrangler Rubicon).

· 3000 lbs for strength

· Leaf spring suspension for simplicity, again at least 3000 lbs

· 31" tires

Frame requirements:

· No longer than 9 feet in length (so it will fit in my garage, and for maneuverability)

· Width defined by the axle length, plus additional space for tire clearance

· 2 x 3 x 0.120 rectangular steel chosen for strength

· Integral tongue for strength

This is the steel that I purchased to get started.
Part Number
Description
Qty
Total Price
Source
Frame
2x3x0.120 Rectangular Tubing
40 ft
$162.00
Jan's Iron Works
Box
1 ½ x 1 ½ x 0.083 Square Tubing
50 ft
$98.44
Jan's Iron Works
Total:
$260.44
&nbsp
Now that I had all of my requirements nailed down and suppliers for all my materials identified, I set to work on some plans. I used a combination of Microsoft Visio and Google Sketchup for visualization. This is what the plans looked like when I started welding. One thing to note – at this time I had no idea what I was going to do for fenders, as you'll see in a later article, I managed to come up with some beefy ones.
The Frame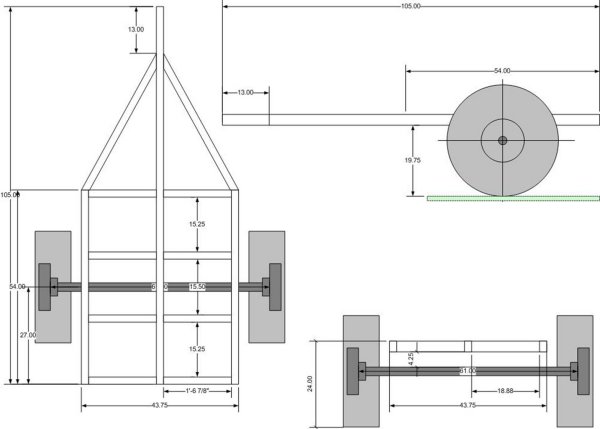 The Box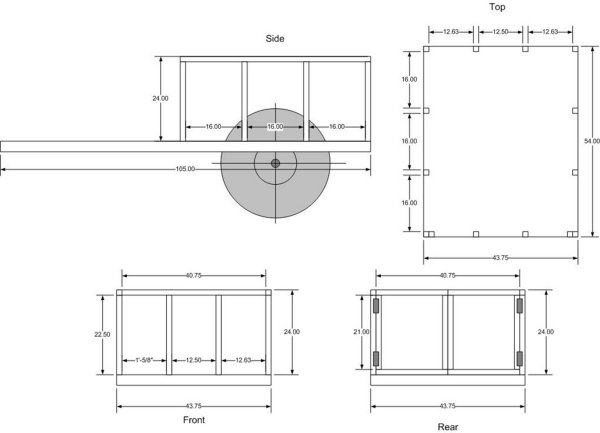 Google Sketchup Rendering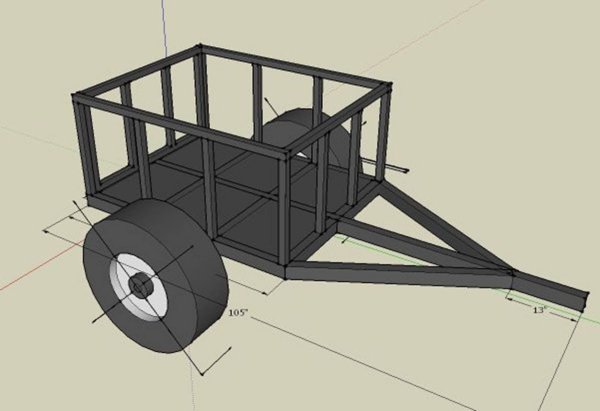 In the next article we'll fire up the welder and get started on the Frame.
Azgard
---
www.alpharubicon.com
All materials at this site not otherwise credited are Copyright © 1996 - 2007 Trip Williams. All rights reserved. May be reproduced for personal use only. Use of any material contained herein is subject to stated terms or written permission.