*Temporary Car Mirror Fix*
By: John1lt
13 May 2015
Last fall the driver side door mirror fell off of my wife's Blazer. The frame is plastic and the studs that the mounting screws attached to cracked and broke leaving the mirror hanging by the electric cables for the mirror motors. I called around and checked the prices for a replacement mirror. I didn't like the prices and being an older vehicle I didn't see an exact replacement.
I had some hex head self taping screws but didn't have any fender washers, these are oversize washers that spread load over a much larger surface area. So, I headed off to the hardware store to pick up some fender washers. While I was there I picked up some washer head self tapping screws (lower profile then the hex heads).
I didn't want bolt heads sticking up looking out of place. Self tapping screws have a cutting bit end for drilling into sheet metal and fastening parts to the sheet metal. Once you drill the screw into sheet metal the tip is dull and generally wont cut into sheet metal again so you can't reuse self tapping screws unless you pre-drill another hole for the screw so buy plenty of spares for your project.
Examples of self-tapping screws with hex heads note the tip of the screw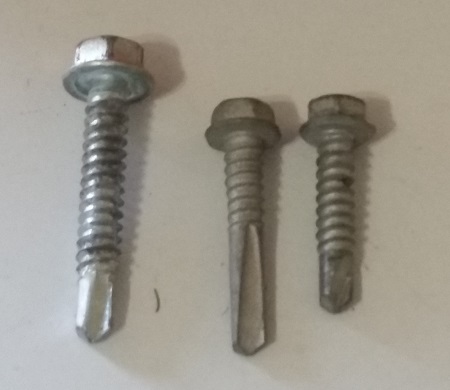 Example of washerhead self-tapping screw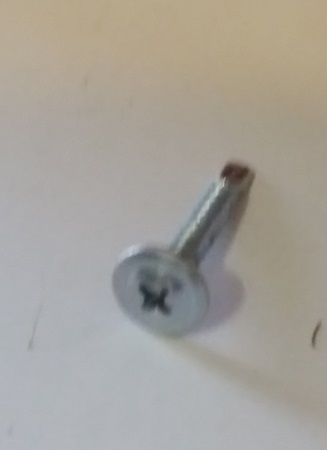 With the supplies gathered I checked the wiring to make sure I wasn't going to drill into the wiring with the self tapping screws. I didn't want to risk cracking the plastic so I drilled pilot holes thru the plastic even though the self tapping screws would easily drilled thru the plastic and still be plenty sharp enough to drill into the sheet metal behind the mirror, then used the self tapping screws to drill into the sheet metal behind the mirror bracket and attached the mirror to the door again. With a couple of screws and fender washers the mirror was nice and solid again.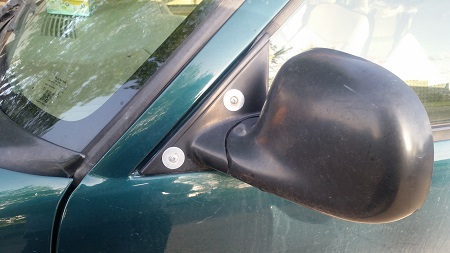 If this temporary fix stays on here too much longer I'll paint the screws and washers with black paint to match the plastic.
John1lt
---
This Article Was Proudly Formatted For The AlphaRubicon Website By: Vikis



www.alpharubicon.com
All materials at this site not otherwise credited are Copyright &copy 1996 - 2014 Trip Williams. All rights reserved. May be reproduced for personal use only. Use of any material contained herein is subject to stated terms or written permission.