*Container Storage and Transport*


Portable Storage and Bug out System
By: Fairplay
14 March 2006

Some time ago I realized that if I ever needed to bug out, I would be hard pressed to get everything together quickly that I didnít want to leave behind and hit the evacuation route. I also realized the benefits of modular design for a system that would work well as a permanent arrangement providing storage yet be portable in a bug out scenario. I wanted something that was thief resistant, provided weather tight storage, and could hold a sizable amount of goodies. I first considered an enclosed trailer dedicated to bug out gear but then I realized generally speaking I consider bugging out as a last option. A dedicated bug out trailer would just be sitting idle most of the time. I like the idea of keeping things in regular service because something that you are using on a regular basis is more likely to be maintained better so I really wasnít that keen on the idea of a dedicated bug out trailer. I am more likely to notice something minor that needs repair if I am using it on a regular basis instead of discovering a show stopper at a time when time is of the essence.

This system is like the Tupperware tubs we all use, it is just on a little bigger scale. This system is a work in progress, so what you see today will likely be changed tomorow. Future refinements are one of the reasons that I wanted to write this article now to share what Iím doing with the Rubie community, get feedback and ideas. Even though the tow truck affords the luxury of lifting hydraulics to pick up and move a container, it is certainly not required because the containers have skids and can be skidded onto the trailer using a winch mounted on the front of a trailer. Many of us have trailers and something to tow them.

Here is a picture of the overall setup at the moment.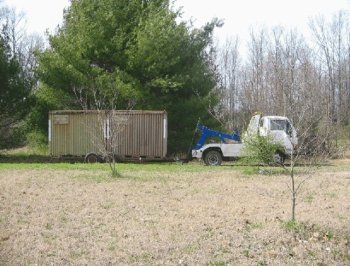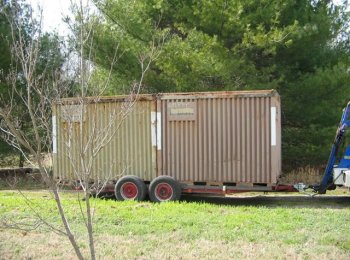 I can haul two empty or lightly loaded containers. If I load them with the doors facing in the middle, the contents are inaccessible unless the containers are unloaded first which reduces the likelihood of anyone successfully getting into a container during transport.
I started with an all metal trailer and welded angle iron "rails" on each side to provide a guide for sliding the containers on and off the trailer. Metal tabs were welded on the tops of the angle iron at the appropriate placement and holes were punched in the tabs to allow a long 1" diameter pin to be inserted all the way through the tabs and through a round hole in the container skid. The long pin is secured with a spring clip inserted in a hole drilled through the pin on the outside of the tab on the other side of the trailer. The placement of the tabs was planned to allow either two light containers to be hauled or one heavier container to be centered just ahead of the axles. The pinning system makes for very fast loading and unloading and a way to safely secure the containers to the trailer without messing with time consuming straps and chains. Here is a close up showing the rails and the tabs with the pins inserted.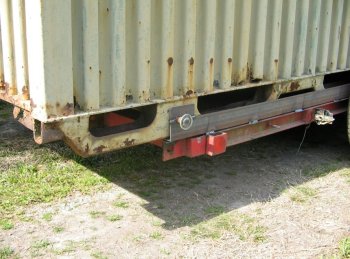 A set of magnetic tow lights stuck to the rear of the container provides brake and running lights.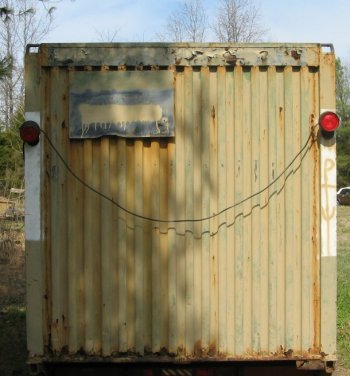 I can still use the trailer for other things.
My thinking has been shaped by this system in that it provides weather tight storage and permits modularization based on functional units. For example, Iím toying with the idea of a container which houses a generator, fuel storage for the generator, and a water tank heat exchanger utilizing the waste heat for hot water. Iím only beginning to fully realize the utility of a system that is permanent but can be portable if the need arises.
Fairplay
---
www.alpharubicon.com
All materials at this site not otherwise credited are Copyright © 1996 - 2006 Trip Williams. All rights reserved. May be reproduced for personal use only. Use of any material contained herein is subject to stated terms or written permission.