The Paratrooper folding mountain bike


Got transportation backups?
By: Czechsix
16 July 2008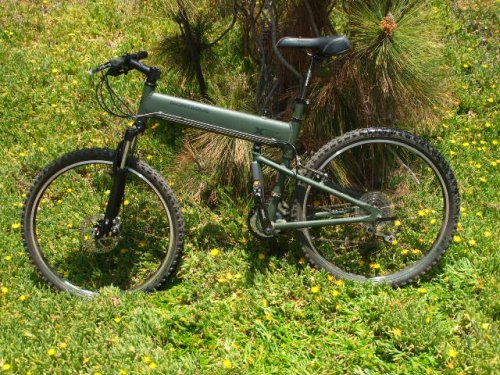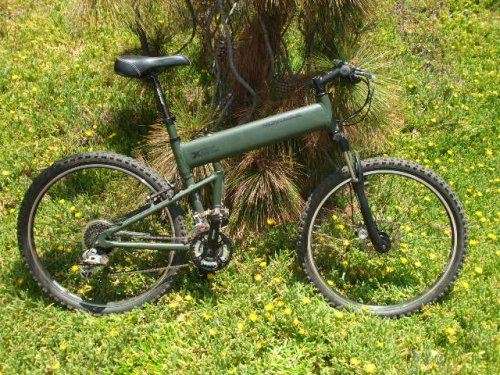 A folding mountain bike...
In this article, we'll be looking at a relatively new development in bicycles - a design that has many features that'll be of interest to folks that are into prepping for disasters. We'll be dealing specifically with a line of bikes that are put out by the Montague company, and one in particular - the Paratrooper model. The Montague design allows for a heavy duty folding bicycle, capable of acting as a recreational or physical fitness bike while also acting as a second or third tier transportion method.
The Montague concept was designed and implemented by a father and son team, Harry and David Montague. Harry is the original designer of the frame, and the father of David, and started making and selling these bicycles in his garage - which enabled him to do quite a bit of testing and proof of concept work before engaging in the mass market editions. The basic design has been in operation for over twenty years now, making it well proven. I decided to go with this particular manufacturer for several different reasons - capability, cost, and utility. The capabilities of these bikes are also well proven, with one of the models actually being used operationally by the U.S. military, to the point that it's been issued its own N.S.N.. Various uses in the military range from regular use all the way to true tactical use - these bikes (specifically the "Paratrooper" model) are in use with scout, M.P. and other units. DARPA and Montague also teamed together to offer an enhanced version of the bicycle, with an auxiliary electric power system (the "TENS" system - standing for "Tactical Electric No Signature"). The final development of this has given us the M313 "Shocktrooper" electric bike. Personally, I'd stick with the regular bicycle. The M-313 is much heavier and more complex, not to mention much more expensive. As of this writing, the company that assembled the electric bikes - WaveCrest - is out of business. Supposedly they still support the existing bikes with parts though, but I'd take that with a grain of salt. If you're interested in them though, one can find sites (craigslist, etc.) that offer civilian versions of it - the TidalForce M750x, which'll set you back about $3000 or so, and weighs in at a hefty 80 pounds.
The Montague bicycles themselves use commonly available mountain bike parts. The only "custom" feature of the bike is the frame folding system itself. Luckily the folding frame components are not lightweight and flimsy items. With proper care and maintenance they should last for many years. Frame materials are high quality, welds are done nicely and all in all they're good packages. Other aftermarket components that might be of interest to users, such as front and rear racks, panniers, seat bags, water bottle holders, tool kits and mounts are all standard mountain bike parts, available online or from any bicycle shop.
Standard features on the Paratrooper bicycle include a front suspension fork, standard 26" wheels, SRAM and Shimano components giving 24 speeds (generally lower end stuff, but they work quite well. If it doesn't suit the owner they can always be upgraded), front disc brake, and rear cantilever brake. The Paratrooper is available in one frame color, a subdued green. The folding system uses a quick release wheel type "skewer" that goes through the frame, right in front of the seat post. The lower end clamps onto the rear triangle, and once you cam it over it's a very sturdy lockup. I can't detect any movement in it, and I don't see any wear patterns that would indicate movement/failure. Wheels are held on with a new system of QR skewers, and I'll detail those a bit further on in the article. To fold the bike up, the only thing that is removed is the front wheel. Folding and unfolding are done in under a minute, just remove the front wheel, release the frame QR, spin it out a bit, push down on the cam lever and swing the front of the frame away. Then unlock the seat post clamp and lower the seat to minimum height. The entire frame folds within itself and becomes a compact package. Also available is a storage back with shoulder strap. If, for some reason, you need to carry the bike folded, the shoulder strap can be used on its own without the bag.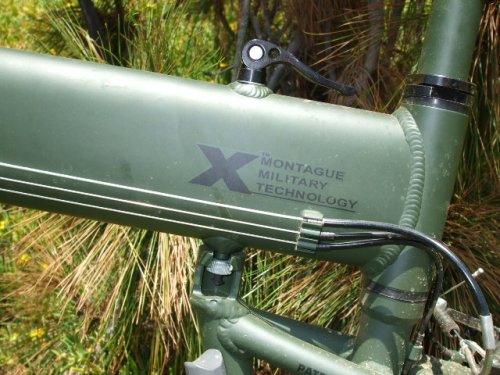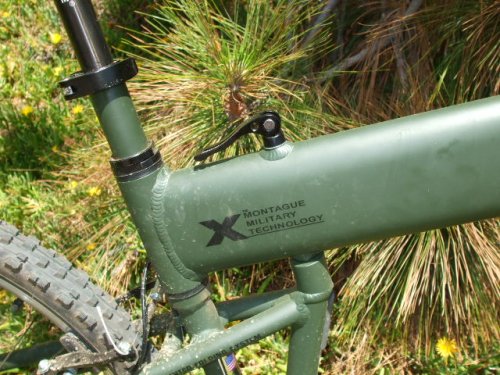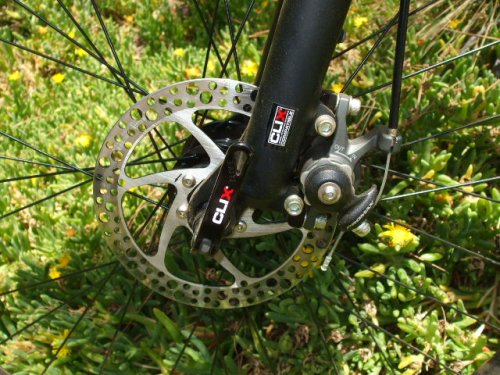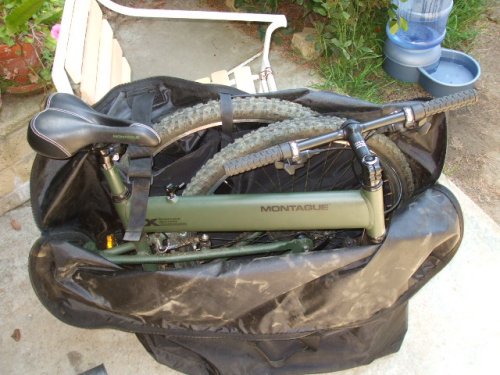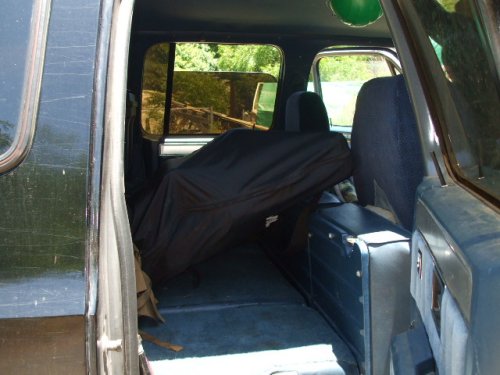 Standard frame sizes are 18" and 20", with fitting charts available on the Montague website. I'm 6'2", and the 20" works fine for me. (Direct from Montague, the basic fit chart is as follows: Riders 5'3" to 5'10" - 18" frame. Riders 5'11" - 6'4" - 20" frame.) The basic fitting method is to stand over the top tube on the bike - if you have at least 1" clearance, that's a frame that'll fit you. Eventually I'll start to swap some components out to fit personal needs, but many folks will find that it's quite comfortable in the stock form.
Even though I went with the Paratrooper model myself, the company makes quite a few different models, all the way from "city" bikes to mountain bikes with higher end components. Different components are used on the various models - for further specs and details on all the various models, your best bet is to check directly with Montague. All of them are foldable, but you should be able to find a bike that'll fit your needs.
Some notes on setup and use: As with any tool, once you get one of these, ride it and use it. Even though bikes are usually set up and tuned when they come out of the shop, you'll be doing some light maintanance on them within the first week - basically tightening up and bringing things back into spec. Spokes will have to be re-tightened once or twice, wheels might have to be trued again, and adjustments will have to be made regarding the setup of the bikes. Ladies will probably have to replace the stock seat with a seat that's designed for women - unless they've been active with bicycling, the stock seat designs are for mens physiology. Women have different enough bodies and pelvic widths that most seats designed for men are quite uncomfortable for them, but luckily there are quite a few seats for the ladies on the market now. Be careful not to get a seat thats too soft though - what you want is good support with as little padding as is comfortable for you. Why minimum padding? The reason is that padding will often contribute to friction and sores, instead of protecting the person from them. Many folks have a tendency to get overly padded seats, and seats that are too thick through the "horn" of the saddle - the front part of it. Seats are really just designed to support the pelvis, and ideally stay out of the way of the thigh muscles. Minimalist is often better in bicycle seats, but the only way to know what works for you is to actually go out there and use it. There's definitely a period of acclimatization with a new seat, and it's just one of those things that you have to put time into, kind of like breaking in a new set of boots. As to how to set up the bike, you'll have one major adjustment to make with the stock bike - seat height. To find your proper seat height you'll need a couple of things: a plumb bob (if you want to get real technical, but you can also eyeball Mk.1 it), and a helper. One of the basic methods to get proper seat height is to find a flat spot, extend the seat post to where you think it'll work (rough heighth adjustment), and lock it down, then sit on the saddle, get someone to support the bike, and rotate the crank arms until they're parallel to the ground. Put the ball of your foot on the pedal that's most forward, with the middle of the ball of your foot right over the centerline of the pedal spindle. Take that plumb line and hold it right on the front of your kneecap, and look to see where the line goes in relation to the pedal spindle. What you want to see is that plumb line showing you that your kneecap is directly over the pedal spindle while the ball of your foot is right over it too. Adjust the seat post up or down until you have the right configuration. Now that you've got that, you might be asking what's the big deal? Well, it comes down to optimizing power while trying to lessen the chances of injury - if you want to actually get more power, you'll slide back on the seat, or adjust the seat higher, but both of those will put more stress on your joints. To optimize pedaling speed, and get a smoother stroke, many folks will move forward on the seat, or look for a bike that has a more upright seat post. Also, even though these methods work pretty well, everyone is different, and mountain biking itself has plenty of different tricks - ways to keep your center of gravity lower, techniques to help go downhill, over obstacles, etc. But at the least this basic seat adjustment will get you going. After that it's up to you to ride the bike, and figure out what works well for you. Don't hesitate to ask questions - the biomechanics of bicycling has come a long ways, and there are plenty of experienced folks out there more than happy to help out. Try checking in higher end bike shops, for instance.
Another thing to know on any bike with quick release skewers (QR's) is how to adjust them properly. The easiest way is to get someone to show you, but basically you want enough tension on the cam lever to leave an imprint on the palm of your hand when you overcenter it. Most of the time I find that tightening the skewer until I can get the cam lever to get a bit past the center point, hand tight gets me close enough to get good pressure on the QR. Don't forget that this is an important thing - if you ever lose a wheel because you didn't have that QR tight enough, you'll never forget it. The Montague bikes use a new style of QR - the Clix system. The major difference between the original QR and the newer Clix is that the Clix no longer requires the rider to spin the QR to get the proper tension before overcentering the cam lever. The Clix system uses a different lever profile, plus eliminating a spring, and adding a small spacer. Once you go through the initial adjustment, it's a one hand operation to get a front wheel on and off, plus it's faster than the regular QR. In operation it works well, and seems to be just as sturdy as the original QR's. I'm considering retrofitting it on my other bikes.
Current MSRP for the Paratrooper model is $765, but I found it on the 'net at 20% off - so the Paratrooper came to just under $640, with free shipping included. Not a bad price for something like this. If you look around, you'll find some sites that will offer up to 30% off, generally during group buys. The 20% off can be found much more regularly.The bicycles were drop shipped directly from Montague, and arrived via FedEx in three business days. I had two of them set up and riding in twenty minutes - there's very little assembly to do once you get them, and they do include comprehensive manuals on all the components, along with the owners manual. No tools need to be supplied by the purchaser, the only tool needed is supplied with the bike, and that's a pedal spindle wrench.
Since this article is targeted towards preppers, it stands to reason that one of the needed items to carry on the bike is a spare parts and tool kit. (no, I didn't include a scabbard, a rack for ammo cans, a pintle mount, or wrap the entire frame with 550 cord...) I went fairly simple with this - frame mounted pump, two spokes duct taped to the frame, an underseat bag with spoke wrench, bike specific multitool, tire levers, patch kit. I carry a Gerber multitool everyday, so that's also riding along. In addition to the tool kit I added Slime brand tube protectors between the tires and tubes, just for that extra piece of mind.
So there you have it, a mountain bicycle that's relatively inexpensive, can be tucked into a small space, uses common components, but is tough enough to use daily. Used regularly, it'll give you that extra physical conditioning that we all need. I give it a two thumbs up, and I wouldn't hesitate to buy one again if I needed to.
Specifications:
Color: Cammy Green
Frame: Front: 7005 series aluminum, Rear: 7005 Series Aluminum
Fork: RST® CAPA-T8 Suspension disc mount, adjustable preload with CLIX Ramps
Rims: Jalco® alloy, 32 hole, machine finish brake surface
Tires: 26 x 1.95" knobby
Hubset: Formula® sealed alloy
Spokes: 14G stainless
Saddle: Cionlli® Mountain Double Density
Seatpost: Ultralight butted alloy, 300mm
Handlebars: Ultralight butted alloy, 30 degree rise, 5 degree bend
Stem: Alloy threadless
Shifters: SRAM® X-5 Trigger front and rear
Front Derailleur: SRAM® top pull
Rear Derailleur: SRAM® X-5
Crankse: Prowheel® 42/32/22
Speeds: 24 Speeds
Brakeset: Front: Promax with dual pad adjustment. Rear: Alloy V-style Promax® levers
Pedals: Bear trap
Bottom Bracket: sealed cartridge
Frame Sizes: 18", 20"
Stand over heights (for 18" and 20"): 29", 30"
Folded Size: 36" x 28" x 12"
Weight: 29lbs.
MSRP: $765.00 (as of 2008)
Specifications data courtesy of Montague Bicycles
For more information: Montague military bicycles
Note to military personnel interested in procuring these bikes - according to David Widing at Montague Bicycles, the best purchase path to get these bicycles for your unit is to contact the company directly, and use discretionary funds. Please contact Mr. Widing (military sales) directly, at 1-800-736-5348 X 16 .
Czechsix
---
www.alpharubicon.com
All materials at this site not otherwise credited are Copyright © 1996 - 2008 Trip Williams. All rights reserved. May be reproduced for personal use only. Use of any material contained herein is subject to stated terms or written permission.