*The Jeep Wilderness Rack*


By: Homesteader
30 December 2004

A short review on Garvin Industries Jeep Wrangler Bumper and Swing Away Tire System (of whom I am in no way affiliated with).

It's nice to be able to carry a few extra things on the BOV, but sometimes you are limited due to the nature of the vehicle and other considerations.

A good example is my Jeep Wrangler. Man, I love that thing. 4-Wheel Drive; large enough to carry the family in, but still small enough to get in and out of the places we sometimes go. The only disadvantage is its limited storage capacity for extra gear. A little bit of room behind the back seat and that's about it.

To solve this problem I invested in Garvin Industries Swing Away Tire System. It includes a rear bumper with hitch, a spare tire mount, spots for 5 gallon jerry cans for water and gas, ax and shovel mounting brackets, a place for a Hi-Lift Jack and a top rack for a storage box.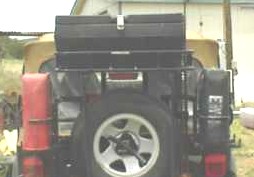 It was kind of a pricey solution and I probably could have built something similar, but after the cost of time, materials and my mistakes, I feel it was worth it.
The quality of the materials was excellent. Very heavy black-powder coated tubular steel and all mounting hardware was included. Instructions were very easy to follow. It basically had you remove the old rear bumper, install the new bumper, slide the tire mount over the pivot on the new bumper, put on the mounts for shovel, axe and jerry cans and finally mount the top rack.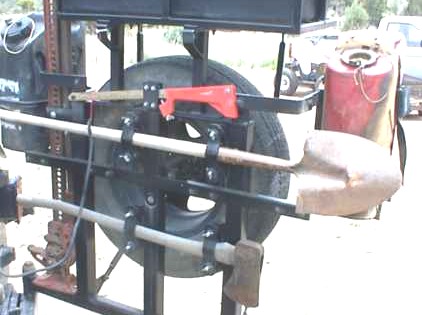 The only problem I ran into was removing the old bumper. The old nuts were pretty much frozen on and then I had a hard time getting a wrench in there, but after it was off, everything else was a piece of cake.
I've had it on for a little more than 2 years now and still love the thing. There is a grease fitting located on the pivot that keeps it swinging freely. It is secured with a threaded handle and clevis pin which I tied to the bumper with paracord so I wouldn't lose them. It has spots for small padlocks to lock the spare tire and rack itself for security. Every once in a while I have to check the butterfly nuts on the shovel and axe mounts to make sure they stay tight. (I also fabricated a saw mount, but am looking into getting Foresters' Max Ax) And I had to secure the Hi-Lift with nuts and bolts; takes longer to get it off than wing-nuts, but makes it more secure. The tie-down system for the jerry cans is really nice. Once adjusted, it stays tight-I haven't had to readjust it once and the material is still in pretty good shape.
Now I have been referred to as a traveling bomb, carrying that gas on the back. But I've been in just too many circumstances where I really could have used it. I think I've stopped about 4 times since I've had it to help someone else out with extra gas and it sure is handy around the place when you need to refill the atv, etc.
I was rear-ended once by a large Dodge Ram Pick-up, but the gas is mounted high enough that it wasn't a danger. He wasn't going that fast, but all he did was bend one of the mount bars for the top rack and came to a stop against the spare tire. Did a lot more damage to the truck than the rack. But you still need to use caution.
In the winter I've had a problem with my water freezing; be driving around and can hear the ice knocking around inside the can. When I get the vehicles ready for winter, I usually just fill it up with the human-safe antifreeze that you can get at RV stores.
The box on the top rack was an old tool box I had lying around, but you can easily put an ice chest up there if you want.
Overall I give this product two-thumbs up and 5 stars. So many times nowdays, you get inferior quality materials and instructions in Korean. These guys have put a lot of thought and care into this and I whole-heartedly recommend it.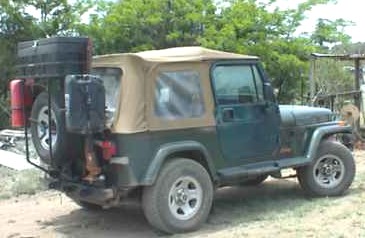 Homesteader
---
www.alpharubicon.com
All materials at this site not otherwise credited are Copyright © 1996 - 2004 Trip Williams. All rights reserved. May be reproduced for personal use only. Use of any material contained herein is subject to stated terms or written permission.