*A Tool For The BOV*


By: Forester
11 February 2004

The MAX AX is the Ideal Vehicle Tool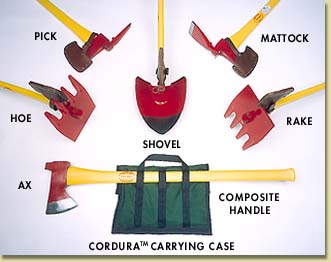 In an emergency these tools will give you the edge you need to do the job. If space is limited this tool packs small and is easy to carry. I have this set in my BOV and have used them on my outings. The weight is about 12 lbs. Web address http://www.maxax.com/
The axe set includes:
STANDARD HUDSON BAY AXE--34" hickory handle and 3-1/2 lb., 7" long 1044 carbon steel tempered head with a 4-1/2" blade. The axe can be used for chopping and splitting when no other attachments are in place.
SHOVEL--9-1/2"W x 9-3/8"L round point blade for digging, scraping and chopping.
PULASKI ATTACHMENT--5"L, 1-3/4 lb. head with 3-1/2" blade provides a mattock for grubbing or trenching.
MCLEOD FIRE TOOL--a combination of 5"W x 7-1/8"L rake with 3-1/2" teeth and a 3-1/4"W x 7"L hoe for clearing fire lines.
PICK--5" long, for pulling brush from under rock and cutting small roots.
BROAD PICK--4" long, for cutting underbrush and roots from fire lines.
LEATHER SHEATH--to cover axe when another attachment is in use.
CANVAS CARRYING CASE-with Velcro closure. The design allows quick assembly and disassembly. All attachments except McLeod are mounted in the socket at the top of the axe head with 2"hitch pins. The McLeod is attached by a 3"locking bar secured in the socket by tightening the thumbscrew.
Forester
---
www.alpharubicon.com
All materials at this site not otherwise credited are Copyright © 1996 - 2004 Trip Williams. All rights reserved. May be reproduced for personal use only. Use of any material contained herein is subject to stated terms or written permission.