*Replacing Gas Springs*


By: Natrex
22 January 2013

Gas springs are the "shock absorber" things that may be holding the hood or hatchback open on your vehicle. They wear out over time and can grow from a mild annoyance to a real danger. Changing them out is easy and can be done in about ten minutes, even if you are really taking your time. Prior to doing any work, you first need to get replacement parts. If the gas springs came with your vehicle, then you can probably use one of the online part stores to buy replacements. My favorite, in order of preference, are www.rockauto.com, www.advanceauto.com, and www.amazon.com. Yup, Amazon sells more than just books, but if you use the other two sites don't forget to check www.retailmenot.com for online coupons from 5% to 50% off your order. Okay, so what if you have an aftermarket item like a camper shell that didn't come with your vehicle? Here's what you do: first, check to see if there is a make and model number on your worn out gas spring and if there is, use your Google-foo to find an online seller. If that doesn't work, then here's the next approach: Measure the extended and compressed length of the gas spring, measure the ball where it attaches (it will probably be 8mm), and write down any strength info. The strength of the spring will be expressed either as pounds or Newtons (N) and Newtons can be converted to pounds by dividing the Newtons by 4.45. With those specs, you can now go looking for a replacement part. A couple of major manufacturers are Stabilus and Attwood, and you can find spec sheets for their products by searching for "universal lift support" or "gas spring" and their name. So, you get your parts spec'ed and ordered, now what?

Swapping the springs is actually easier than ordering them. They are held on by a ball-and-socket system that has a retaining ring that secures around the ball. Use a flat blade screwdriver as shown in the picture below.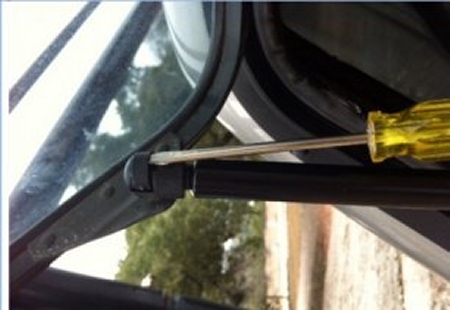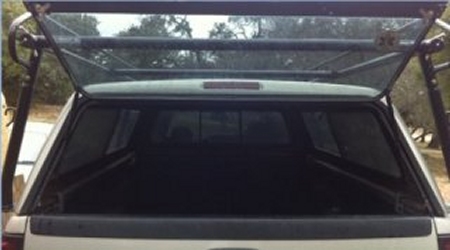 Installation is the reverse of the removal and that's really all there is to it. Within a few minutes you will have a camper shell or hood that doesn't whack you in the head when you least expect it.
Natrex
---
This Article Was Proudly Formatted For The AlphaRubicon Website By: Coffeehound



www.alpharubicon.com
All materials at this site not otherwise credited are Copyright &copy 1996 - 2013 Trip Williams. All rights reserved. May be reproduced for personal use only. Use of any material contained herein is subject to stated terms or written permission.