*Using Tire Levers to Change Bicycle Tires*


By: TTrout
24 March 2006

Plastic tire levers are available in three packs at any bike shop. It's just a stick of plastic with a hook on one end and a flat part on the other. They are simple and just the right tool at the right time if you want to change a tire. Let's just jump right into it here. The bike has old tires and tubes on it. They're not really all that worn out, but they are five years old and I'd like to upgrade them just in case. Unfortunately the only bike I have is a folding bike, with this bike you don't have to take the wheel off to change the tire, this is a bonus, but it's not normal and you may have to learn how to take your wheel off. Also "rim tape" seems to be really popular to protect the tube from the spoke ends, a really nice tape was already in my wheel and looked to be in good shape so I just left it in there. Fixer has said that filiment packing tape is the best thing for this if you need this tape. This is also an upgrade for my bike, I'm going from a skinny tire to the biggest heaviest tire that would fit. Jab the lever under the bead and rotate the tire while holding the lever in place, breaking the bead as you go.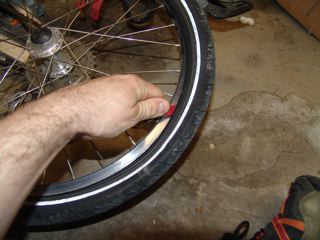 Pull the old tire and tube off the wheel.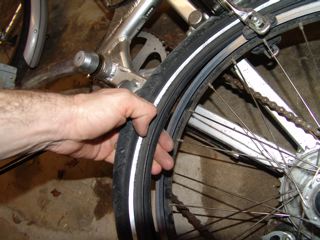 Put the tube on there, push the valve stem through the hole in the wheel and give the nut that holds the air stem a few turns.
You'll see that stem and nut down on the right hand side by my shoe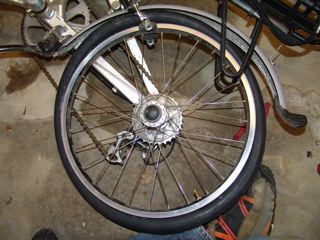 Ok this is the tricky part! You put the new tire on! I usually let some air out of the tube, work the thing around till it fits.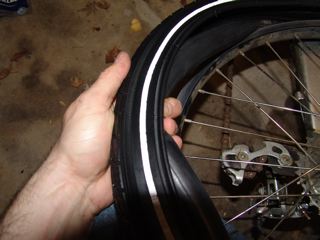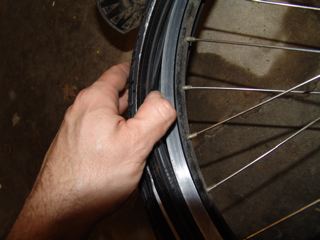 Alright this is the part that is really fun, cranking this tire onto the rim using these levers as Levers! You lever it in there, and push in on the tire with your hand, working your way around till it all pops into place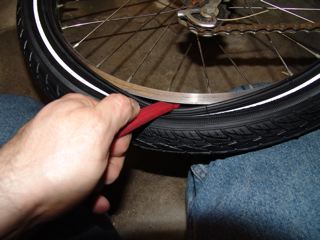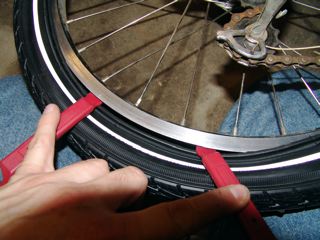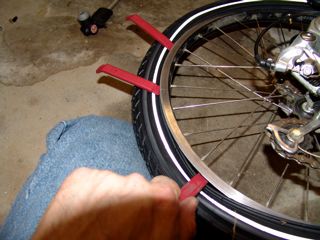 Done! Well For one side anyway! now you have to do the same thing all the way around the other side and then put air in the tube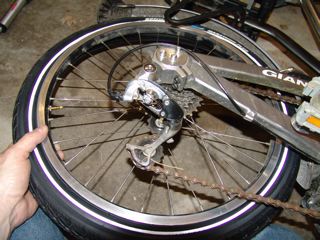 And here is my bike with shiny new Schwalbe Marathon Plus tires! These tires are 40 bucks a pop with makes them the most expensive tires ounce for ounce I've ever put on anything - but they have an 8mm thick layer of puncture protection. I really load this little bike up with stuff and ride it a lot so I think the good tires will serve me well.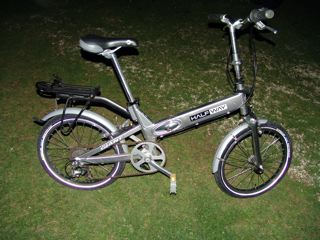 TTrout
---
www.alpharubicon.com
All materials at this site not otherwise credited are Copyright © 1996 - 2006 Trip Williams. All rights reserved. May be reproduced for personal use only. Use of any material contained herein is subject to stated terms or written permission.