*Securing Trailer Batteries*
By: Expedition
30 December 2011
Part of my preparedness plan involves having a travel trailer that is ready to go so, if we have to leave our area, we have a warm dry place to stay. One of the requirements is that I wanted two 6-volt batteries and two full 30lb propane tanks. This should allow us to stay for some extended time without needing hook ups.
So, with the trailer, it was time to install the tanks and batteries. I bought new tanks so they had the new valves and a 10-year expiry date so they can be refilled. Older style tanks without the newer valves most places will not refill them. These tanks have a triangle looking valve. If yours have this you are good to go...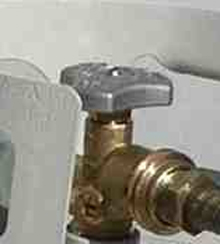 I bought some 4-foot lengths of 1/8 think flat steel. Mine is 1 1/2 inches wide. I took it to my vise and bent it into a shape that resembled the battery box size...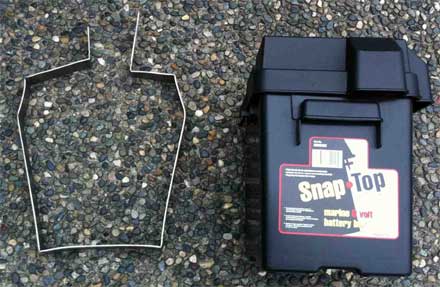 These are larger size for a 6-volt battery. Note the critical dimension was that it fit below the trailer frame the battery box sits in.
This is still rough and I used some sheet metal screws to hold the two halves together so when I drilled the hole for the lock it fit properly...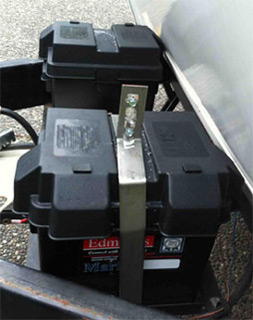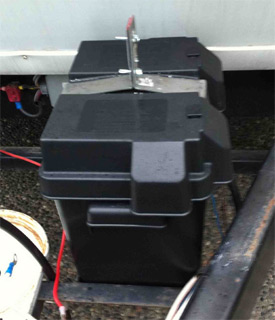 Once it was drilled and properly set, I painted the two brackets (one for each battery) and installed them. Note that I cut the top where the lock goes shorter and did round the top edges so they were not so sharp. These are simple spread apart and fit around the frame and battery boxes once the batteries are in the box and the top is on tightly...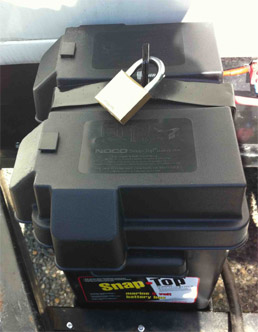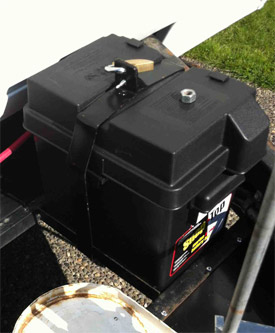 I did leave one screw in below the lock to keep everything tight. Also the picture on the right shows the lock band going around the frame channels. I went to a local lock shop and bought some keyed alike padlocks so I only needed one key.
Lastly, I bought a lock cable with loops in both ends, and...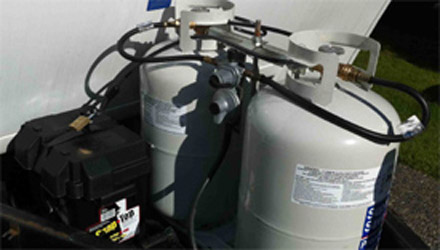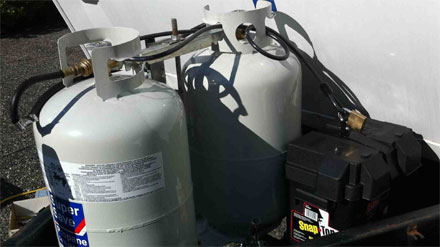 This weaves from one battery, through the propane tanks, and back to the opposite battery-locking band.
Expedition
---
www.alpharubicon.com
All materials at this site not otherwise credited are Copyright © 1996 - 2012 Trip Williams. All rights reserved. May be reproduced for personal use only. Use of any material contained herein is subject to stated terms or written permission.