*Cleaning Out A Water Heater*


By: Jaden
12 May 2006

Over the years the tank style water heaters will accumulate sediment in the bottom. I rolled this 82 gallon tank around on itís side and could hear a lot of crap rolling inside. It needed to get cleaned out. This will work best if the heater can be removed and taken outside.

I removed the boiler drain valve from the bottom and threaded in a short piece of copper pipe. Then I removed the blow off valve from the top of the tank. I took the tank outside and shoved a garden hose in the hole where the blow off valve was.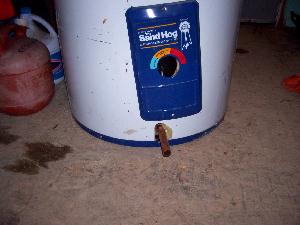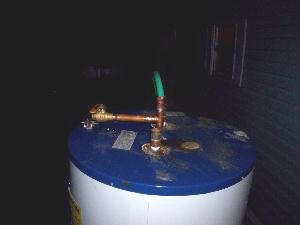 Drain pipe-------------------------------------------------Filling from the top
I turned the water on full blast and then started shoving a piece of 12/2 wire in and out of the drain pipe to keep it clear and loosen up the crap inside. After I thought the most of it was out, I violently rocked the tank back and forth to wash around the sediment around the edges that I couldnít reach with the wire. Then Iíd tip the heater so the drain pipe was pointing downward and would have to keep ram rodding it as chunks of "stuff" kept plugging it. Lots more "stuff" came out.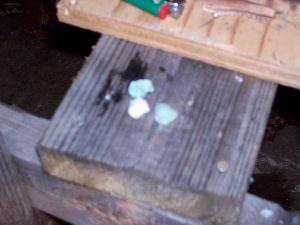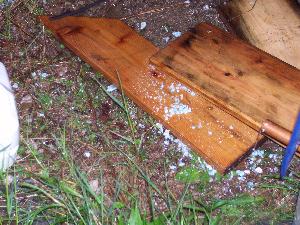 Large chunks-----------------------------------"stuff"Öonly a small part of it, there was a lot more
After an hour of doing this over and over again I figured it was probably clean. There was a lot of white chunky stuff that came out. I no longer felt small invisible chunks coming out of the drain water even after rocking the tank. I shut down the water and let the tank drain and dragged it back inside and laid it down. Upon rolling it I could hear ONE, just ONE measly chunk rolling around in there. For one chunk I ainít gonna worry about it.
The heater was made in 1983 and taken out of service sometime around 1994 and has been sitting ever since. That was about 10 years accumulation. There is nothing wrong with it, it was replaced with a boiler mate. It serviced a large building and had a lot of water go through it. I donít think residential use would produce as much sediment.
Jaden
---
www.alpharubicon.com
All materials at this site not otherwise credited are Copyright © 1996 - 2006 Trip Williams. All rights reserved. May be reproduced for personal use only. Use of any material contained herein is subject to stated terms or written permission.