*Convert PC to 12 Volt*


By: TTrout
19 December 2005

It's not too hard to convert a PC to 12 volt. You won't be powering up one of these overkill systems with four IDE devices but the motherboard, hard drive and CDROM can be powered up easily.

This picture shows the parts needed. A 200 watt DC-DC power supply. ATX extension cable and 4 pin accessory to four pin quad "P4 Power Cable" adapter. Also some wire and inline fuse to hook it up all up to juice.

PW-200-M 12V, 200Watts ATX micro PSU. $49.95
20 Pin ATX Extension Cable $6.00
P4-ATX $3.95
Total $59.85

Either http://www.mini-box.com/ or http://www.logicsupply.com/ has these parts.
The first thing to watch out for is that the board appears to say that Black is +. There is a mark that looks like a + next to black. This is not true and will pop fuses if you hook it up backwards. White is Positive.
This little power supply is intended to plug straight into the motherboard but in most cases I don't think that is practical because of clearance issues with components around the ATX connector. This is why we need the ATX extension cable. But, if you look at your case and it looks like this would fit, go for it. You don't have to be all that worried about heat b/c this thing runs very cool. It is also much quieter than an ATX power supply. It makes no sound at all.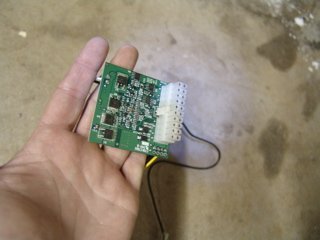 The board comes with a positive center round plug type thing, but I chopped that off and added an inline fuse and some battery clamps. This is running on a 12AH battery.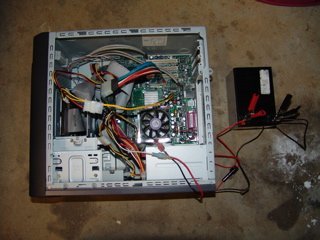 TTrout
---
www.alpharubicon.com
All materials at this site not otherwise credited are Copyright © 1996 - 2005 Trip Williams. All rights reserved. May be reproduced for personal use only. Use of any material contained herein is subject to stated terms or written permission.