*My Radio Evolution*
By Eli
30 May 2003
When I was a little kid, I dunno maybe 8 years old and somewhere around 3rd grade my aunt got married to a guy named Ron. He had a CB in the house and one in his truck. I hung out with Uncle Ron a lot and he got me talking to people on the CB. Iíve always been technically minded and that just blew me away. Radio was pretty coolÖ. I wanted one.
For Christmas that year my other uncle (who had just installed a CB in his truck) gave me 2 handheld CBísÖWITH batteries and a charger. I was the happiest kid in the world. On the way home I talked to both uncles on the CB. That was super cool. We all lived in the same town and talked to each other all the time.
That was the start of it all.
I talked my uncle out of an old CB he had in the basement. My dad found a magnet mount antenna that somebody was throwing away (nothing wrong with it) and got it for me. I stuck it on the roof, ran the coax in through my bedroom window and wired the radio up to a 1.75 amp power pack.
Over the next couple years or so I accumulated about 8 more CBís and a handheld scanner. Dad built me a shelf for my stuff. I had it all piled on the shelf and hooked up and running. I had like 7 CBís in operation at one time. The roof was a porcupine.
There was a guy a couple of towns away and a few others that I talked to every night. We talked about radios and electronics and just general stuff. He gave me lots of ideas on how to modify equipment and how to make things better. Good olí Channel 19 I had a lot of fun and met a lot of cool people there.
My 6th grade teacher was (still is) a ham radio operator. She gave me about a half dozen QST magazines. I read them over and over and over again. Looking at ham radio, looking at all the neat stuff those guys did like talking all over the world and to astronauts and thinking, "I canít afford stuff like that." That didnít stop me from wishing and dreaming though.
As the next few years went by the CB collection grew. Just ask momÖ sheíll tell ya. My bedroom was a radio war zone. Radios and electronics piled everywhere, and I do mean everywhere.
I graduated 8th grade and went on to high school. By this time I had been learning quite a bit about computers and electronics and more about radios. My cousin who was in the same grade as me was just like me when it came to this kinda stuff. When we were freshmen he worked the summer at the Boy Scout camp. On one of the weekends one of the scout leaders took him to a ham radio testing session. He passed his Technician test and a couple of weeks later his license arrived in the mail. He used some money he earned over the summer and bought an HTX-202. He let me use it and I started to get acquainted with some of the local ham radio operators in town who all encouraged me to get my license (ticket). OK, that does itÖ Iím going to get my ham radio license.
I approached my parents and told them what I wanted to do. Mom wasnít really enthused but said I could and dad was dead set against it. He didnít see the point in it and thought that ham radio meant my room was going to be full of huge radios and such and run up the electric bill. It took a lot of convincing to prove that ham radios have gotten smaller since the 1960ís when vacuum tubes were in use. Then it progressed into the "how are you going to buy all this stuff" phase. I told him that Iíd worry about that. So finally I won and he caved.
Kevin (one of the local hams) took me to a testing session where I passed my Technician test. I kept a vigilant watch on the Internet to see what my call sign was. Finally the day came and I was licensed. Ok, now I needed a radio.
Kevin sold me a Yaesu FT-23R handheld for $75 bux. I was on the AIR!! We have a lot of hills here and repeaters are few and far between for handheld use. I was able to hit one repeater about 25 miles away. Then one day Kevin offered me an 11-element beam for $25 bux. I was all over it. He brought it over and even helped me put it on the roof. I didnít have a rotor so if I wanted to change direction I climbed on the roof and re-aimed it. Hey, now I could reach out and hit a few more repeaters even with 5 watts. This was way too cool.
So with a better antenna and being able to talk further I started meeting some of the hams in other counties. I met an older guy named Donnie in the next county over. I mentioned that I wanted to get a mobile radio when I saved enough $$. He told me about an elderly guy who was dying from a terminal illness and didnít have much longer to live. He was a ham operator, but unable to operate due to his condition. He gave all of his radio gear to Donnie to give to people who were getting started in ham radio and didnít have $$ to buy equipment. That was me. Donnie sent me an Icom 28-A mobile radio (which I still have and use today) and a letter from the fellow. The guy had 2 stipulations.
He wanted to know who received what equipment &
The equipment could never be sold. If it was no longer needed or wanted it was to be passed on to somebody else who was in the need of gear.
I wrote the guy a letter, but I never heard back from him so I donít know if he died before he received it.
I got a power pack for it and put it in service. With 40-watts of power I was able to reach out across the state. The CB collection started to disappear and the ham radio collection grew.
Kevin took me to my first ham fest. I found a rotor and control box for 5 bux. That was in 1996 I believe. The rotor is still working today. 5 bux has more than paid for itself.
During high school I accumulated more and more stuff. Coax, antennas, radios and a lot more. Now my bedroom was piled full of ham radio gear as well as my truck. I also passed my 5 WPM CW and got the Tech + license.
In January 1998 my cousin and I used ham radio during the Ice Storm of í98 when telephones and cellular phones were down. We set our equipment up at the fire station and ran a command post for the town. There were many amateurs who donated their time and efforts to provide communications for the community.
In 1999 I moved out and rented a small apartment. Apartment life was rough. I had 1 2-meter rig, 1 10-meter rig and a handheld running. Couldnít put up many antennas so most of the stuff sat unused.
In 2000 my roommate and I rented a nice house. We were told that we couldnít do any major changes to the house. Like bolting tripods to the roof and drilling holes through walls. Ok, fair enough. I ran all of my coax next to the heat duct and out the basement window then up to the roof. The 2-meter vertical was stuck in the stink pipe and the HF dipole was strung between 2 trees. We rented from a realty company and the lady we signed the contract with quit. Donít blame her. The other lady who worked there...ahem, coughÖbeotch, chewed me out for adding stuff to the house and that she couldnít sell it with antennas on it. I told her exactly what I thought of her and showed that we didnít breach the contract. She was just an old beotch. Seth moved to Florida and I moved out of the house. It was a really nice place too.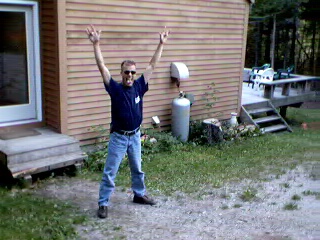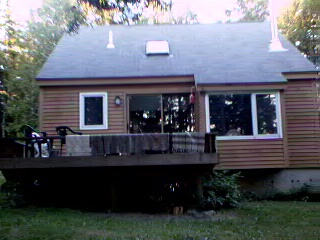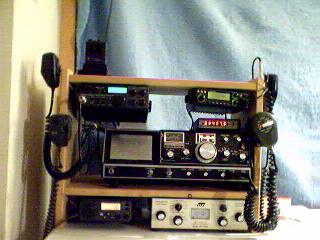 The shack there (rest of the equipment wasnít set up)
So now Iím here with plenty of space for antennas and I can make minor changes to this house. Really helps when a good friend owns it. I have a bunch of antennas up and a good ham shack set up that automatically switches to back up power if the grid goes down.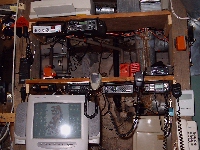 The Shack
Iíve learned a lot since I started in radio when I was a kid. Iíve picked up many skills and much knowledge. I built a repeater and then made it into a tactical system. Iím still learning. You can never stop learning.
In 2000 my mom got her Tech + license. Dad thought that the antennas and radios were gone when I moved outÖhaha guess again.
I have a lot of fun with Ham Radio.
Well, thereís how it all started for me :o)
73ís
Eli
---
All materials at this site not otherwise credited are Copyright (c) 1996-2003 Trip Williams. All rights reserved. May be reproduced for personal use only. Use of any material contained herein is subject to stated terms or written permission.