*Small Electronics for Preparedness*


By: GreyLocke
09 March 2010

Iíve always wanted an e-book reader. However on my budget it didnít seem likely I would ever be able to afford one. While browsing for a replacement MP3 player however I found something called an MP5 player, which plays MP3ís and videoís, in addition to viewing pictures, for a reasonable price.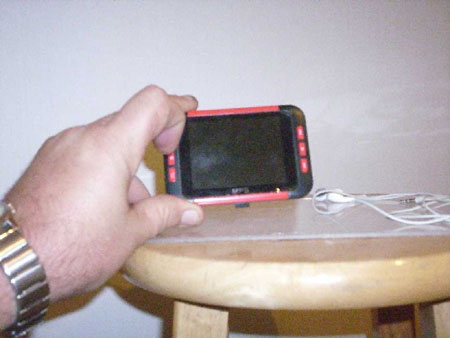 This photo shows my new MP5 player, the tab sticking out the bottom is actually a 4GB MicroSD card. This player supports up to an 8GB MicroSD card. The player came with the earbuds, a clip-on base and a USB Micro A cord for charging and transferring data to the player.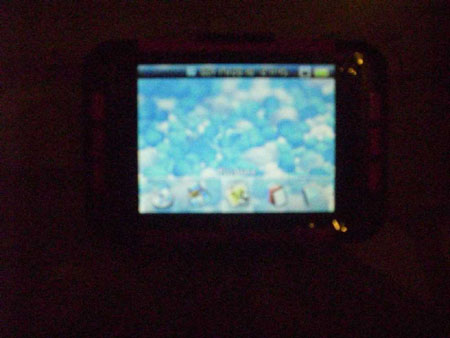 This photo shows the desktop of the player. Its menu is for Toolbox (The configuration settings), Audio Player, Video Player, Picture, E-book, Radio, Recorder, Game and File Manager. It has a built in FM radio and recorder a couple of games. It can show you several types of picture and video formats, such as .jpg, .gif, .bmp, .avi, .wmv, .mpg and a few others, in addition to mp3 and wma format audio files.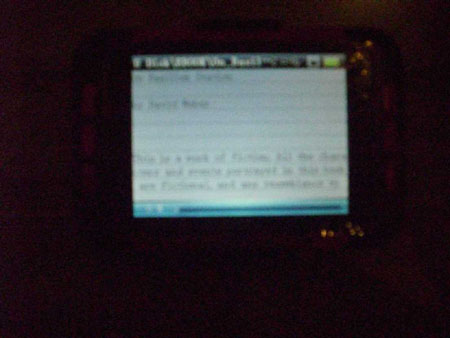 You canít read it too well but this is David Weberís ďOn Basilisk Station.Ē All I had to do was save it to the player as a .txt file and it does the rest.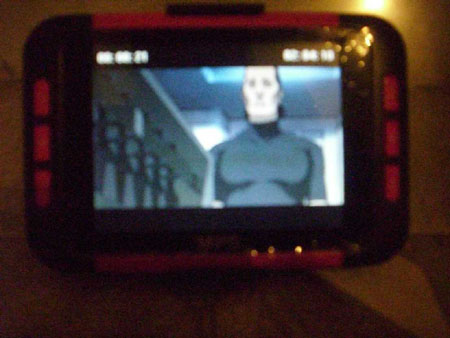 Here it is showing a video I had loaded on it. The screen is 3.5 inches and the brightness is adjustable. While using the screen, the battery life is only 2 to 2.5 hours depending on if the internal speaker or earbuds are used. Used strictly as an mp3 player the internal rechargeable battery has lasted me over 4 hours.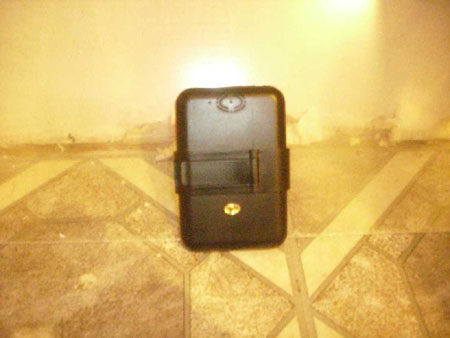 This is the back, showing the internal speaker and the clip-on mount.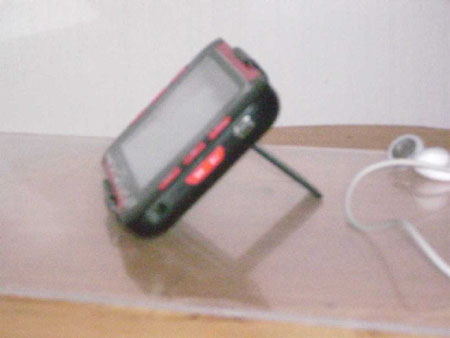 This photo shows the volume control, earplug plug and the USB plug.
I originally got this for use as an mp3 player and e-book reader. However, since Iíve gotten it Iíve found it useful to watch movies or videos, to view pictures from my digital camera, (to explain this my camera uses a standard SD card, I use a MicroSD card in its adapter in my camera, and just remove the micro card and put it in the MP5 player and view it on a much larger screen). Also, when going to a junk yard to find parts for a car I took photos of the original part so I can compare parts at the salvage yard.
This was originally just something to listen to music and read a book on. Iím finding it to be much more useful.
(Addendum: Iíve also gotten one of the keychain video cameras which use a MicroSD card, and I rather enjoy being able to view the video from it on this player instead of hooking it up to either my desktop of my laptop.)
GreyLocke
---
www.alpharubicon.com
All materials at this site not otherwise credited are Copyright © 1996 - 2010 Trip Williams. All rights reserved. May be reproduced for personal use only. Use of any material contained herein is subject to stated terms or written permission.