*How to Build a 3000 Watt 7 Band OCF Dipole*


80 - 40 - 20 - 17 - 12 - 10 and 6 Meters
By: Chris91111
30 October 2012

I started looking for a multiband antenna that I could use from my home station as well as have one for portable use in a BOL. I have a 10-15-20 meter beam that I love, but don't have 40/80 meter capability or some of the other bands. Over the years I have tried a vertical and a trapped dipole, but their performance was lacking. So I started to look around at what was available commercially as well as through my old ARRL wire antenna book. I came across the Buckmaster 7 Band Off Center Fed Dipole. In looking through e-ham the reviews it had a 4.7/5 review on the 3000 watt model and a 4.6/5 on the 300 watt model. However, the price tag is pretty steep. Currently they are on sale at $299.00 (Reg $394) for the 3000 watt model and $207 (Reg $273) for the 300 watt model.

So I set out to homebrew one of these antennas to see how it would work. In looking through the ads and info on the net sources indicate that one leg of the antenna was 45' and the second leg was 90'. This off fed design could be positive in certain installations where you can't have both legs of equal distance.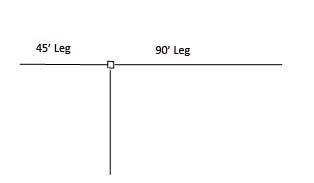 So we found a vendor for wire called 'The Wireman' (www.thewireman.com) and selected a 13 ga Toughcoat 'Silky' that is a 19 strand 40% copper-clad steel wire with a low gloss polyethylene cover. They indicate that it is their most rugged, longest lived stranded antenna wire for any purpose. It has a break strength of 400 lbs. I paid $0.28/foot - and ordered 140 feet (to allow for connections). So ultimately $39.20.
I then started looking at the Balun. In looking through the literature available it was decided to purchase a 4:1 Comtek Jerry Sevick W2FMI from DX Engineering. This balun is capable of handling up to 3000 watts if needed and on e-ham had a rating of 5/5. This ran $59.95 at Dx Engineering.
Assembly was pretty straight forward. I had my youngest son help me measure out in the driveway the two legs. We then utilized wire antenna thimbles ($1.80) to secure the legs to the balun then soldered the balun leads to the antenna legs. We then attached a couple of insulators to each end and some rope and hoisted up the antenna.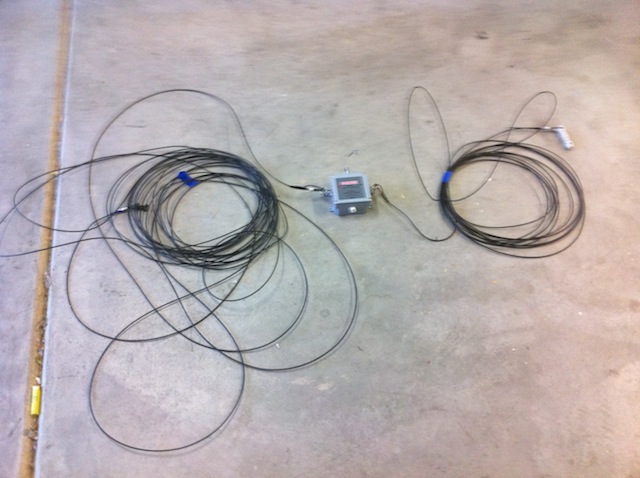 Literature indicated that the feedpoint works great at about 30-35 feet, so luckily for us we have a crank up tower that wasn't currently being used. So we extended it a bit and ran a rope from a hook on the Balun through a pulley on an arm extending outward from the tower. Now we put this up in an inverted V design because here in the southwest it is rare we have two large trees or supports available. We place the leg about 120 degrees apart and ran the legs out so each was about 8' to 10' off the ground. SWRS were as follows: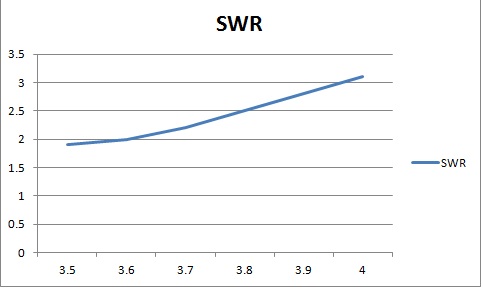 80 Meters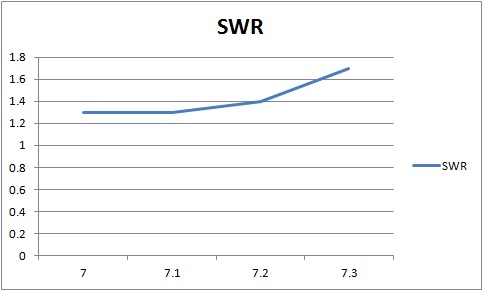 40 Meters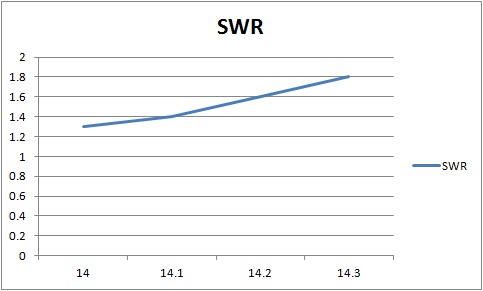 20 Meters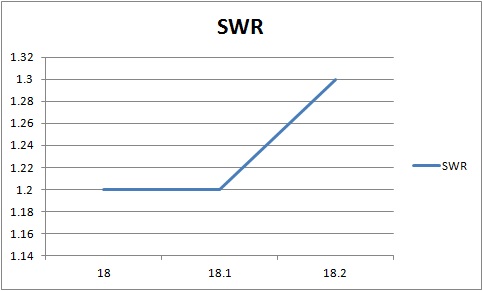 17 Meters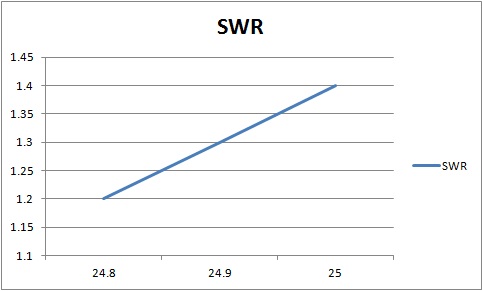 12 Meters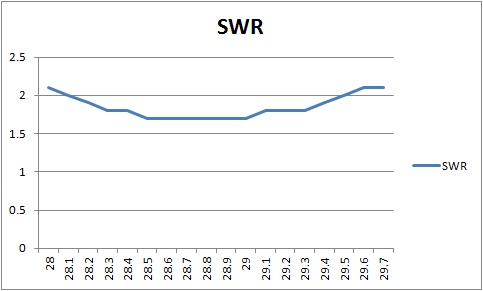 10 Meters
So overall I was happy with the SWR's I got when I strung the antenna. My tuner automatically tunes up the antenna with great results even on 30 and 15 meters. Right after I strung the antenna I tested it out and did several DX PSK contacts (contest) right off the bat. Performance has been good on 80 and 40 meters which is what I was really looking for. We don't currently have 6 meter capabilities so those results are not included.
So for approximately $100.00 (not including costs of coax and rope) this has made an excellent multiband antenna that on sale sells for $299.00.
Chris91111
---
www.alpharubicon.com
All materials at this site not otherwise credited are Copyright © 1996 - 2012 Trip Williams. All rights reserved. May be reproduced for personal use only. Use of any material contained herein is subject to stated terms or written permission.