*Peanut Can Phone Bracket*


By: Harper
01 August 2008

I just bought a new Uniden Cordless Phone. This one uses something called "Dect" Technology @ 1.6 GHZ, instead of the 2.4 GHZ that many of these phones use.

This is supposed to increase range & clarity, because it doesn't interface with other frequencies of wireless devices.

I haven't tested the RANGE yet, but it DOES sound better ...

The charger for the extra handset, does NOT have a wall mount adaptor, so I made one. I cut down one of those cardboard cylinder roasted peanut cans, & covered it with duct tape.

The tape didn't stick as good as I wanted it to, so I stapled the edges down with a grocery store "pliers" hand stapler, right thru the cardboard of the peanut can.

This made a neat little "shelf" for the phone extension handset. I simply screwed it into the wall, at a convenient height.

This thing took maybe 20 minutes to make ... here's a picture: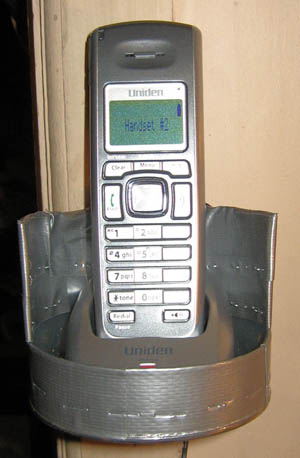 Harper
---
www.alpharubicon.com
All materials at this site not otherwise credited are Copyright © 1996 - 2008 Trip Williams. All rights reserved. May be reproduced for personal use only. Use of any material contained herein is subject to stated terms or written permission.