*Shirt Pocket Short-Wave Radio*


A Radio Worth Buying, II
By: RadioRay
01 January 2004

A few years ago I wrote an article recommending a little short-wave radio from Radio Shack. Unfortunately, this little radio was dropped from their inventory, which is a shame. Since then I have been asked MANY time to recommend a small, light yet effective short-wave radio for inclusion in Bug-Out-Bags, pocket or purse. Thankfully, while buying a Christmas present for a friend of mine, I located a radio which is widely available, inexpensive and VERY effective. I had originally bought the Grundig "Porche Designed" G-2000, but it was SUCH a dismal piece of garbage, DEAF and had poor signal mixing & ergonomics. I returned it to Radio Shack. This sent me to the internet to read reviews of other radios which my local dealer might have on the shelf.

Introducing the Grundig Mini 100.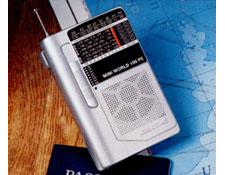 Even a non radio-geek will recognize the Grundig name. What you don't know is that the Grundig name was bought out by a Chinese manufacturer and their products are no longer German quality, but often of a VERY poor quality. Fortunately for us, their "Mini 100" is a superior product despite the price of under thirty dollars in the USA.
What does it do?
The Grunidig Mini 100 is a good performing short-wave receiver which easily fits into the palm of your hand. In fact, I can easily put three of these receivers into my shirt pocket. It runs for a VERY long time on 2 "AA" batteries, which are the MOST available battery in the world. This little receiver covers the standard FM & AM bands in the USA though the AM reception is said to be a little weak and good mainly for local stations. However, the short-wave part of this receiver is VERY GOOD!
On-Air Testing
Once my friend unwrapped "her" little short-wave radio Christmas radio, I began testing it "for her" using only the built-in whip antenna. While indoors I was easily able to receive BBC London, Radio Japan, Radio Australia, Radio Austria International , both Chinas…. Basically I listened to the world. By adding a twenty foot wire clipped to the whip antenna signal levels increased, yet the well designed little receiver did NOT overload as often happens. I found the sound quality for news to be very good, even from the built-in 1" speaker. Using the supplied ear buds/headphones, the sound was very good for short-wave and the FM stereo was excellent!
Frequency coverage of this little radio is NOT continuous, but instead it covers all of the most popular short-wave broadcast bands, making it EASY to search for and find something to listen to. It's only slightly more complicated than a 1950's kitchen radio in that you twist the knob until you hear something that you want to listen to. If you don't find something, move the band switch and try again. This radio was designed for easy 'twist and listen' operation.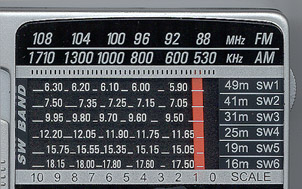 Technical Description
This is likely a 'single conversion superheterodyne receiver' yet it does NOT suffer from the image frequencies so common in inexpensive receivers of this type. For example; with most inexpensive receivers of this general type listening to Alex Jones on 5085 is usually UNREADABLE due to Chinese language programming from a religious broadcaster on 5995 KHz. The Grundig Mini 100 has little or none of this design flaw. This shows VERY good engineering in the mixer stage.
Frequency Ranges:
AM .530 - 1.710 MHz
FM Stereo
SW1 5.8 - 6.4 MHz
SW2 6.9 - 7.5 MHz
SW3 9.4 - 10 MHz
SW4 11.6 - 12.15 MHz
SW5 15.0 - 15.65 MHz
SW6 17.5 - 18.14 MHz
4 x ¾ x 2 ¾ inches
4.5 Ounces
Removable belt clip.
This radio is NOT Single Side Band capable. It is designed for easy reception of radio broadcasts intended for the general public. It does this VERY well.
My Recommendation
Buy this radio NOW! The last time that I wrote a radio review a few people actually bought the radio while most people delayed. That radio was soon no longer available and THEN people were writing to me from all over the world, trying to get one from me. I am not a radio supplier. There was nothing that I could do to help. I would STRONGLY suggest that you get this radio now, use it, enjoy it and maybe buy a few as spares for your various kits.
Unlike the previous Radio Shack radio which I reviewed, this little radio is NOT a hand crank recharged radio, however this radio is SO small, light and inexpensive that you could easily buy any bottom of the line "AA" NiCad solar battery charger and keep this little radio running for the next ten years. I have a cabin full of short-wave radios, BUT this radio is SO good that as soon as Radio Shack is open this Monday, I'm going to go buy at least one for myself. Ask my friend: I spent a LOT of time playing with HER Grundig Mini 100 short-wave radio while I was visiting for Christmas. It outperformed my much more expensive DX-398 / Sangean 909 receiver for general short-wave listening. It is definitely easier to operate.
RadioRay
---
www.alpharubicon.com
All materials at this site not otherwise credited are Copyright © 1996 - 2004 Trip Williams. All rights reserved. May be reproduced for personal use only. Use of any material contained herein is subject to stated terms or written permission.