*Aging Gracefully and Still Gardening*
By: jones76048
12 December 2011
My wife and I wanted to try our hand at "Square Foot Gardening" as created by Mel Bartholomew. It seemed to be the best of many ideas, combined into one. High density planting, low weeding requirements, water conservation, and adaptable to whatever we choose to grow.
The raised bed concept, along with the 4ft by 4ft basic design appealed to us. The idea that you can reach the center of the bed from any side was very well thought out. It meant that we didn't have to step in the bed to work, which was designed to not compact the soil mixture.
The only thing that the design did NOT plan for is a way to help keep older people off of their knees.
Knee problems are a known issue in my side of the family. I don't have them yet, but expect to as I get older. My wife had degenerative disk disease, and already has some problems with bending and twisting. This is why she gave up flower gardening over 10 years ago.
So we needed a way to take it up a notch... we just kept on raising the raised bed higher!
I would like to stop and give a note of thanks to my brother at this point. He has been in construction and building maintenance for half of his life. Those insights were invaluable in creating this project. Thank you Richard!
First, we dug down until we had at least 3 inches below grade. My property is on a slope, so one side is deeper than the other. Into this hole, I put down a layer of fine pea gravel for drainage...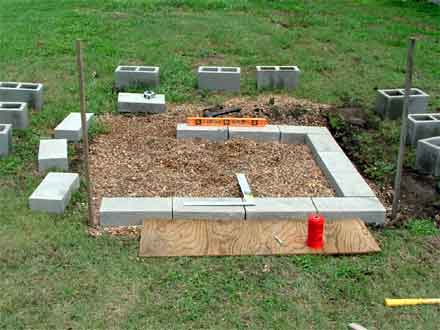 Next, my brother and I laid a course of smooth pavers for the base level. Getting this first level even and square was the hardest part (Next time we will build on packed sand, and put the gravel INSIDE the pavers!)...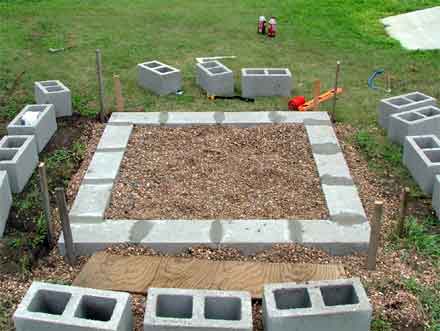 From this point, we built up with two courses of cinder blocks. The idea is to have a raised bed high enough to sit on the edge while working the garden.
In the holes of the corner cinder blocks, we installed pressure treated 4x4 posts, and cut 2x12 board to fit around them as seats...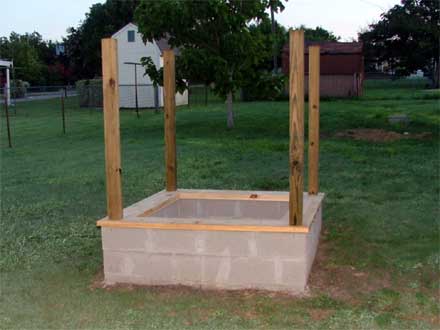 Next we put on two coats of primer on both the wood and the bricks, and topped the 4x4 posts with copper caps to prevent standing water...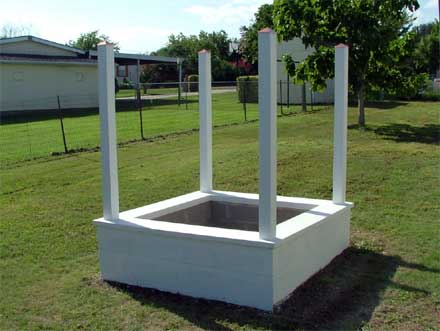 Next, we added the cross pieces at the top of the 4x4 posts, then attached a lattice (plastic, for low maintenance) on one side for climbing veggies to grow into. After that, we painted the whole thing and let it dry overnight. Then we filled the whole thing up with "Mel's Mix"...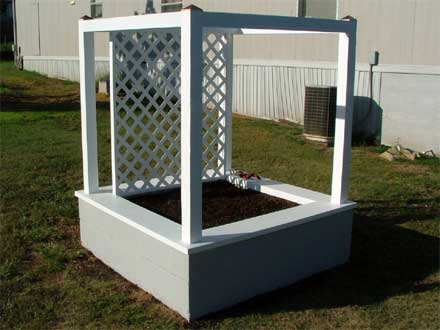 And here is the finished project. Even with the drought this summer, we were able to grow cukes, squash, bush type green beans, lettuce, garlic, jalapenos, cilantro, and one cherry tomato bush...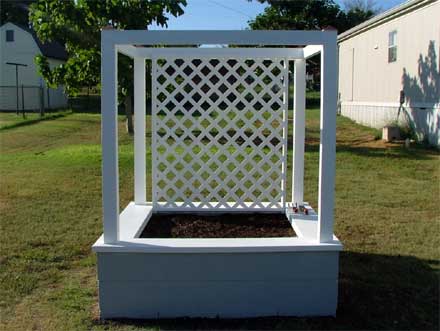 We plan to put in a second unit this coming spring, and possibly a third one next fall. Our next projects are to build a cold frame to fit inside the bed, (for early plant starting) and a partial shade cover (to help with next summer's heat).
A note: Always keep the bare soil areas covered with weed block cloth. Local wild cats thought it was the perfect litter box until we did this!
Best of all, my wife actually enjoyed working in the garden, because she could do it with much less pain!
jones76048
---
www.alpharubicon.com
All materials at this site not otherwise credited are Copyright © 1996 - 2012 Trip Williams. All rights reserved. May be reproduced for personal use only. Use of any material contained herein is subject to stated terms or written permission.