*The Best Barometer*


Smarter Than a Meteorologist
By: Jaden
15 December 2008

We all hate the weatherman because they never get it right. Some can't even tell us what the weather did this morning. The only human one I trust is Jim Witt. He is GOOD. Even his long-range calendar is usually accurate within 3 days. Other than him, this simple barometer does the job.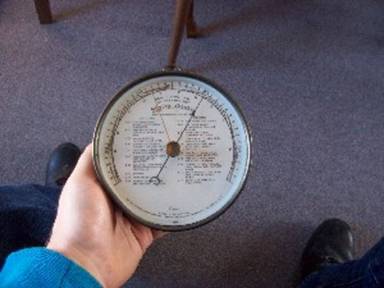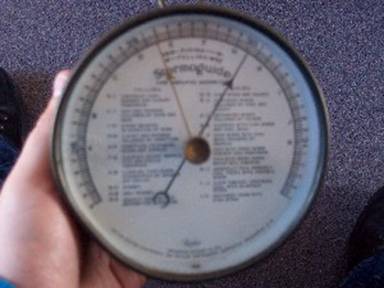 I'm not sure how back in family history this barometer goes, but I know it was made in the early 1900's. The information written indicates it was made by Taylor, patented 18AUG1914. The information copyright is 1922 by Taylor Instrument Companies, Rochester NY.
There is a dial on the back for elevation in 100' increments with a range of 0-3,500 feet. This one is set to 0 feet above sea level

Elevation calibration
It's called a "Stormoguide" (The Simplified Barometer)
The barometric range is 27.5" through 31.5". On the card is written letters A-K. The letters correspond to these measurements.

A- 28.0"
B- 28.3"
C- 28.7"
D- 29.0"
E- 29.3"
F- 29.6"
G- 29.9"
H- 30.2"
I- 30.5
J- 30.8"
K- 31.0"
There is also a legend. The side to the left is barometer falling and the right is barometer rising.
*Falling*
K-J = Continued cool. Warmer and cloudy tomorrow
J-I = Fair and warmer. Followed by wind and rain
I-H = Storm brewing in direction of wind
H-G = Cloudy and warmer, followed by unsettled
G-F = Unsettled, increasing winds and warmer
F-E = Clearing, slight squalls fair and cooler tomorrow
E-D = Clearing, high winds accompanied by squalls and cooler
D-C = Stormy
C-B = Very stormy
B-A = Usually reaches this section for tornadoes
*Rising*
A-B = High winds and colder
B-C = Continued winds followed by cool and cloudy
C-D = Increasing winds followed by colder
D-E = Clearing with high winds and cool wave
E-F = High winds with cool wave preceded by squalls
F-G = Fair with fresh winds tonight and tomorrow
G-H = Fair with brisk winds which will diminish
H-I = Generally fair probably cool today with variable winds
I-J = Clear tonight, continued cool with moderate winds
J-K = Southeast rains with high winds
How accurate is this thing that was made back 80+ some odd years ago? Well about 30 minutes ago it was a 29.8" and slowly falling. That's G-F. The forecast is calling for upper 30's (which is warmer than it has been), we now have a high wind warning in effect until tomorrow morning (increasing winds) and the weather is very unsettled. The forecast actually jives with this barometer.
The old timers were good.
Jaden
---
www.alpharubicon.com
All materials at this site not otherwise credited are Copyright © 1996 - 2009 Trip Williams. All rights reserved. May be reproduced for personal use only. Use of any material contained herein is subject to stated terms or written permission.