*Bubble Wrap as Window Insulation*
By: TooshieGalore
25 February 2015
Let me introduce you to bubble wrap. You know, that stuff normally used for packing delicate items when moving? It's also awesome window insulation.
Windows in my house are the original – circa 1970 - and there are a bunch of them. Even with the storm windows pulled down tight, I betcha the R-value is about 2 on these babies.
Looking for options: I could buy new drapes with a thermal lining but Hubby was not believin' I wanted new drapes just to improve our R-value. I could make thermal liners to hang between the drapes and window. The best material for DIYing thermal linings is at WarmWindows.com but at $13 per yard was outside budget, and it would take weeks to sew them all. I needed something quick. After watching a YouTube video, I decided to try bubble wrap.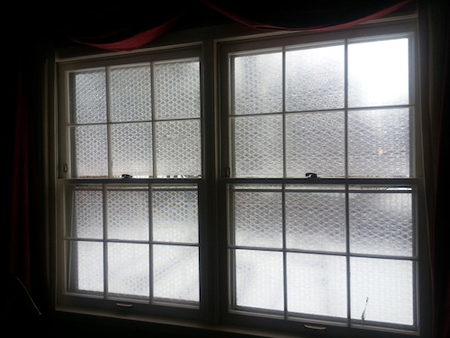 I did the whole house for less than $75. I required two 100' rolls of clear bubble wrap ($29@) plus a roll of clear packing tape ($5). It took about two hours to do the whole house. At 6PM yesterday the temp was -12F degrees (yep, that's a negative!) but with the bubble wrap up the furnace ran only about 15 minutes out of every hour and it stayed a comfortable 72-degrees. A good investment, I think.
Here's whatcha do:
Buy supplies: Bubble wrap comes in big bubbles and small – I went big thinking that extra air space meant bonus insulation. It comes in pink, green and clear. I chose clear thinking I like to have as much light as possible thru the window, but it was the more expensive option. Lowes and Home Depot had both colors. I found the clear only at Staples.

Measure and cut: I chose to apply bubble wrap to the inside of the storm windows, that way it didn't interfere with my pretty window treatments. I covered the glass plus the storm track all the way around, to get an airtight seal. I couldn't put the screen back in the track because it was covered in bubble wrap, but just sat the screen in the window, out of the track.

Tape as necessary: The size of my window required several 12" strips taped together. I'm not taping the bubble wrap to the window; I'm only taping strips of bubble wrap together to make a single panel to fit.
Bubble wrap has a flat side and a bubble side, I taped flat sides.
Spray: Using a spray bottle, mist water on the glass. Just water, that's all you need. Stick the bubble-side (not the flat side) on the wet glass and move it around to fit. The bubble wrap will stick, even after the water dries. And, if you make a mistake, just peal it off, spray again and re-stick it.
That's it! You're done.
I can't say scientifically how much the R-value improved, but it's much more comfy without drafty windows. On the north facing windows, I added a second layer – just mist water on the first layer of bubble wrap and stick a second layer right on top of it. I like that it lets the sun in. Although it's not see-thru so it may not be appropriate for all windows. I also found it to be sound-proofing, reducing outside noises. I'm also thinking that if I can keep Hubby from popping the bubbles, I can reuse it next winter.
I have used the heat-shrink plastic in the past. It's flimsy and never makes it thru the season. It's one-time use and it's not cheap. And it leaves sticky residue from the double stick tape. This is far, far, far better.
I will still work on thermal liners to have another insulating layer for nighttime. But for the money, bubble wrap as a quick window insulation gets a Happy Face Stamp from me.
Addendum: After this article was originally posted on the boards I decided to insulate our double wooden garage doors. I purchased two 100' rolls of green bubble wrap ($19 per roll) because the bubbles are larger than on the clear. I chose to staple a double layer of bubble wrap to each door. The garage looks like a KermitKastle but it is definitely warmer and worth doing.
TooshieGalore
---
This Article Was Proudly Formatted For The AlphaRubicon Website By: Vikis



www.alpharubicon.com
All materials at this site not otherwise credited are Copyright &copy 1996 - 2015 Trip Williams. All rights reserved. May be reproduced for personal use only. Use of any material contained herein is subject to stated terms or written permission.