*Cooking With Fresh-Frozen Cabbage*
By: Vikis
30 May 2016
I don't particularly like thinking of our freezers as long-term storage places because we might not have the power source one day. I prefer to store home grown crops; such as cabbage, in jars as fermented kraut or chow-chow.
BUT... I was totally surprised today as simple frozen cabbage reappeared in my life!
I saw some quartered heads of cabbage from the depths of the deep freezer and took one bag out. What did I have to loose, right? What was I going to do with it? How would it taste?
I noticed the date and thought, "Oh crap, I forgot all about this." And I know we've all been there; at that point where we think - "this is animal food now!"
I then remembered a few years back I harvested a bunch of cabbage, removed outer leaves, quartered it, rinsed it, vacuum sealed it, labeled it, and put the bags in the freezer. (It was an experiment to see how it lasted and what its uses would be later).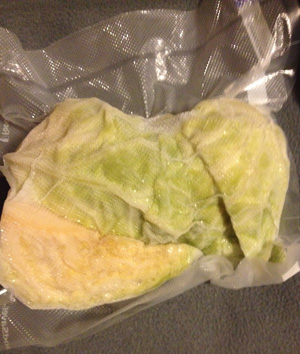 And then, as life got busier, I promptly forgot about the frozen cabbage I was experimenting with for cooking later... not for canning or slaw, but for a cooked dish.
And then came today!
I cooked this one bag full of one head of cabbage tonight. I threw in one of those $1 packs of country ham from the grocery (as that was what I had on hand). And it turned out perfect! It was Delish!
As soon as I cut open the bag I could smell FRESH CABBAGE. Amazing! Considering this was harvested in June 2012. Almost 4 years later.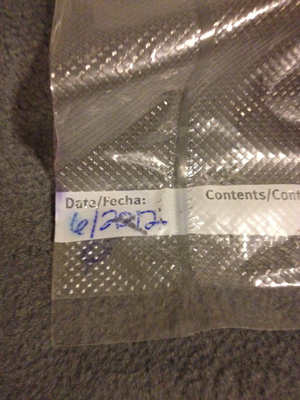 My end: as long as I have the freezer ability I'll be storing some of our cabbage in this method for cooking in soups, roast, and alone later. I can't recommend for fresh slaw or kraut.
Vikis
---
This Article Was Proudly Formatted For The AlphaRubicon Website By: wmerrin



www.alpharubicon.com
All materials at this site not otherwise credited are Copyright &copy 1996 - 2016 Trip Williams. All rights reserved. May be reproduced for personal use only. Use of any material contained herein is subject to stated terms or written permission.