*No Caulk Gun?*


What I Do
By: John1lt
31 July 2017

I didn't come up with this technique on my own, I read it in a handyman magazine or book several years ago.

I had a project to do yesterday for my landlord and needed to dab some caulking on a few pieces of trim before painting some doors. I had 5 tubes of caulk, different varieties, but my caulk gun wasn't with any of the tubes of caulk. Frustrating since I own at least 3 that I know of, I pick them up all the time. Caulk guns are cheap even new and just pennies at yard sales so if I lend one or lose one I don't much worry about it. My garage and storage are still in the spring cleaning phase in mid July and I didn't really have time to search for this tool. I cleared the nozzle on one of the tubes and grabbed a hammer stuffed the handle inside the tube and used the hammer head as a handle and gave it a good push while holding the tube in my other hand. I pushed enough caulk out where I needed it and set the tube aside. I've never used this technique for jobs that need more control over the speed the caulk comes out of the tube, like caulking around a bathtub, but for putting a dab of caulk in a small crack while painting it works well for me. When I need to do finer work I find my caulk gun as it offers more control of the flow of caulk from the tube. Hope this tip helps in a pinch.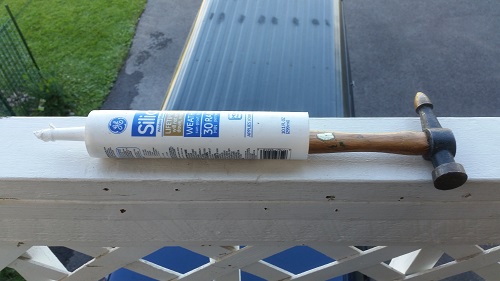 John1lt
---
This Article Was Proudly Formatted For The AlphaRubicon Website By: wmerrin



www.alpharubicon.com
All materials at this site not otherwise credited are Copyright &copy 1996 - 2017 Trip Williams. All rights reserved. May be reproduced for personal use only. Use of any material contained herein is subject to stated terms or written permission.