*Christmas Pizza*
By: Stats and DNA-Doc
30 December 2021
Note: Stats posted about his family's Do-It-Yourself pizza tradition for Christmas dinner and DNA-Doc posted her grandfather's home-made pizza crust recipe. The two posts were combined to make this article. The crust recipe is at the end of the article.
Stat's Christmas Pizza
With all the pizza talk DNA Doc has been posting, I though I would show what we did again this year.
We did "Make your Own" pizza for our Christmas dinner on the XL Green Egg.
I bought 15 pre-made dough balls from a upscale grocery. I didn't have time to make that much dough with everything else I had to buy n get ready for this event.
Each dough was about $2.20. I can't beat that price for the effort of making vs buying.
Note: I will keep DNA Doc's dough recipe on hand. Thanks for that recipe!!
Had about 15 toppings anyone could make any pizza they wanted at the "Pizza Station". Pepperoni, I blended n seasoned several sausages for a killer chunky crumble sausage, hamburger Canadian bacon, pineapple, fresh basil, black olives, 3 colors of bell peppers, sun-dried tomatoes, sliced mushrooms, purple onion, Mozzarella and 3 cheese blend, feta cheeses, anchovies, pulled string cheese apart for a "Stuffed crust" etc..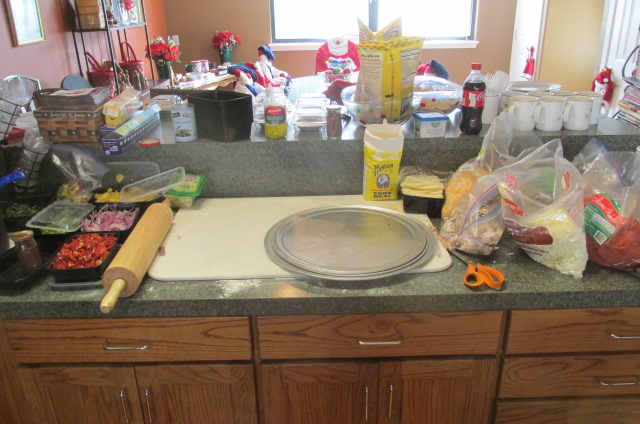 I bought a #10 can of extra thick pizza sauce.. added fresh basil, garlic, onion powders, Italian seasoning and threw in a few anchovies to zip it up flavor-savory wise.
One thing I do is put the rolled out dough on the parchment paper sprinkled w corn meal.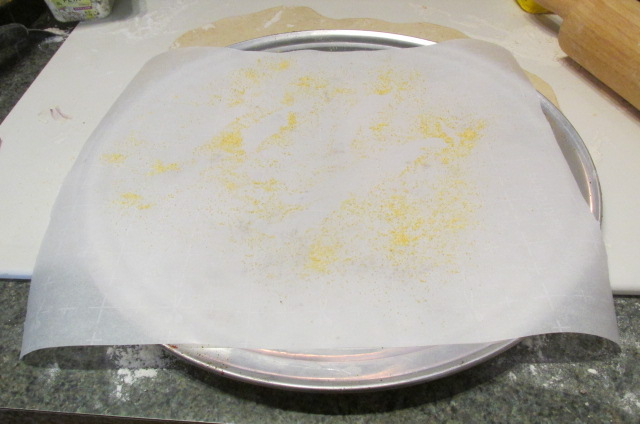 Pro-Tip I put the pizza-parchment combo on the stone and cook for about 3-4 min. It gives the dough time to cook without sticking to the stone. I pull the pizza out, n put it on a pizza pan, yank the parchment out to finish cooking the pan-pizza on the stone without burning the crust. I try to keep the temp at 425-450F max.
Note: The corn meal acts like ball bearings to the dough-crust to make it very easy to move around.
It helps to have a "Pizza peel" (pizza spatula). I use the short handle one. Makes life easy for moving pies around on pans. Get a metal peel. The thin "knife edge" makes getting under the pizza Waaayyy haaaayyyy easier and can be used to clean the stone on the grill. Get a peel with a folding handle to make storage easier. Ask me know I know... lol
Pro Tip #2: A Wood Pizza peel is hard to get under the pizza, stains easy and will split over time. Wasted money.
Here is an example of a folding pizza peel.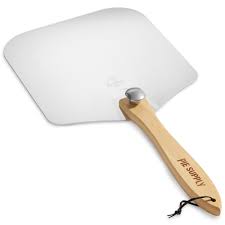 Add the ingredients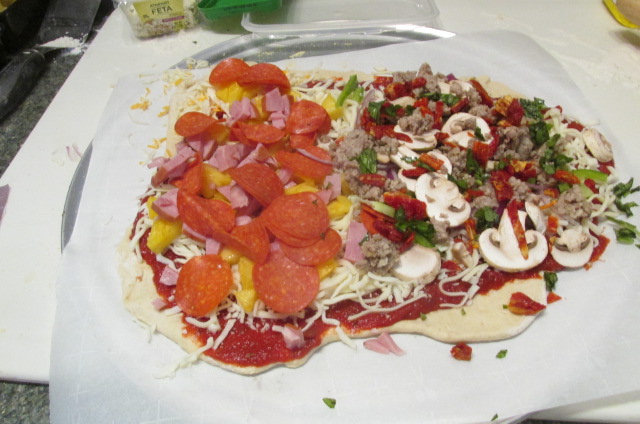 Pre-baking the dough on the Green Egg stone.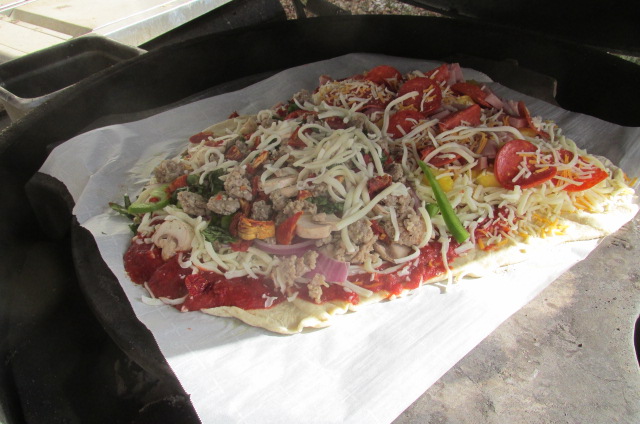 After "pre baking" w the parchment, the paper is removed and finished cooking on the pan.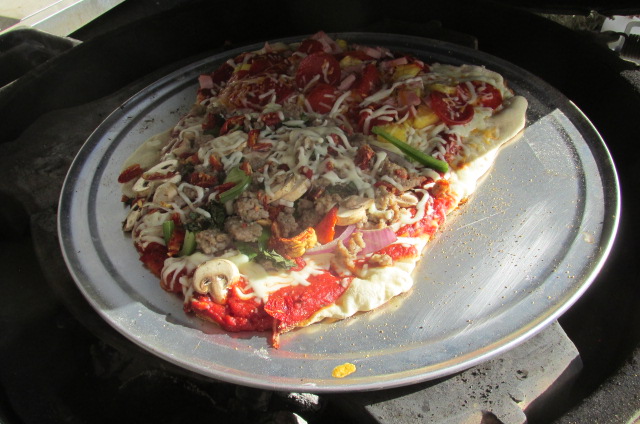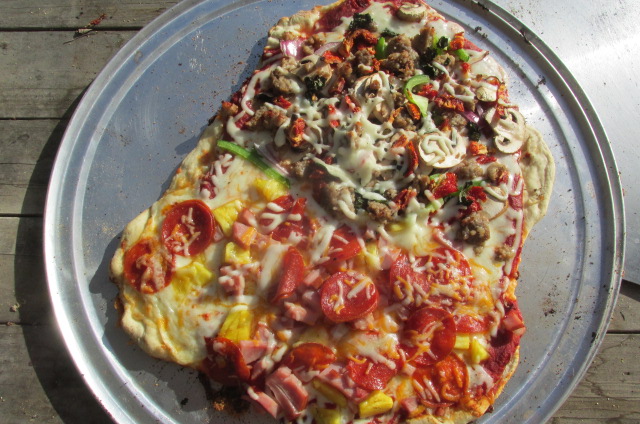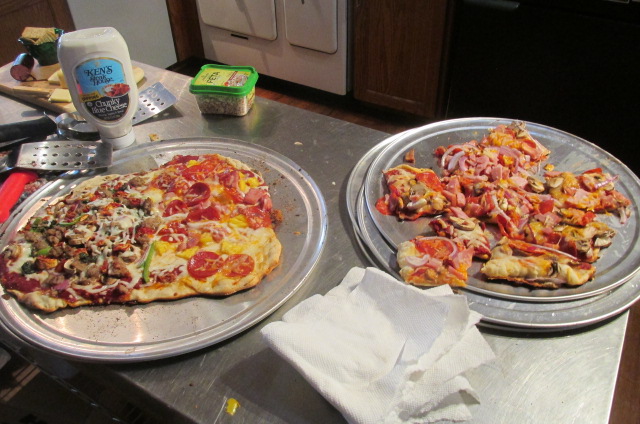 We did about a dozen pizzas. Everyone was happy n full.
You could never get these types and quality of pies from any pizza joint.
Looking back on these pictures is making me hungry for more pizza... dannng. lol
Call it prep test cooking. This is the third year we have done this. It's a hit.
DNA-Doc's "Grandpa's Pizza Crust"
Best recipe I've had... Better than the ones claiming to be "restaurant copy cats." He found it years ago from some other cooking place, and modified it slightly.
Ingredients:
1 package dry yeast (2 1/4 teaspoon)
1/8C sugar
1/2T salt
1 1/2 T olive oil
4.5-5C all purpose flour
13.5oz water
Mix all dry ingredients together (if you've used your yeast in other recipes and know it's good, don't proof it. Just mix it with the flour/dry ingredients), using only 4.5C flour. Add water and oil and mix. Knead on a well floured surface (or with dough hook in KitchenAid) until dough is springy and elastic. Add the minimum amount of flour so dough is not sticking to everything but is still wetter than may be expected.
Divide dough into 3-4 balls (depending on the size of pizza you intend to cook) and allow to double in size. This can be done at room temp/slightly warm, or in the refrigerator overnight. Each is equally tasty.
Punch the air out, and shape the dough with a rolling pin or by hand (if you can toss it, my chef hat is off to you).
Add pizza toppings as desired. I like brushing the crust with garlic butter (add 1 clove grated garlic to 3T butter and microwave for ~45s), then sprinkling with mozzarella or Parmesan.
Bake on a preheated pizza stone at 450-500F for 8-10 minutes.
Enjoy!
Also, apparently you can pre-make and freeze pizza dough, either before rising or you can roll it out, pre-bake it a bit, add your toppings, then freeze (like a freezer pizza you'd get at the store). With big enough vacuum bags or these small personal pizzas, they could probably be vacuum sealed for better longevity in the freezer.
Stats and DNA-Doc
www.alpharubicon.com
All materials at this site not otherwise credited are Copyright &copy 1996 - 2022 Trip Williams. All rights reserved. May be reproduced for personal use only. Use of any material contained herein is subject to stated terms or written permission.