*Clogged AC Condensation Drain Fix*
By: AirBear
29 August 2011
MY unit is due for replacement and, as soon as I find about $8k lying around that I have nothing else to do with, I'll do just that. About 5 or 6 years ago, as I was making my way down the hall way, I experienced that squishy wet carpet feeling under my feet that almost matched the feeling it gave me in my gut when I realized something was VERY wrong!
After pulling my wet socks off, I began investigating the cause of this morning surprise, and discovered that my AC condensation drain tube had become clogged. My initial attempt at remedying the problem was poking a coat hanger down into the pipe... no luck! Believing that pressurization was the solution, I made a trip down to the local tire shop and requisitioned an unusable truck tire tube they had discarded. I cut out about a 10" x 10" piece leaving the tire stem in the center (valve core removed)...
I used a wet-vac to remove most of the water from the pipe to make room for the air...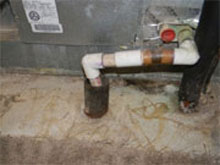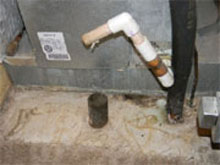 Using a 4" hose clamp I secured the inner tube patch with the valve stem centered over the clogged pipe...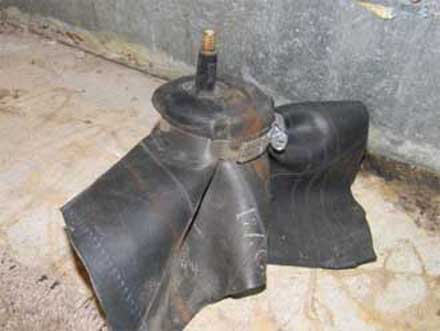 I then used a portable air tank with about 30-40 lbs. of pressure to pressurize the pipe. I don't know how much pressure I applied before the clog gave in, but it was not much...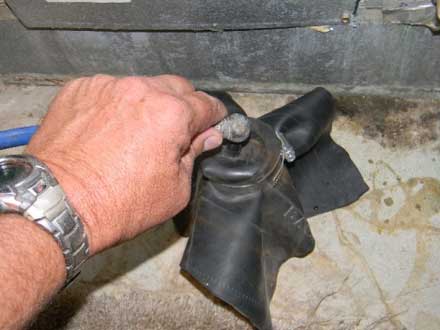 This was about 5 or 6 years ago and I've only had this issue one other time, a couple years ago, that I caught early before it created a mess. I now, about once a year, during a rainy or humid part of the summer, routinely do this to prevent the wet morning sock syndrome (WMSS). I also run about 1/2 gallon of 50/50 water bleach down the tube also which definitely seems to help...
Afterwards, everything stores nicely next to the heater unitů
for the next year...
AirBear
---
www.alpharubicon.com
All materials at this site not otherwise credited are Copyright © 1996 - 2011 Trip Williams. All rights reserved. May be reproduced for personal use only. Use of any material contained herein is subject to stated terms or written permission.