*Clothes Dryer Repair*


By: 2manytoyz
21 June 2010

Murphy lives at my house. Seems every appliance, new or old, needs something fixed sooner or later. Typically right after the warranty runs out. Most of my coworkers simply call the repair guy. Take a day off work, do without the appliance for a few days, then pay some guy a bucket load of money for what appears to be an easy fix. Most appliances are designed to be repaired with basic tools, and the parts are readily available. Worst case, you can't fix it, and call the repair guy. Fair enough. But I recommend giving it a try, especially if you have a meter, and some basic electrical skills.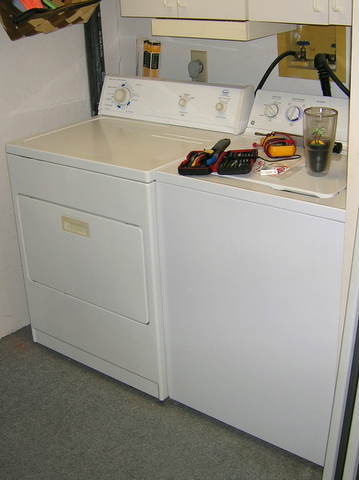 We bought the washer new 4 years ago. The dryer was a hand-me-down from my Brother-In-Law. It's probably 8 years old. Roper brand, works well, nothing fancy. Wife says "dryer isn't working...". Hmmm, let's push all the buttons and knobs. No joy. I can hear the relay engage when the start button is pushed. So getting power, but the motor isn't turning the drum. No motor hum, so not broken belt.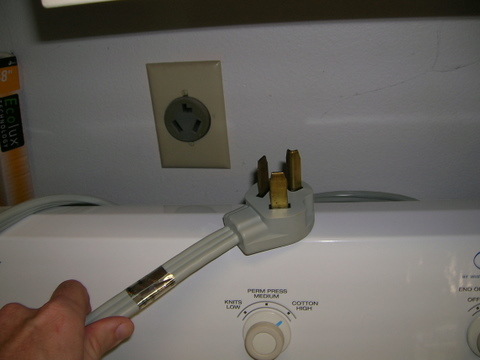 This job isn't complicated, but is potentially dangerous. Unplug any appliance before opening up the case. Take a peek at this entire article before deciding whether or not such a job is within your comfort level.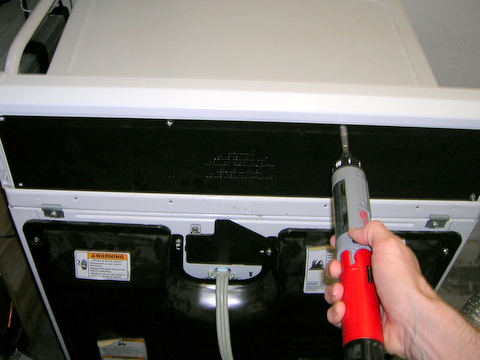 Okay, I'm lazy. But my Milwaukee cordless screwdriver, with a 1/4" nut driver, makes short work of this.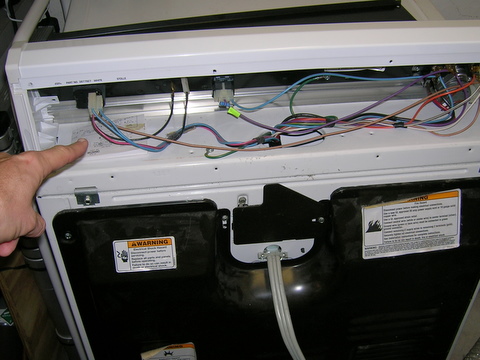 With the cover removed from the back of the control panel, I spotted the wiring diagram. Be sure to put it back when you're done! Most appliances have the diagrams hidden somewhere inside the cabinet.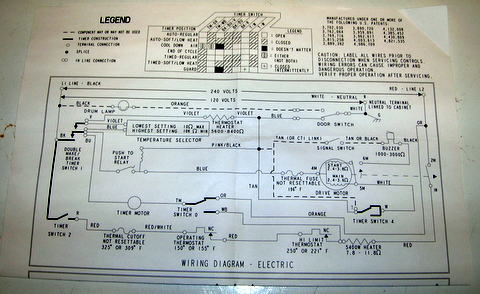 Looks complicated? Really not that bad. Even tells you what the components are (motor, thermal fuse, timer, relay, etc), and the wire color. On a dryer, I like to check the thermal fuses first if it's not working at all. Okay, no such components in the section we've opened. Onto the main back panel.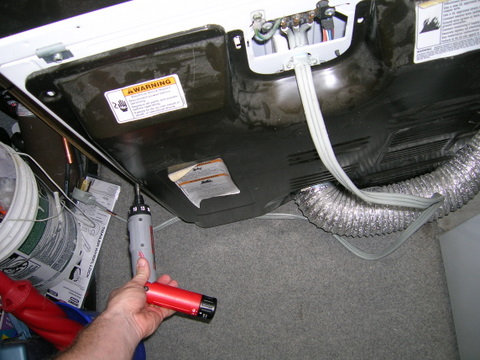 Lots more screws.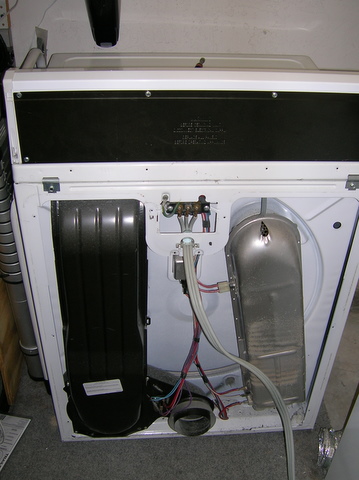 Okay, panel removed. Not many components and wires to troubleshoot after all.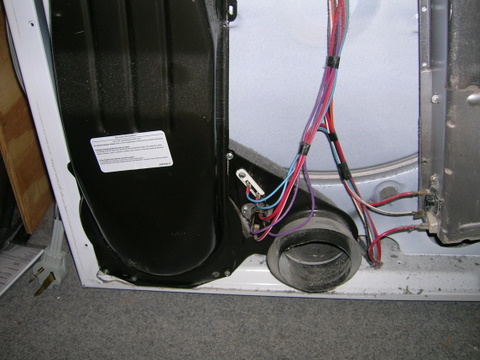 The schematic shows two blue wires going to the first thermal fuse I want to check. I selected this one as it's in the motor circuit.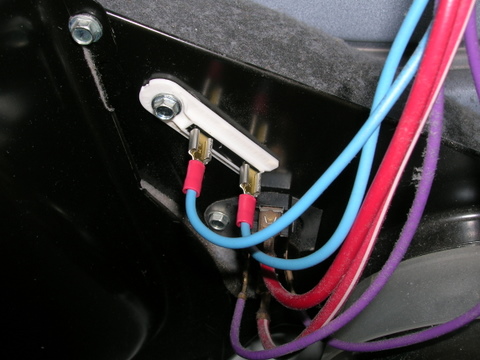 See the white thingy. That's it. It measures the exhaust temperature of the dryer hose. Once it fails, it doesn't reset. Low airflow (clogged vent line, blower motor blades, etc) can cause this. They also "just fail" after years of use. Mine had lint built up on the side exposed to the airflow. Might have contributed to the failure. I do routinely check the exhaust flow on the outside vent.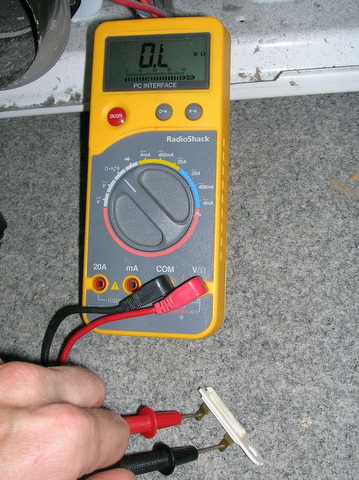 One screw to remove (didn't have to), but I do recommend removing the wires. Some circuits can cause false readings on components unless the wires are disconnected. It should be shorted (zero Ohms). Mine measures open (infinite Ohms). Dead. But this is good, found the failed component. I did temporarily bypass the fuse, plugged the dryer in, and verified normal operation.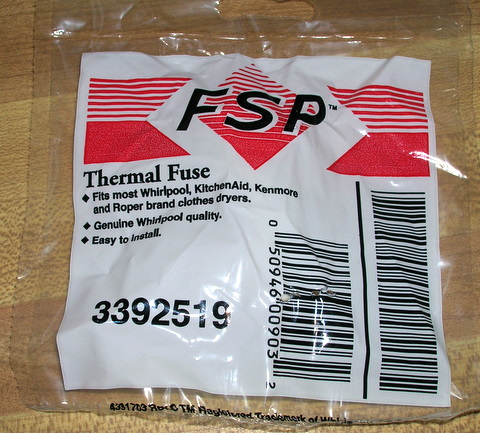 I went to Appliance Parts Pros website, found the part quickly, and had it to my doorstep in 2 days. They've been fantastic each time I needed a part. Good prices, easy to use website, fast shipping.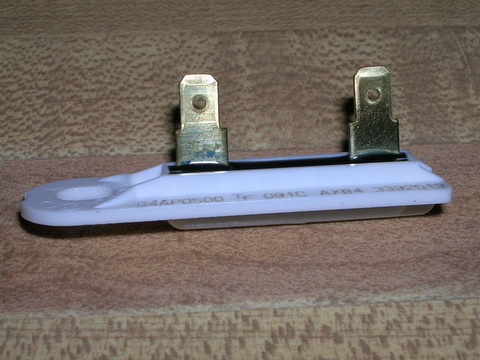 New fuse arrived.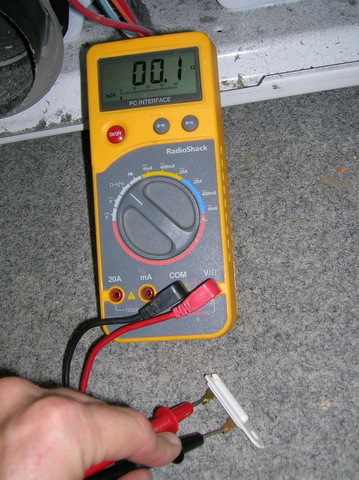 Meter says this is a good one.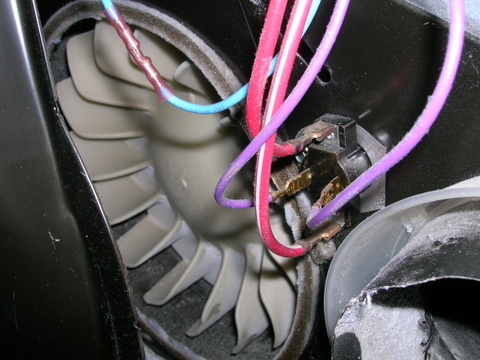 But while we're in the guts, I removed a few more screws. Blower motor blades look fairly clean.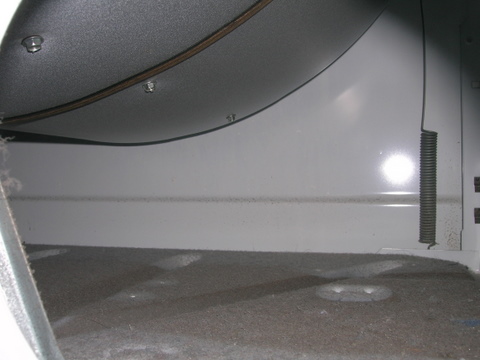 Also looked in the cabinet under the drum. Light layer of dust, not bad.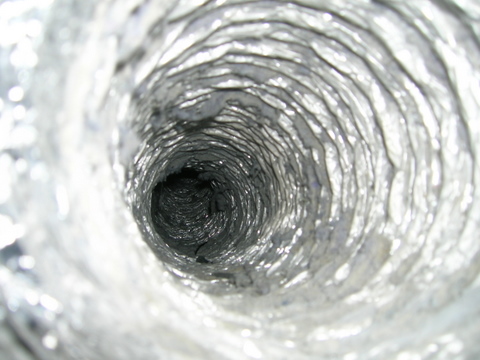 Took a peek down the dryer hose. Little bit of lint build-up. A shake of the hose with the dryer running, blew it clean.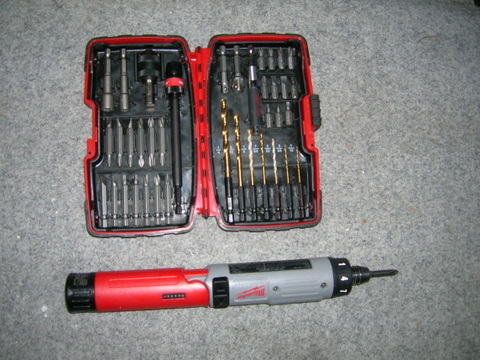 Luv my Milwaukee cordless screwdriver, and driver kit. This thing gets a lot of use.
There's a lot less to a job like this than you might expect. I'm no appliance repair expert, but I know how to read a schematic and operate a meter. Part cost $9, shipping was $6, and actual repair time, including troubleshooting, was about 1/2 hour. Wife is happy it's fixed... sort of. She's been eyeballing one of the new fancy washer/dryer sets. Oh well, can't do everything right!
So that wasn't so complicated after all, eh? Unplug it, give it a try. If you have to call the repair guy after all, you've lost nothing but a little time. But peek over his shoulder and see what he does. Might cost a few bucks, but you'll end up with a learning experience either way. People ask how I know how to fix things, easy, I try. A coworker's washing machine wouldn't pump out the water. He did siphon most of the water out himself, but never attempted a fix. Took the day off, repair guy found a wire had pulled off the pump motor. He routed the wire a little different to get some slack, put a tie wrap on it, plugged the cable onto the motor. Done. Wonder how much that set him back...
2manytoyz
---
www.alpharubicon.com
All materials at this site not otherwise credited are Copyright © 1996 - 2010 Trip Williams. All rights reserved. May be reproduced for personal use only. Use of any material contained herein is subject to stated terms or written permission.