*Expedient Rabbit Shed*


By: Morpheus
22 July 2014

I needed a new place to house the rabbits and had some materials on hand. I needed portable shelter with good air flow. I had some supplies on hand, to include screws, drill bits, driver bits, welding rods and some top rail for chain link fence. I started by cutting four 5 foot long pipes for the ends of the sides. I used 22 foot fence rails for the tops and bottoms of the sides, with 2 foot overhang on one end so functional sides are 20 foot long. To ensure the end pieces were square with the top and bottoms, I used large 90 degree welding magnets in the corners. Once I had both sides welded, I screwed 2x4 studs (5 ft long) every 4 feet for stability and strength. Once the side pieces were completed, I propped them up and welded 8 foot cross pieces top and bottom between them at each end and in the middle. I made primitive rafters out of 10 foot 2x4's, cut in the middle at 5 feet. I cut the ends at a 22 and one half degree angle using a powered chop saw. When screwed together, the rafters form a 45 degree angle in the middle, and provide adequate roof pitch to shed rain and light snow. I screwed the tops together and then reinforced with 1x4 and 1x6 lumber cut to 4 foot lengths (what I had on hand). I notched the ends of the rafters with a hole saw slightly bigger than the fence rails and secured them to the top rails of the sides with screws. To reduce weight and expense, I put rafters every 2 feet. I sheeted over the top with 3/8 inch plywood, and then covered with a 12 x 22 tarp from billboardtarps.com . The tarp is extremely heavy duty and cost $65 with shipping (half for shipping, kind of a shock). I secured the tarp to the lower sides with screws.

I hung 8 pulleys from the rafters on plant hangers and attached 8 corresponding pulleys to the rabbit cage with S hooks. The rabbits can now be raised and lowered with the ropes. I can drop them into tall grass to feed or raise them into the rafters to maximize shelter during storms. I welded hooks to one end of the frame, so I can drag it around the yard with a garden tractor, and proved portability by putting it in place with the garden tractor prior to pictures.

If I didn't need it to be portable, I could have built the sides higher and placed rafters at 16 inches. I could have built a pole barn shed for a little more money, but it wouldn't be mobile, limiting options for feeding rabbits and dropping piles of fertilizer. Total cost for the shed was ~$650 and took ~30 hours to build.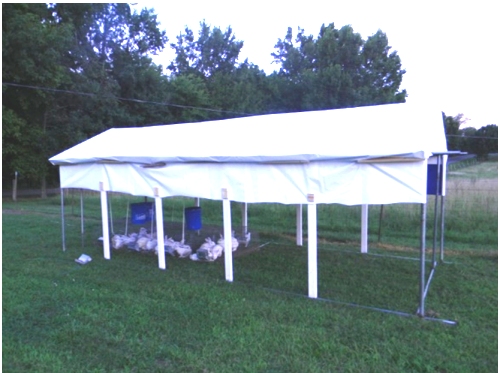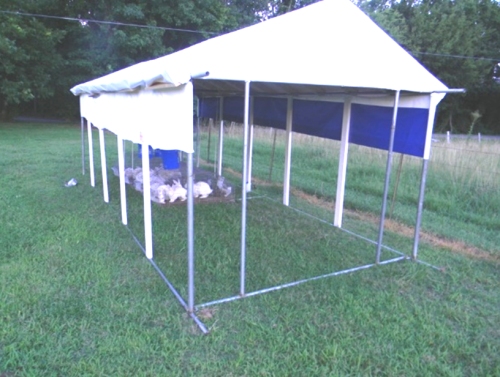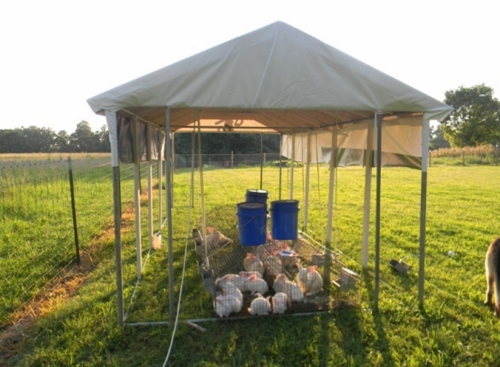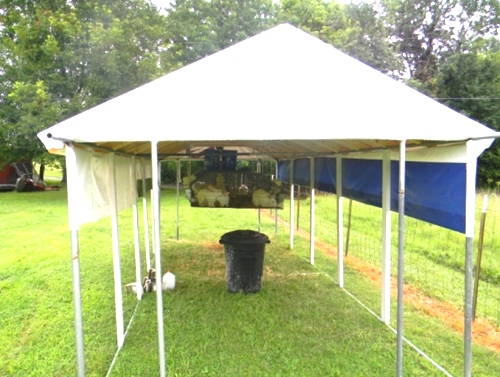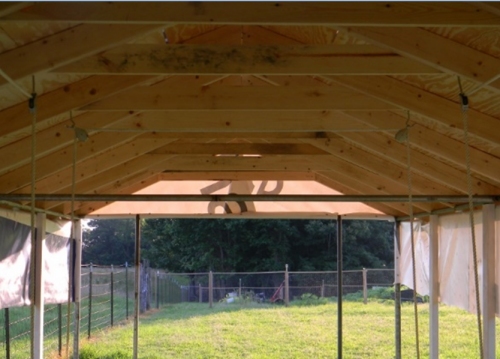 Morpheus
---
This Article Was Proudly Formatted For The AlphaRubicon Website By: Coffeehound



www.alpharubicon.com
All materials at this site not otherwise credited are Copyright &copy 1996 - 2014 Trip Williams. All rights reserved. May be reproduced for personal use only. Use of any material contained herein is subject to stated terms or written permission.