*How to Use Coupons and Sales*


By: Trapper & Vikis
5 April 2011

This article is to cover the very basics of couponing. There are some extreme couponer's that are saving a lot more money than I am, but we've all got to start somewhere! Hopefully, this will help take some of the mystery out of couponing.

I started couponing about the same time I started "prepping" and within a year I've been able to put away many more items than I could have without couponing and changing my mindset about grocery shopping.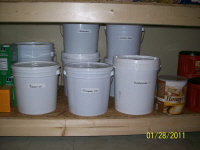 These buckets are full of toothpaste, toothbrushes, deodorant, and soap that I paid between .25-.50 each. One toothpaste tub has 18 tubes. Coupons saved a lot. Otherwise, I could not have done it. Plus, knowing where my deals were!
For me, there are four main points to remember with couponing:
- The shopper's mindset
The shopper's mindset is to shop deals and not by weekly lists. By shopping deals you quickly learn to cook out of your pantry. This also helps with rotation and makes you turn from making a weekly "menu".
- The investment
None of us know what "our" emergency will be; job loss, medical, or national. If you buy ketchup today for $1 a bottle and next year ketchup is $2, then your investment is the same. Your income may not raise as much as groceries, so food items is just a good investment on many levels.

- Know your stores
Know your stores, drug stores, and discount stores. Learn the stores coupon policy and use it. In my area I have 2 grocery stores and 2 discount stores close by. I can leave my house and by making a big circle through town, hit all these stores. There's not much sense in going out-of-the-way to save a few cents.


The stores available too me are Bi-Lo, Ingles, Fred's, and Dollar General. I receive sales flyers from all these stores, I have store discount cards from Bi-Lo & Ingles, and I know their coupon policy, for instance:
Bi-Lo (grocery) doubles up to .60 coupons daily
Ingles (grocery) doubles up to .50 coupons daily (occasionally triples, watch your flyers!
Fred's - (discount) doubles up to .70 on Saturday only, face value daily
Dollar General - (discount) face value daily


- Prices
A savvy shopper knows where the cheapest retail price is. I spent one day going to the four stores I frequent and wrote down their retail price on products that I routinely buy. This way you are assured of getting the best price. For example, if Bi-Lo has 2 Lt. Diet Mt. Dew (which I drink by the gallons) at $1.79 but right next door at Dollar General they are only $1.25, then I can save .54 a drink by walking next door. Occasionally Bi-Lo runs them on sale at $1.00, so I buy them at Bi-Lo.

You have to remember that just because the bottom of your receipt shows a savings of x, your real savings is off the cheapest retail price available to you. Using the Dt. Mt. Dew example again: If Bi-Lo runs an add for them at $1.59 instead of $1.79, then my receipt will show I saved .20, but Dollar General still has them at $1.25, my real savings by buying them at Dollar General is .34. I'm still saving more money by going to Dollar General.

Knowing the cheapest retail price is really the only way to gauge how much you are actually saving by using coupons. Also, I try to stay within the 50% rule, meaning I don't buy it unless it's 50% off the normal retail price.

The process I use is simple:
- I buy a Sunday paper.
- I clip the coupons that I know I will use.
- I'm not brand specific when it comes to some things so I look for an array of coupons for clothes detergent, dish detergent, hand soap, bar soap, toothpaste, toilet paper, paper towels, etc. These are pretty frequent in all the coupons.
- I then scrutinize the sales flyers or I will go to the stores website and print a shopping list.
- I then look at my coupons again and match them with the cheapest price.
- I maintain a binder with baseball card holder sheets in it for coupons.
- You'll eventually get accustomed to looking at the pictures and you'll be able to match coupons pretty quickly. If you use the baseball card holders, be sure to fold coupons with the pictures showing. You'll be amazed how quickly you'll recognize the pictures!
- I have taken the entire binder to the store with me, but for me it works better if I only take the sales flyer and the coupons. I circle the items needed on the sales flyer and I stick to it.
Here's an example of this weeks findings and how I decide where to buy what.
Because I try to live by the 50% rule, I always look for BIGI or BOGO (Buy One Get One) first, other store combo or multi item sales, and then sale prices.
So, this week here's what I found: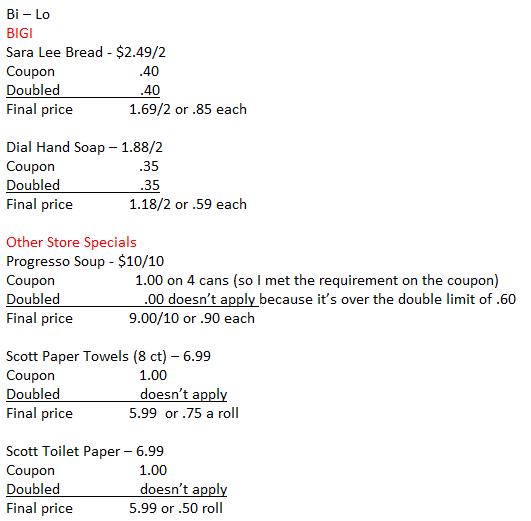 So, for $23.85 (before tax) I can get 8 rolls of paper towels, 12 rolls of toilet paper, 10 cans of soup, 2 hand soaps, and 2 loafs of bread. Coupon savings were only $5 but the regular retail price would have been: $48.72. By stacking store discounts (sale prices) with coupons, I realize a true savings of $24.87. These items are cheaper at Bi-Lo than my other stores so I know my true savings because I know the regular retail price.
The ChallengeI thought Ingles deal of 3/$5 was good on Viva Paper Towels and I had a .40 coupon, but after doing the match each roll came out to $1.40 and I can buy Scott Paper Towels at Bi-Lo for .75 a roll this week.
Same thing held true for my coveted Dt. Mt. Dews this week, Ingles is having a major sale on these at .88 each. Dollar General is my cheapest place at $1.25 so I will stock up at Ingles, saving .37 each.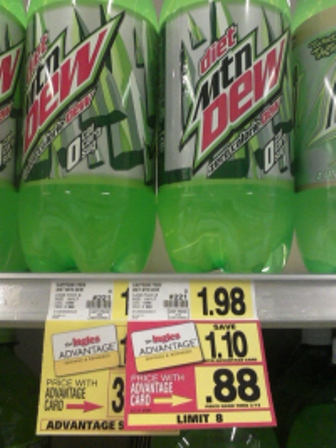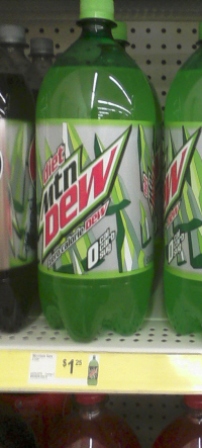 And the last example of knowing your retail prices also goes for sale prices: Bi-Lo also had Starkist Tuna on sale for .69 a can but directly across the street at Ingles they have it this week for only .50 a can! I don't have coupons for this, but will still realize a savings of .19 cents a can by driving across the street.
Don't let your eyes fool ya!
Ingles was advertising Scott Paper Towels (8) on sale at $7.38, I did have a $1.00 coupon, so the final price would be $6.38; however, Bi-Lo had them for $6.99 - $1.00 coupon, and my final price was only $5.99. My best savings was at Bi-Lo.
There are many online sites available to print coupons and tell you what store X on sale that week. I've used these but prefer using my own method; it seems to be working for me so far.
Store Policies
Manufacturers coupons - most all places take them/some double/some triple
Store coupons - Target is famous for printing their own coupons and will let you use a store coupon and a manufacturer coupon on the item, hence, doubling your savings. Referred to as "stacking" coupons.
Printable coupons - some stores allow coupons printed from your computer and some don't. Check with the store first.
Most stores will allow you to buy only ONE of a BIGI and still get the savings and use a coupon if you have it.
Free?
Many products can become free to you if you choose the store wisely, compare prices, and use all coupons available to you. Here are some of the prices I've been lucky enough to realize over the year: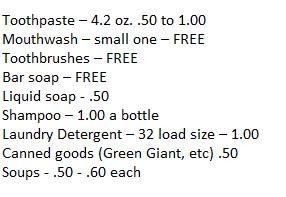 Once you start seeing what your able to buy a product for, make up a buy sheet and which store you bought it at. This will keep you from "buying" into the sale unless you know that is the cheapest you can and have gotten it before. A buy sheet can look like this:

I write out beside realized price how I got it so cheap. Sales at stores rotate and if an item has been on sale before, it will be again! Coupons and retailers set the dates well ahead of time and you can bet that if your Red Plum coupon flyer has Zip-Loc bags coupons, then some store close to you will have Zip-Loc bags on sale that week.
If there are very useful coupons to me in the local paper, I will buy another one or I will go to RedPlum.com and print another one. This is where couponing will help increase your storage pantry substainially very quickly.
When you change your mindset from having a "grocery" list to having a "deals" list, you'll notice more money in the grocery budget and you'll realize your pantry is growing quickly.
By using the 50% rule at your cheapest local retailer, you'll automatically increase your buying power by 50%. When you cook and prepare meals out of what you have on hand, then you'll be able to rotate your stock in a more natural manner and keep it rotated successfully.
Happy Savings!
TRAPPER & VIKIS
---
www.alpharubicon.com
All materials at this site not otherwise credited are Copyright © 1996 - 2011 Trip Williams. All rights reserved. May be reproduced for personal use only. Use of any material contained herein is subject to stated terms or written permission.