*Baby Buggy Laundry Cart*
By: John1lt
28 April 2015
We live in an apartment with the laundry in the basement. My wife has a hard time carrying a basket of laundry up and down the stairs especially if it is a load of something heavy like my work jeans. I usually carry the laundry for her but sometimes she wants to get a load of wash done when I'm not around to carry the load of laundry.
She came up with her own rolling laundry bucket with a few things we had around the house. We had an umbrella baby stroller just sitting in the closet so she placed our plastic laundry hamper in the baby stroller and used a couple of bungee cords to secure the laundry hamper to the baby stroller.
Now by taking the long way to the laundry room she can push the baby buggy laundry cart around the front of the building and down the driveway to the laundry room without having to go down steps or carry the laundry by hand.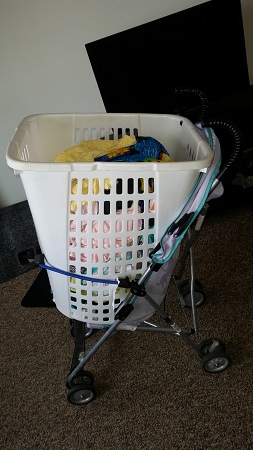 As a side note when I help my wife with the laundry now I refuse to push the baby buggy laundry cart, I'd rather carry a heavy load than be seen pushing it in a baby buggy.
John1lt
---
This Article Was Proudly Formatted For The AlphaRubicon Website By: wmerrin



www.alpharubicon.com
All materials at this site not otherwise credited are Copyright &copy 1996 - 2015 Trip Williams. All rights reserved. May be reproduced for personal use only. Use of any material contained herein is subject to stated terms or written permission.