*No Knead, No Mess, No Work Bread*


By: Pooch
19 June 2013

I tried a new (to me) no knead bread recipe I found in an old Backwoodsman magazine and want to share it since in my book it is a keeper.

So easy, no more than 6 or 7 minutes work and no kneading, very little cleanup and so simple even I made it successfully, two days in a row, with a little tweak on second day loaf.

The ingredients are:
6 cups flour
1 TBS yeast -- I used 2 packets
1 TBS salt
Mix all dry ingredients thoroughly and then mix in
3 cups of room temp water
That's it; you will have a sticky, stringy batter type conglomeration that sort of reminds you of a sourdough mother. I mixed mine in a 5 quart plastic ice cream container (empty of course) so it didn't stick to the sides. Cover with a dish towel and let set for 8 to 24 hours.
I let mine go the full 24 hours and it had a very nice sour smell too it. At the end of the wait, 8-24 hours, pour out into a greased glass or ceramic bowl that is oven proof. Cover and let sit 1 more hour, then pop into a 375* preheated oven for a minimum of 45 minutes or until golden brown. The first loaf, pictured below, was in for 55 minutes before I removed it. I left it cool, almost completely, but couldn't wait so cut it still slightly warm and slathered on the butter (yes, I eat real butter because I am a real man...plus I don't like what margarine does to your system). Hmmmmm, it was good. Moister than most no knead breads, but still heavier than regular homemade white bread, crust was nice and chewy, just really good.
The second loaf I made, I left in an hour and then, when I turned it out of the bowl, I placed it back into the hot oven (turned off but still hot), directly on the rack and left it for 10 minutes more. This browned the bottom some and made the crust a little crisper. It was just a little better than the first loaf.
One thing, this bread doesn't toast well, at least in a toaster oven (I don't have a regular toaster to try). It might toast under a broiler though. I had to turn the toaster oven on 3 times to get it to brown and by then the edges of the crust were burnt.
I had 6 or 7 minutes mixing the batter and only a few seconds pouring it out into the ceramic bowl. No mess, no kneading, little to clean out of the plastic tub and (when done), no work at all to clean the ceramic bowl.
All in all, this is a really good bread recipe if you don't mind heavier bread. I made the first loaf 4 days ago and the little left this morning before breakfast was still moist and not crumbly.
So there it is, no mess, no work, no knead, now that's my kind of recipe.
Enjoy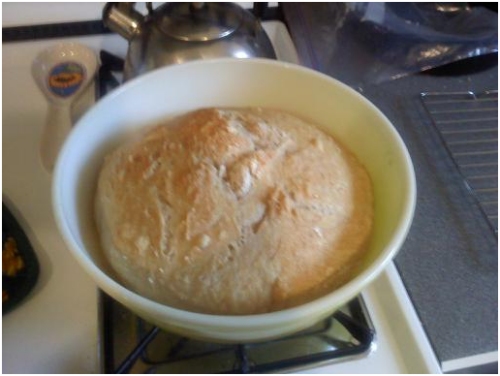 Baked loaf in bowl.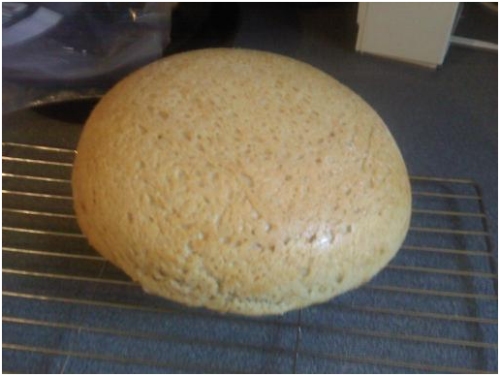 Bottom of loaf when first removed.
Loaf right side up cooling.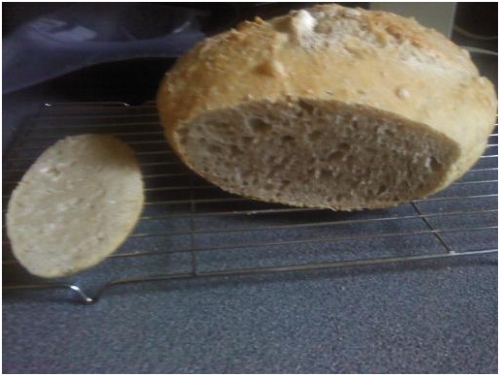 Loaf sliced to show center.
Pooch
---
This Article Was Proudly Formatted For The AlphaRubicon Website By: Coffeehound



www.alpharubicon.com
All materials at this site not otherwise credited are Copyright &copy 1996 - 2013 Trip Williams. All rights reserved. May be reproduced for personal use only. Use of any material contained herein is subject to stated terms or written permission.