*Preserving Pumpkins*
By: TooshieGalore
06 November 2014
Pumpkin is sometimes difficult to preserve with home canning because of the thickness of the puree, it's hard to pressurize it correctly. I dehydrate punpkin for long-term storage, but my favorite preservation method for regular use is freezing. It's easy, here's how:
Preheat oven to 375F.
Wash pumpkin; not a scrubbing, just get the dirt off. 30 seconds.
Cut it in half.

Scoop out the guts, leaving the meat. Really get in there with a spoon and scrape good to get out the stringy stuff and seeds. In the photo below, the half on the left is finished, the right half still needs work. Don't throw the seeds away! More about them later.

Bake both halves in a shallow pan until they feel like a done baked potato when stuck with a fork. Your house will smell delicious.
Remove pumpkin and reduce oven temp for roasting seeds. (read below)
Allow pumpkin to cool overnight, then seperate meat from skin, similiar to how you would a baked potato.

Put meat in a bowl and skin into composting.
Process meat in a food processor, adding just a little water to make a puree about the consistency of apple butter or baby food. In the photo below, see how the puree has a smooth consistency.

Dip 2 cups of puree into a ziplock bag. I use a sandwich-size bag and freeze bags flat, they're easier to store that way. A can of pumpkin is usually 15 ounces, so you can use one bag of pumpkin in recipes.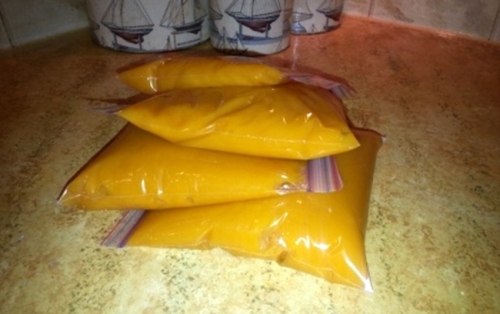 Pumpkin is considered a SuperFood. It's high in fiber, with an abundance of potassium, pantothenic acid, magnesium, and vitamin C and E.
Checkout the many recipes online for pumpkin pies, cheesecake, breads, muffins, and cookies. Add a dollup in your breakfast oatmeal or make a pumpkin butter.
Now for the seeds: I save about 1/4 cup for planting next year's crop and I eat the remainder.
Rinse seeds several times in warm water. Try to clean out the chunks of pumpkin but don't worry about being perfect.
Seperate the seeds you wish to save from seeds to eat.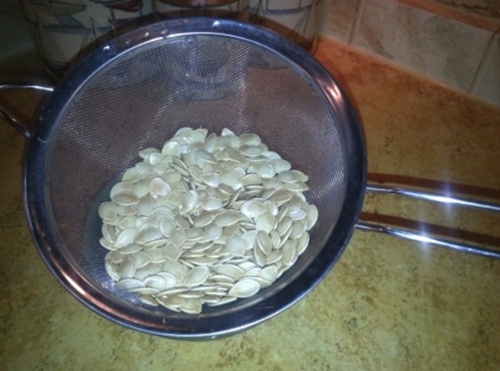 Seeds To Eat: Because I already have the oven on and heated, I roast at 170F for 20 minutes in the oven, but a dehydrator works equally well. Spread seeds on an ungreased cookie sheet in a single layer, but again don't worry about being perfect. Toss the seeds around with a spatula every so often so they all get toasted evenly. Sprinkle with sea salt, garlic or garlic-salt to taste.
Pumpkin seeds are nutritional powerhouses, high in manganese, phosphorous, copper, magnesium, zinc. But even if your family prefers a more nutty pumpkin seed roasted at the higher temperature and time, it's still a healthier snack than chips or other choices. Two ounces yields 20% RDA of protein and 16% of iron.
Use as you would other nuts. Scoop them up and eat 'em like peanuts. But I prefer to eat them chopped or ground. Add chopped pumpkin seeds to sautéed vegetables and on top of mixed green salads. Add ground seeds to salad dressings, cereals, and oatmeal raisin cookie and granola recipes. Ground seeds also make nutritional filler in hamburgers and meatloaf.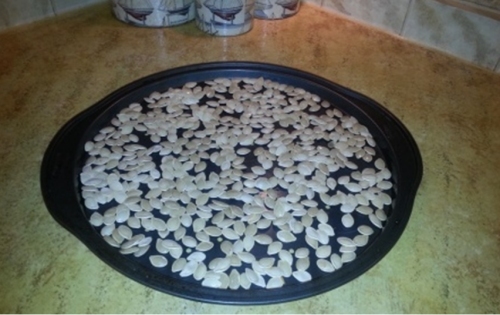 Seeds to Save: Place seeds in a bowl of water and soak overnight. In the morning, scoop out the floating seeds and throw them into composting. Floaters are not viable seeds. Spread the sinkers on a paper towel and allow to dry for several days. After thoroughly dry, label and store in a cool dry place.
My 8 lb. pumpkin was on sale for $2 at the farmer's market. Except for baking and cooling time, processing, including cleanup, was less than 20 minutes and yielded 4 2-cup bags of puree and ½ cup seeds.
Whether you have an abundant garden pumpkin patch or you find a great pumpkin sale at the grocery, it's worth preserving pumpkins to enjoy all year.
Notes:
About Tempterature: Most sources say to roast seeds at 250F. This temp brings out the nutty-aroma and full flavor of the seed. However, in the "World's Healthiest Foods" book, authors recommend a roasting temperature of 170F to preserve the unsaturated fats and other nutrients. You should try both.
About Roasting Time: Most sources say to roast seeds for one hour or until the seeds appear toasty brown and crispy. But in the "World's Healthiest Foods" book, authors recommend a roasting time of no more than 20 minutes. According to them, more than 20 minutes changes the seed fats and nutrients. Again, try both to see which you prefer.
About Microwaves: Many sources promote roasting seeds in the microwave, but this, reportedly, changes the fats and destroys nutrients.
About Storage: Roasting at 170F for 20 minutes is not suitable for long-term storage. Roast until completely dry for long term storage.
TooshieGalore
---
This Article Was Proudly Formatted For The AlphaRubicon Website By: Coffeehound



www.alpharubicon.com
All materials at this site not otherwise credited are Copyright &copy 1996 - 2014 Trip Williams. All rights reserved. May be reproduced for personal use only. Use of any material contained herein is subject to stated terms or written permission.