*Restoring Cooking & Serving Utensils*
By: TexasOk
27 February 2018
Are you tired of looking at the plastic handles on your serving utensils and the non stick plastic cooking utensils that you use in your good coated cookware ? Over time they start to look cloudy especially if you run them through the dishwasher.
Here is a quick and easy fix !
Drag out your favorite cooking oil and with a clean cloth wipe a coat of oil on all of the plastic or teflon utensils.
Buff the excess oil off with a clean cloth.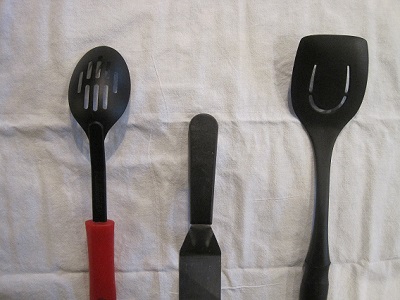 Enjoy the new look.
TexasOk
---
This Article Was Proudly Formatted For The AlphaRubicon Website By: wmerrin



www.alpharubicon.com
All materials at this site not otherwise credited are Copyright &copy 1996 - 2018 Trip Williams. All rights reserved. May be reproduced for personal use only. Use of any material contained herein is subject to stated terms or written permission.