*My Winter Chickens*


Fresh Eggs or Frozen Drumsticks
By: Navigator
06 January 2014

This year has been a big learning experience for me. Way back last spring, I decided to pick up some chicks from the local Tractor Supply store. After a lot of questions asked and answered here on the boards, I purchased 7 Red Cross chicks and some chicken accessories (feeder, waterer, heat light and some chick feed and headed home.

Over the next few months, my chicks grew up and about mid August they started to lay some eggs. I built a chicken tractor for them and they seemed to enjoy it. I later added a 50' x 50' corral for them to have more room to chase bugs around, and they really liked their home digs then.

As winter approached here in the north, I had a decision to make. Should I try to have them winter over, or make drumsticks out of them?? Well, I decided that if I could get them to survive our cold, snowy western NY winters, that I would be able to collect about 18 dozen more eggs per year than if I put them in the freezer in December.

Well, before the snow closed in, I moved their tractor up closer to the house, so I didn't have so far to break trail to feed & water them. Also, being in the lee of our large garage would help cut down the wind chill element. I covered their run area with a heavy gauge clear plastic sheet and installed a heated water bowl and one heat lamp.

So far, they have been doing well. The snow has just about covered the run area, and their coop has remained nice and dry (it was insulated well when I built it). This week, has been a real trial. The temps have been down around zero, and the wind chills are down to about -20, but the hens are doing quite well and are still giving us between 6-7 eggs per day.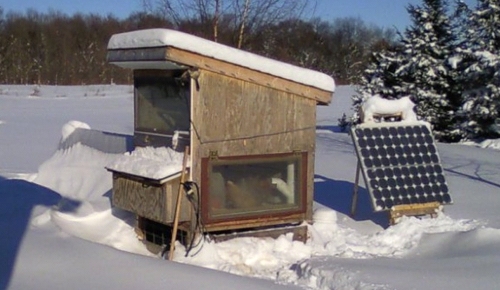 So far, this experiment has been a success. The hens are healthy and laying well, and the time requirement to maintain them has been only about 10-15 minutes per day. We still have half the season ahead of us, but at this point, I think that I will continue to winter over my hens and enjoy their egg production year round.
Navigator
---
This Article Was Proudly Formatted For The AlphaRubicon Website By: Coffeehound



www.alpharubicon.com
All materials at this site not otherwise credited are Copyright &copy 1996 - 2014 Trip Williams. All rights reserved. May be reproduced for personal use only. Use of any material contained herein is subject to stated terms or written permission.