*A Little Extra Storage Space*
By: John1lt
28 April 2017
We live in an apartment and apartments always seem to be short on useable functional storage space. Since we live in an apartment a remodel or major construction aren't options. About a year after we moved into our current apartment my wife said she wanted some sort of shelving that was not very wide that could be placed in the hallway to store items that one might normally store in the bathroom. Our bathroom is small even by apartment standards and there is no storage room in the bathroom.
At Home Depot in the closet storage section we found a wire shelving unit that would fit our needs. It is only 5 inches deep 18 inches wide and just under 6 feet tall. It fits nicely on a short wall just outside the bathroom and holds a lot of stuff, extra lotions, shampoos, soaps, sunscreen and a boat load of nail polish. It attaches to the wall with brackets that hold it securely in place, I probably used twice as many brackets as needed but I figure better too many than too few and cleaning up a mess. I used 2 inch screws to make sure it held into the studs behind the wall instead of the 1 inch screws that came with the brackets. This type of wire shelving can be cut with bolt cutters to custom fit it but it fit our spot and application nicely so this shelf is unaltered.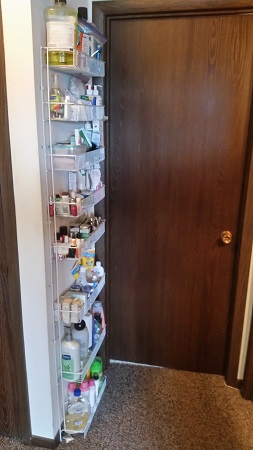 John1lt
---
This Article Was Proudly Formatted For The AlphaRubicon Website By: wmerrin



www.alpharubicon.com
All materials at this site not otherwise credited are Copyright &copy 1996 - 2017 Trip Williams. All rights reserved. May be reproduced for personal use only. Use of any material contained herein is subject to stated terms or written permission.