*Wood Pallet Gardening*


And Ice Cube Basil
By: Trapper & Vikis
06 August 2014

A week in our lives flies by... and it's only when I take pictures and compare - that I realize what all has happened in the week or two.

Due to circumstances this year we couldn't plant our normal huge garden so we decided on one raised bed and then Trapper kept bringing home heat treated wood pallets. I couldn't help myself but to throw a couple on the ground and see what I could grow!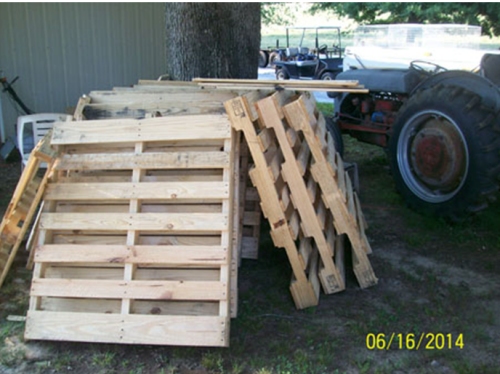 Notice I said heat treated wood pallets not chemically treated wood pallets. Here's how to tell the difference:

You see the HT in the bottom middle of the picture? Heat Treated.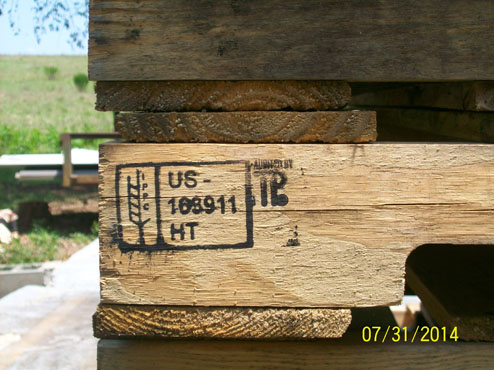 And for further info you can check out 1001Pallets.com
This isn't a new idea at all... all of us see this pallet technique used over and over but for me it was a first and I was anxious to see the results.
So, I stapled some weed guard fabric on the bottom and flipped the whole thing over again. I noticed an "opening" so I filled it cardboard - to keep the dirt in.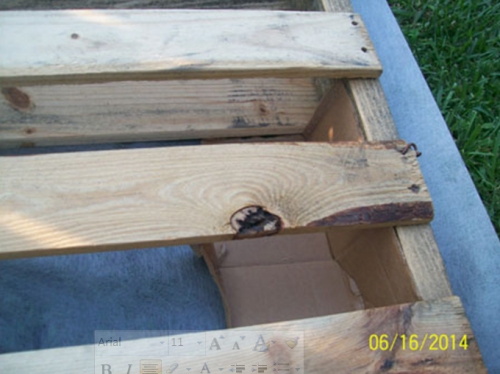 And I filled the pallet with a mixture of top soil (60%), compost (30%), and rabbit manure (10%).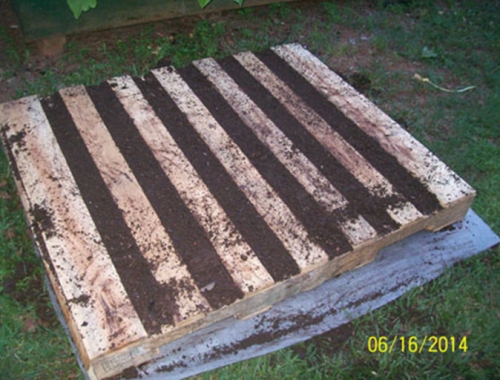 I left the "weed liner" out a few inches from the base of the pallet on purpose to help keep weeds/grass away as much as possible. I didn't want to get a lot of expense in this experiment so I didn't make walkways between the pallets or anything like that. If I did this on a large scale I would have laid as much weed protection between the pallets as possible and covered with mulch or cardboard to keep the grass out. But, for now, this method works.
Then I started planting.
In one pallet I planted Basil and Cilantro and the other I planted 3 plants of straight neck squash.
These are behind our privacy fence, for the pool area, which acts as a barrier for the brutal evening western sun we have. The plants only have 5-6 hours of sun each each day and evidently they love it!
The next pictures are a weeks worth of growth....
The basil last week...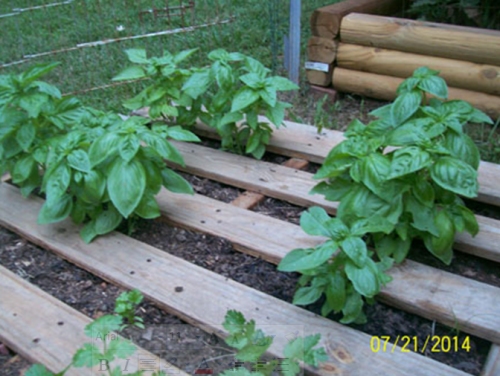 And 7 days later...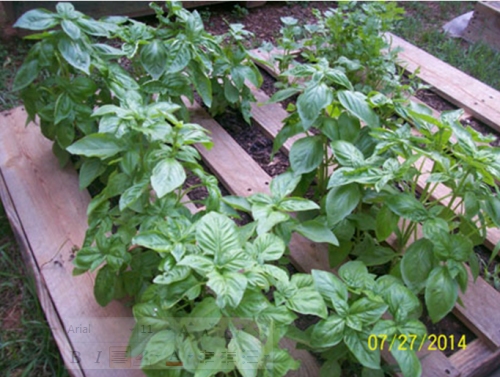 The squash was put out late but seems to like pallet living as well...
Last week....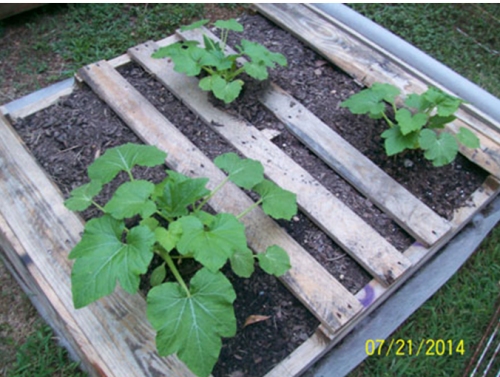 And 7 days later...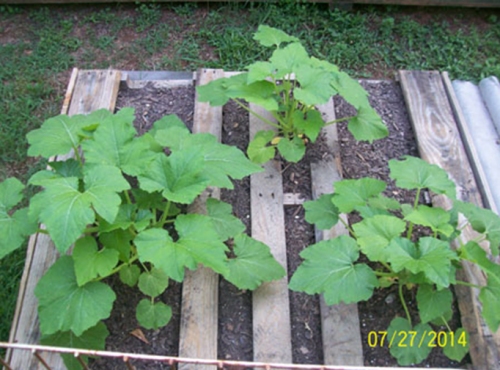 I'm anxious to see if the squash actually produces anything... I'm unsure if it has enough "root" space to grow, but we'll see.
UPDATE: The squash loves pallet growing! I've gotten a lot of blooms and so far 2 good sized squash off these plants with many more forming. The actual squash tend to lay on the pallet which supports the weight nicely and allows the plant to continue growing and producing more.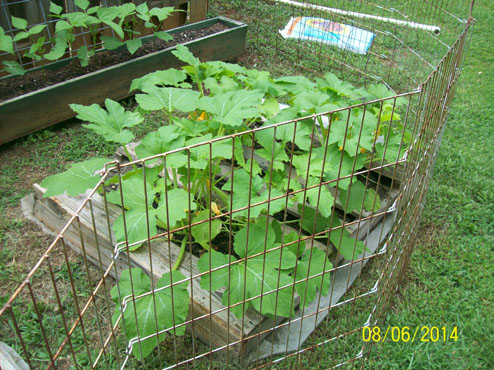 Today I harvested the basil and decided to try the "fresh freezing in ice cube trays" method. Another experiment, as I normally dehydrated it in the past.
I took the basil, chopped finely, packed into ice cube trays and ran water to the top of the ice cube tray. Placed in freezer and viola! a cube of basil!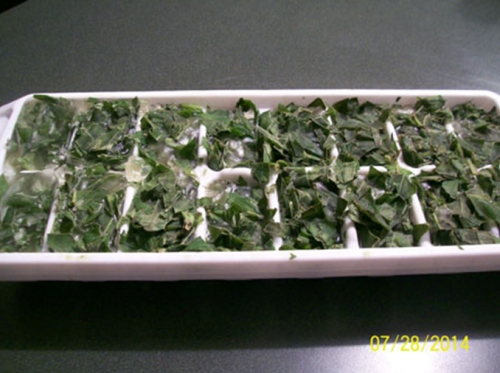 These little ice cubes of fresh basil have managed to maintain their color, consistency, and flavor. I've thrown a couple of cubes in with chicken while preparing Chicken Alfredo, spaghetti sauce to make the flavor more fresh, and even meat ball concoctions I come up with. They are awesome in the slow cooker too... just pop one out, throw it in the dish, let it melt, stir it around, and enjoy!
Anyway, seems as though the plants don't mind the pallets and the pallets were free heat treated ones... so it's working for me so far. Plus, I've noticed the lack of weeds! AND I've noticed the plants look so much healthier than others I've grown before in various situations (in the ground, in window sills, etc.)
It's been a great experiment and learning experience!
Vikis
---
This Article Was Proudly Formatted For The AlphaRubicon Website By: Vikis



www.alpharubicon.com
All materials at this site not otherwise credited are Copyright &copy 1996 - 2014 Trip Williams. All rights reserved. May be reproduced for personal use only. Use of any material contained herein is subject to stated terms or written permission.