*Small Space/Apartment Reloading Bench*


By: Thoth8
7 March 2011

I was looking for a way to set up my reloading stuff indoors. I was going to use a small TV stand and mount my stuff to it. Then I saw the Lee Reloading stand (Linked Below), and thought to myself wow that's a better idea. But I'm not paying 130 bucks when I could make it better.

So I went to Harbor Freight with the plan of buying a wood topped metal stool. But found this "Universal Bench Grinder Stand Item # 3184" the metal is 2mm think itís really sturdy.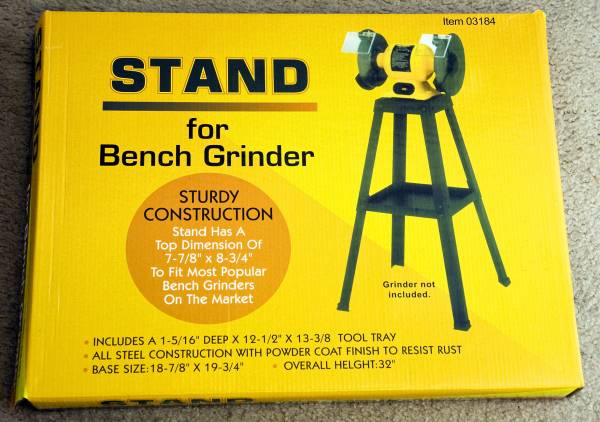 Put it together and threw a 19x16x3/4inch Scrap of laminated self on top of the grinder stand and bolted it on. But it is off center, the front of the shelf is about 1-2 inches over hang from the grinder stand. This way the stand is load bearing where I will be working.
I did this so I could push the wood up next to the wall and have the back to hold other parts or things I need during the reloading processes. The lee stand does not give you any extra working room. When I bought it it was on sale and I had one of the 20% off coupons so mine cost around 20 bucks to build. And does not need a Concrete block to keep it from flipping over when you use it.
Mounted my presses and loaded my dies and stuff below.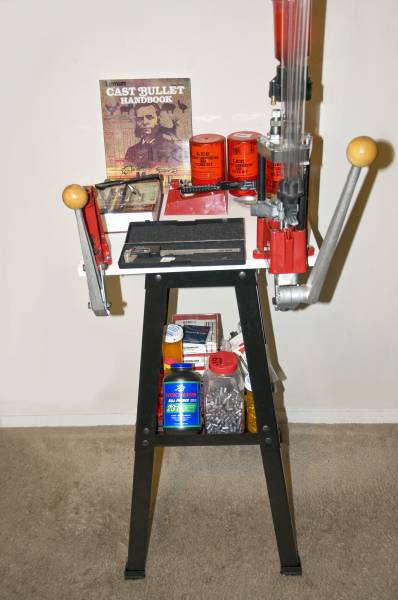 This setup allows me to use one press for Lube and Sizing / Priming / Lee factory Crimping.
The Lee pro 1000 Progressive press for my reloading, and the other one (on the left) came free when I ordered the lee load data book.
Lee Reloading Stand
Thoth8
---
www.alpharubicon.com
All materials at this site not otherwise credited are Copyright © 1996 - 2011 Trip Williams. All rights reserved. May be reproduced for personal use only. Use of any material contained herein is subject to stated terms or written permission.