*The Benelli Nova Shotgun*


By: JonBot007
17 October 2004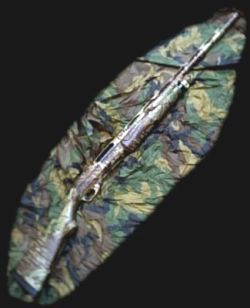 I remember back when this shotgun made it's debut on American shores. Much Like Glock pistols some people raved and called them great innovations…others said they were crap…some didn't know what to think but acknowledged they had some interesting features and were well made for the money…if you like plastic. Sounds familiar huh? I initially wasn't all that sure. As far as I knew Benelli was just some Italian company that people paid big money to to have the name on some semi-auto shotguns when an 1100 would probably do just as well. I knew they had some semi-auto tactical shotguns that people raved about but I've never been real into those either. In recent years I've found the Nova has created it's own nich here in the South-eastern US. People with pickups that you would assume held Remington 870's or Winchester 1300's are more and more often being found with Italian made pump guns in them. I've even started to see some used ones popping up here and there in the gun shops still in fine shape. One thing all owners seem to agree on that I've talked to is that they shoot and work very well. I started to assume it was probably a decent gun with very decent marketing campaign convincing people to buy the name. That is -perhaps it was a cheap way for my redneck brethren to achieve bragging rights to something a little more exotic than another Remington or Winchester from Walmart. This remained my assessment until the first used one showed up in my shop. I picked it up trying hard to remain in contempt of this "Euro-trash" breaking into the American pump-gun market.

The problem was it shouldered and fit me very well. Then I noticed I liked the sight picture. It seemed to point very naturally…like it was made for me. I also liked the control layout and features. In many ways it was like they took the best parts of the Winchester 1300 and Remington 870 merged them into one gun and poured in some special features on top. The slide release of the 1300/Mossberg used to appeal to me. After a few 870's I found I did in fact like it's style better. The Nova moves it over to the other side of the trigger guard so you don't have to reach for it. It also now serves to let you know the gun is in battery and cocked by sticking out slightly farther allowing you to see a red dot. I don't find this a useful feature but I like the position and feel of this layout slightly better than the 870's…the added feature doesn't detract from that. The manual safety is in the front of the trigger guard like the 1300…I have always found this more ergonomic. It also has a rotating bolt that locks into the bbl. Like a 1300. But instead of 4 small lugs it used two large ones. The entire bolt feels harder and better made than either the current 870 or 1300's to me. There is a small bump of the left side of the trigger group near the safety so you can easily have a tactile reference for if the gun is on "safe" or not (if you feel only the round bump you are on safe…it may be intended to keep the safety from being accidentally engaged…I'm not sure. Another interesting if not overly useful feature. The Benelli also has swivel mounts molded into the rear stock and milled into the bbl. Lug. No added cost to sling this model. The bore and chamber are fully hard chrome lined…a standard feature that is just great on a shotgun in this price range. It means with proper care it will be a LONG time before you will see any pitting in this bore. The chrome chamber also helps extraction and chambering by being extra "slick" as in a military rifle. Velocity may be slightly increased vs. a non-lined bbl as well…probably not to any meaningful degree but the extra life and easier maintenance are reason enough to love it. Why all shotguns are not chrome lined by this point in tiome I have no idea but they all should be! All Nova shotguns (except police/defense versions) offer a steel or fiber optic front bead and mid-rib bead sight setup. I happen to like this arrangement. The police/defense version may be the most affordable factory defensive shotgun with a ghost-ring sight setup on the market.

The extractor and ejectors are also in my opinion a smarter and tougher in design than the competition's. The Remington coming in second on the extractor and the Winchester second on ejector design…in the 870's- is not easily replaced. The Winchester requires only a small Phillips head screwdriver and a dab of loctite. The Benelli's could be easily replaced but since the wearable surface is fully hardened steel I find it unlikely it will become an issue…the best design of the 3 in my opinion. The Winchester has an alloy receiver…good for balance and weight savings. The 870 is steel…heavy but tough as nails. The Benelli is steel lined with a polymer exterior molded around it. In fact the whole reciever and rear stock are basically one piece. The Benelli doesn't manage to save any weight for all this oddly enough. But unlike the stock 1300 and 870 models it will handle 2 ¾", 3", and 3 ½" shells. It does seem to swing and balance well for the effort. My 24" Turkey gun version weighs about as much as an 870 Express from wally-world. You can make it heavier by installing the recoil reducer they offer for inside the butt-stock. I don't think it needs it though unless you are planning on feeding it a lot of ultra-magnums. I found it more comfortable than an 870 and a little lighter feeling than the 1300 felt recoil wise. It comes with 3 choke tubes (unlike the 870 and a good wrench (unlike either). It shoots very well…all 3 do (though the 1300 is not very enjoyable with slugs IMHO). I don't mention the Mossberg because while I have used and maintained a few at work I just don't like them and would not own one...just personal opinion the are good working guns if you like them. The Benelli offers a good recoil pad that can be twisted off to expose the hollow butt-stock. While I wouldn't get the recoil reducer I might fill it with a ziplock with a small oil bottle and maybe a 12 gauge bore-snake ect.

The whole thing can be easily and quickly field stripped without tools…right down to changing the firing-pin out! The trigger group is simple well designed and modular. The "nub" on the magazine tube cap allows you to pop out the two pins that hold it the trigger group in place out. You pull the bbl off yank the pins, pull the trigger group, separate and pull the slide/action bar assembly and slightly compress the bolt while wiggling it at an angle to release it from the reciever. That is about it. It shoots very well. It's very rugged in the camo or black finish with very little to rust. It's offered in a plated maritime version as well. The tactical/defense version may be one of the best values in the purpose built scattergun market. The 870 remains the gold standard pump gun. But unless you are looking at a wingmaster you'd do well to see if the Benelli Nova suits you. From upland game, waterfoul and clay shooting to home defense they offer an appropriate version for a very competitive price with some very competitive features. Check one out if you are in the market for a good pump-action scattergun. They don't fit everyone…but if you like it you will REALLY like it. I know I do!
JonBot007
---
www.alpharubicon.com
All materials at this site not otherwise credited are Copyright © 1996 - 2004 Trip Williams. All rights reserved. May be reproduced for personal use only. Use of any material contained herein is subject to stated terms or written permission.