*CD M5*


By: Ironfox
07 May 2009

BACKGROUND

For all you die hard 1911 traditionalists reading this article-turn away now. While I don't think John Moses Browning has been rolling over in his grave with all the tweaking of his original design, the hi-capacity, polymer framed 1911 has never really caught on among the 1911 purist crowd.

Where hi capacity 1911s have filled a niche is among competition shooters. Numerous trophies have been won with the current offerings from STI, Para Ordinance, and Wilson. However, these highly modified pistols are often too modified and too expensive for everyday –practical carry. Enter the Charles Daly M-5; a high-capacity, polymer framed, affordable 1911 pistol.

The M-5 is actually manufactured by Bul Transmark in Israel and imported by Charles Daly/KBI. Some of you familiar with the Bul name and their hi-capacity frames will know that Bul once made frames for Kimber's hi-capacity 1911 several years ago. Kimber has since found another manufacturer for their current model polymer 1911.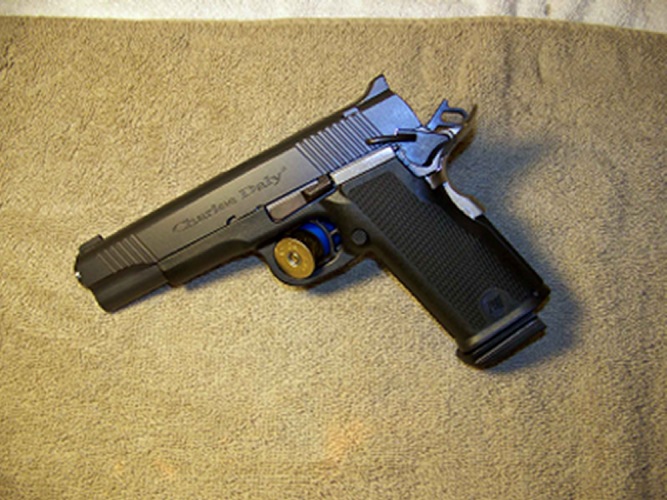 DETAILS
The M-5 Government has a 5 inch, cone type, bushing-less barrel. The polymer frame has stainless steel inserts for the slide to ride on and appears to be ruggedly built. The pistol comes standard with a SS beavertail grip safety, beveled magazine well, front and rear cocking serrations, and a polymer trigger.
Other attributes include a polymer mainspring housing, curved trigger guard, and Chip McCormick CMC style rear sights. The curved trigger guard should make the M-5 transferable to most standard 1911 Government holsters. I had no trouble fitting the M-5 in any leather holster I had on hand, but did not try it in a Kydex style holster.
One steel magazine is included with the pistol and it swallows a whopping 14 rounds of .45 ammo. The M-5 comes in a hard sided plastic case and is backed by a Charles Daly lifetime repair policy.
Daly also offers the M-5 in a Commander sized frame as well as an Ultra-X model with a 3.15 inch barrel. The MSRP of the Government M-5 is $759 with a street price of around $600.
SPECIFICATIONS
Overall Length- 8.5 inches
Weight Empty- 2lbs -1 ounce
Weight Fully Loaded- 2lbs -10 ounces
*For an interesting weight comparison I had on hand a Kimber Tactical Custom II. The full-size Kimber weighed in at 2lbs empty and 2 lbs-5 ounces fully loaded. I have no problem in carrying 5 ounces of extra weight in exchange for almost double the ammunition capacity. Weights were obtained by me with a digital scale and not manufacturer specs.
Another interesting measurement on the M-5 was the grip thickness; I was surprised to find that the grip on the M-5 was 1.2" thick, while my comparison Kimber measured 1.3". Of course with the M-5 you will not be able to change out grips as in a standard 1911. Again, a small price to pay for having 14 rounds at your disposal.
My M-5 trigger pull averaged 5lbs-11ounces. I expect this to decrease somewhat with shooting and some dry firing.
*For trigger pull data I used a Lyman digital trigger gauge and averaged 10 pulls.
PERFORMANCE
The first of two range trips with the M-5 were spent testing accuracy and feeding reliability with FMJ ammunition. For range work I generally use CCI Blazer FMJ and have been fortunate to have had no ammo related failures in any of the calibers I shoot. The M-5 shot all of the 250 rounds I had with no failures of any type.
For accuracy I shot from a sand bag rest at 20 yards and was pleased with the sub 2 inch groups I obtained with the CCI Blazer ammo. On subsequent range trips I shot a mix of HP and FMJ and again experienced no failures.
To date I have put around 500 rounds down range and am finding this pistol a joy to shoot. The recoil feels somewhat less than a steel framed pistol, with +P ammo being very controllable.
NEGATIVES
So far the M-5 has been a reliable weapon but there are a couple of areas that I think need attention.
1. The SS beavertail safety has a couple of razor sharp edges that will need the work of a file and or Dremel tool. This might be a flaw on my pistol only, but it became a painful reminder the more I shot.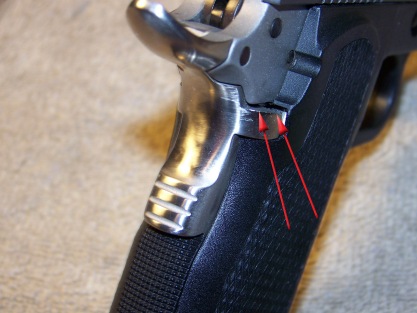 2. The sights are well made and accurate, however, the black on black is not for me and I will either change out the front post or just add some sight paint to make it stand out more.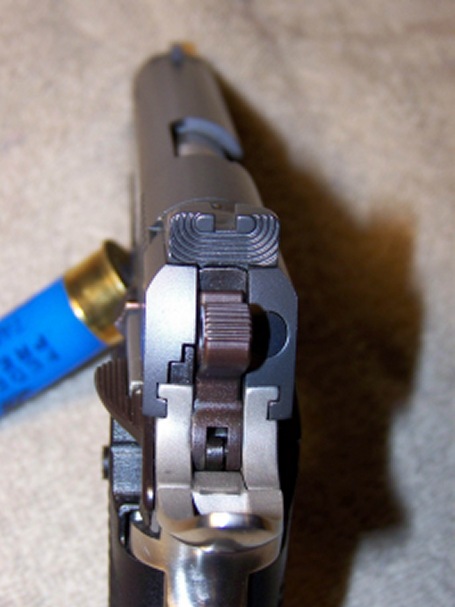 3. Magazines are expensive and often difficult to find. Charles Daly seems to have them in stock but they will set you back $45 dollars a pop.
4. The availability of holsters may be a problem if you like Kydex. As previously mentioned, I have not tested the M-5 for fit/function in a plastic holster. I'm old school anyways when it comes to holsters and prefer leather so this is not a concern for me.
5. The trigger has a slight rough spot upon initial engagement rearward, I trust this will work itself out with firing.
CONCLUSION
The Charles Daly M-5 has been a welcomed addition to my collection. The security of having 14 rounds of .45 ammo at my disposal is more than comforting.
The M-5 may be a departure from the norm among 1911s, but the feel is familiar and so far the M-5 has shot well. If you're a 1911 purist and still reading this, than you might just be a 1911 purist with an open mind.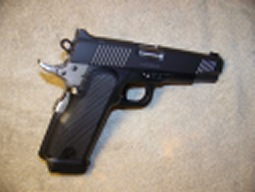 Regards,
Ironfox
---
www.alpharubicon.com
All materials at this site not otherwise credited are Copyright © 1996 - 2009 Trip Williams. All rights reserved. May be reproduced for personal use only. Use of any material contained herein is subject to stated terms or written permission.